There are a ton of Game of Thrones rumors, some more plausible than others. Bill Murray explains why he's coming back to Ghostbusters. Find out what Skye is up to on Agents of SHIELD. Plus our first look at Lucy Lane in Supergirl. Spoilers now!
Ghostbusters
Bill Murray explained how his cameo in this film came to be:
You know, they were incredibly nice to ask me, and I really enjoyed being there. They have such a jolly group, and they are going to have great success with this project. I didn't want to overshadow [them] or anything, and I feel really good about it.
He also said that it was "true" that he wasn't interested in returning to the franchise, but "I like those girls a lot," he said. "I mean, I really do. They are tough to say no to. And Paul is a real nice fellow."
He went on to describe how long it took him to decide to do it:
I thought about it for a very long time. Like, many, many months. No, that's not right. I was seriously thinking about this for years, really … It kept eating at me, and I really respect those girls. And then I started to feel like if I didn't do this movie, maybe somebody would write a bad review or something, thinking there was some sort of disapproval [on my part].
G/O Media may get a commission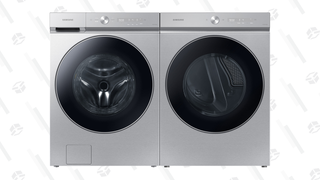 Get $500 back in credit
Last Chance: Samsung Bespoke AI Washer and Dryer Preorder
[Vulture]

---
Resident Evil: The Final Chapter
Here are some photos from the set shared by Milla Jovovich. [via Coming Soon]
---
Game of Thrones
Now, as always, take everything with a grain of salt until officially confirmed, but IrishThrones — usually a source for filming details in Northern Ireland — has tweeted a few giant, massive spoilers:
I'm honestly not sure which one I find more plausible — I think the Lady Stoneheart one may be slightly more likely than the second. They've been shifting things around, and adding back in Lady Stoneheart helps keep the show going until there's more book material. As for the parentage of Jon Snow, while a more than likely theory, if anyone does know for sure, I don't think they'd be telling anyone. (Plus the name is Lyanna, not Alyana.) [via Winter Is Coming]
In other news, casting is looking for a rugged pirate who can stand up to a number of leading cast members—and specifically, they need someone with a "sharp mind and machismo." Watchers on the Wall guesses that this means the Kingsmoot (or a similar scene) is on the docket for next week.
Watchers on the Wall also confirms that casting for Smalljon Umber and Lord Karstark is underway. And that Nikolaj Coster-Waldau has been sighted in Iceland, which has been used in warm weather to stand in for the Vale and Riverlands. So it's possible that Jaime could be making a trip to the Riverlands. [Watchers on the Wall]
Watchers on the Wall has a round-up of all the filming information — head there for photos. The Larne Times has a photo of the frame of a rounded building with a pointed roof on top at the set in Sallagh Brae. Here's a shot of the set in Girona:
And finally, it looks like the set at El Chorrillo is pulling a bunch of local horses in for filming and this could be a Dothraki camp. [Watchers on the Wall]
There are photos of a lot of smoke coming from filming in Ballintoy, via Watchers on the Wall:
Eddie Eyre will be playing Ser Alfred Hunrith this season and Souad Faress (The Archers) has been cast in an unknown role. (And some people are already speculating that Faress is playing the aforementioned Lady Stoneheart.) [Watchers on the Wall]
---
Arrow
Marc Guggenheim talked a bit about Damian Darhk's presence in the upcoming season:
He's very different from our previous Big Bads in that he's not hiding in the shadows. But at the same time, he doesn't have a public persona.

[... In the season premiere] He shows up at a very public meeting that Lance is present at. If Darhk wants to show up somewhere, he's certainly going to!
[TV Line]

We also have this fun bit of production art, tweeted by Marc Guggenheim with a fairly hilarious travel slogan.
---
Once Upon a Time
Executive producer Eddy Kitsis explained the photo of Emma being trained in Dark One ways by Rumplestiltskin — who's in a coma in the regular timeline — saying that she "did not travel time, but she did travel realms." And the presence of Rumple will be explained in the premiere. [TV Line]
---
Agents of SHIELD
Executive producer Jeff Bell said that Skyeward is dead as a possibility, for now:
Ward fell for Agent 33 last year, and after Daisy had put a couple bullets in him, it sure felt to me like he he'd moved on.

Anything is possible [but right now Ward is] less interested in snuggling with Skye than in getting payback for what happened to Kara.
[TV Line]
Skye is also going to be working with Mack as a team of powered and powered-skeptic, with Skye being joined by another powered person on the team. [Entertainment Weekly]
---
The Originals
Julie Plec promises a lot of flashbacks to first year of the Originals' lives as vampires, showing them " learning what they were capable of, where they could fit in, how they could adopt the manners of a rich and cultured family even though they were tattered Vikings on the run." We're going to get the backstory of each member of the Trinity. [Entertainment Weekly]
---
American Horror Story: Hotel
The first hour of the Halloween episode will have Lily Rabe playing serial killer Aileen Wurnos. Says Ryan Murphy about the dinner party at the center of the episode:
The biggest serial killers of all time all come to the hotel. Gacey. Aileen. John Lowe's invited to a devil's night dinner. He thinks someone is pulling a huge prank on him. It's the biggest serial killers of all time in a room with him and he has to figure who is trying to make him lose his mind.
The second hour has Darren Criss playing a hipster who checks into the hotel with his girlfriend to avoid trick-or-treaters in their neighborhood. Their demands end up upsetting Kathy Bates' Iris. [Entertainment Weekly]

---
Doctor Who
Here's a video with Michelle Gomez and Ingrid Oliver talking about their characters and their returns in the new season:
---
Supergirl
We've got our first look at Jenna Dewan Tatum as Lucy Lane, with executive producer Ali Adler saying that they're hoping to explore her history with Olsen and:
I think we're going to bring in her father. She not only plays a romantic foil with whatever Kara and James are brewing, but people will also be surprised that she's really a woman's woman. She and Kara develop their own friendship, too. We're not just bringing her in to purposefully create tension. She serves a larger story drive.
---
The Librarians
Here's the trailer for season 2, which looks delightfully insane:
---
Shannara
Here's a trailer for MTV's new show:
---
Gotham
Here's a "Rise of the Villains" promo:
---
Fear the Walking Dead
Here's a sneak peek at episode three of Fear the Walking Dead:
Additional reporting by Charlie Jane Anders and Gordon Jackson
---
Contact the author at katharine@io9.com.