When cooking, you can be creative and impulsive, throwing almost anything into a dish that will (potentially) still turn out delicious. But baking is an exact science, and if you want those scones or muffins to turn out perfectly, you need to be more precise about your measurements: an approach that's less of a pain with GE Profile's new smart mixer that weighs all your ingredients for you.
Does every last device and appliance in your home need smart upgrades? Absolutely not, and most of the time smart features are only added as a way to justify an unnecessary upgrade. (We're looking at you, refrigerators with giant TVs in the door.) But GE Profile does make a convincing case to upgrade your stand mixer to its new Smart Mixer with Auto Sense or choose it over the iconic Kitchen-Aid model that's been serving kitchens for decades.
The GE Profile Smart Mixer's most useful feature is a digital scale built into its base. As you add ingredients to the bowl, even as they're being actively mixed, you can see how much has been added by weight on a built-in screen, allowing you to be very precise with each new ingredient. The scale can be reset to zero after each addition using a tare button on top, but you can also use the mixer to weigh ingredients ahead of time by simply placing any container on its base.
For novice bakers, the GE Profile Smart Mixer with Auto Sense can also connect to a SmartHQ mobile app which includes over a "dozen guided recipes that offer step-by-step instructions connected to the mixer to take users through the entire process seamlessly," with GE Profile promising additional recipes being added to the app in the future. The mixer goes one step further with the ability to automatically detect changes in the texture and viscosity of what's actually being mixed through "motor torque feedback" so that it can intervene to prevent overmixing or undermixing of ingredients.
G/O Media may get a commission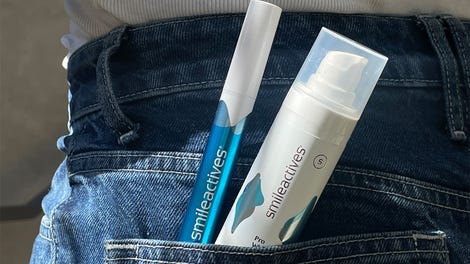 58% off
Whitening Powerhouse Pen & Gel Duo
Its mixing speed even goes to 11 so it can be used as an alternative to a blender for making dishes like hollandaise sauce.
And what's a smart device without the ability to bark voice commands at it? According to Engadget, the wifi-connected GE Profile Smart Mixer with Auto Sense is also compatible with Google Assistant and Amazon Alexa smart speakers, allowing bakers to change the mixing speed by simply asking, which is actually a very useful feature when your hands are covered in other ingredients.
At launch, the GE Profile Smart Mixer with Auto Sense will be exclusively available at Crate & Barrel for $999, but the exact launch date hasn't been confirmed.
Correction - January 4, 12:41pm EST: The GE Profile Smart Mixer with Auto Sense is actually available now at Crate & Barrel's online and brick-and-mortar stores.