Ah, weird relatives. The ones whose existence we ignore until there's the realization that we're obligated to get them some kind of gift. Here are a few safe ideas that are reasonable on cost and extra low on effort.
BTW, if you hate the gallery format as much as the you hate your relatives, click here.
DON'T BUY: Monogrammed or Personalized Gifts: It's so tempting to stop by one of those mall kiosks and pick up some sort of desk trinket to be engraved with your weird relative's name. You think that it'll make it seem like you put some effort into it, since it's a personalized gift. But let's be realistic, you'll pay more than you should for that trinket and your cousin will be left trying to figure out how to re-gift a monogrammed stapler.
G/O Media may get a commission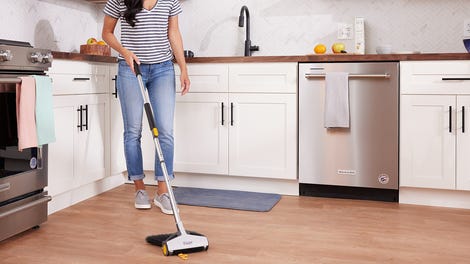 BOGO 50% Off
Flippr - BOGO 50% Off
Gallop! A Scanimation Picture Book: You've got a niece that's about four (or maybe five, you've never really kept track) and no idea whether she's into Barbie dolls or Bratz dolls. Before you make the mistake and get her the wrong doll, go for a book like Gallop!. Based on what I've seen while doing a stint in a bookstore, this particular book appears to be a fool-proof gift for the four to seven age group. It's just too darn fun to watch the animals racing across the pages and attempt to figure out just how the whole "scanimation" thing works. $11 [ThinkGeek]
DON'T BUY: Magazine Subscriptions: Unless your uncle has a bird or you're absolutely certain that he wants nothing more than to have a particular publication on his door step regularly, don't buy him a magazine subscription. (If your uncle does in fact have a bird, keep in mind that newspapers make for better bird cage liner than magazines.)
Photo by hectorir
DXG-125V Waterproof HD Camcorder: Every now and then one of those weird relatives gets you something halfway decent and you feel obligated to do the same. No sense in going overboard with it, so stick with a safe choice like the cheap, yet awesome DXG-125V camcorder. It's waterproof, shoots in 720p, and will make it look like you cared enough to pick out something neat. Just don't write anything about looking forward to seeing videos in the greeting card. You will find yourself suffering at the next reunion. $96 [Link; Amazon]
AlcoMate Breathalyzer: It's bound to happen every year: Grandma will get drunk at the family dinner and start ranting about the socio-economic structure of Japan while wearing boxer shorts on her head. Well, this holiday you can confront her about the issue and get her a gift all in one with a personal breathalyzer. Just make sure she understands that it's not a gag gift by making her use it. At every family event. $90 [Amazon]
Leatherman Wave Multi-Tool: It doesn't get more generic or safe than a multi-tool, but the Leatherman Wave is among the most popular and loved multi-tools and should please most odd relatives. It's got various knives, cutters, a saw, some bit drivers and a 25 year warranty that leaves enough time to figure out all of the tool's other functions. $59 [Amazon]
Isis Impossible Titanium Puzzle: Some relatives you really don't know well at all, nor do you want to. Yeah, we've all got those aunts. The best gift to get her is a ridiculously difficult puzzle toy like the Isis Impossible Titanium Puzzle. Tell her that you got it because she's such smart cookies and you thought she'd naturally love it. She'll be flattered and never announce that she hates the gift because then she'd have to blurt out that she couldn't solve it. Oh, and if you play your cards right and inquire about the puzzle often enough, she'll start skipping family reunions to avoid you. $174 [ThinkGeek]
Marshmallow Blaster: If you don't own a marshmallow gun, you need to order one right now. And one for every single one of your relatives. Because when the holiday stress gets to be too much, there's nothing better than battling things out in a sticky, non-lethal way. $27 [ThinkGeek]
Don't forget to recommend your own favorite gift ideas for weird relatives in comments—include pic and pricing if possible.
All Giz Wants is our annual round-up of favorite gift ideas, including amazing attainable objects and a few far-out fantasies. We'll be popping guides catered to different interests several times per day for the next week, so keep checking back.