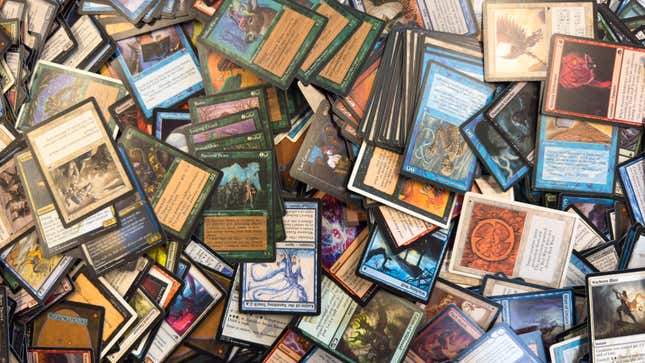 On August 17, there was an update on the Gen Con Card Heist. The persons of interest in the case—TJ Dunbar and Pearson Giaume—had been contacted by the police, according to a Tweet posted on X (formerly Twitter). The Indianapolis Metropolitan Police Department additionally said that "the case is expected to presented to the prosecutor's office in the near future for charging consideration."
What is One Change Mark Zuckerberg Should Make to His Social Platforms? | Gizmodo Interview
On August 29, the IMPD released another memo: it had recovered the stolen cards from New York City. As a reminder, these cards were stolen from Gen Con during a load-in day before the convention. The cards were identified as being the property of Pastimes, a large local game store. They were Magic: The Gathering cards and primarily from the new Commander Masters release.
The cards were estimated to be worth over $300,000. Under Indiana code, theft of items worth over $50,000 is a class 5 felony. The code further states that "a person who commits a Level 5 felony... shall be imprisoned for a fixed term of between one (1) and six (6) years, with the advisory sentence being three (3) years. In addition, the person may be fined not more than ten thousand dollars ($10,000)."
After this story started to come out, io9 received some tips about where the cards could have possibly ended up. One of those tips led us to the eBay page for rubarvolskllc. On their page you can see a lot of listings for single cards for Magic: The Gathering, as well as cards from the board game, Castle Assault.
Castle Assault is the game that the persons of interest, Dunbar and Guilliame, were known to have created in 2016. Additionally, the press responsible for publishing this game is Momentum Volsk. A YouTube channel by Rubar Volsk lists almost exclusively Castle Assault videos. One of Rubar Volsk's first videos shows Dunbar and Guiame stating that they are, in fact, the founders of Momentum Volsk.
On August 2, rubrarvolskllc listed an unopened Commander Masters collector booster box, one of the more expensive booster options offered by Magic. This is the day after the Gen Con theft happened—and, crucially, a day before Commander Masters officially went on sale on August 3, according to a press release from Wizards of the Coast.

While this screenshot listing says that rubarvolskllc is located in Hyattsville, Maryland, there is no official verification process during item listing for eBay to ensure that the seller's listed location is the location where the product is being shipped from. It is eBay's policy that sellers need to list an accurate address, but the onus is on the seller to provide accurate information.
Another tip led us to investigate property titles. According to publicly available city records, TJ Dunbar sold a house on Pelham Street in Mamroneck, New York in 2018. According to a property aggregator, Momentum Volsk is listed as one of the cosignees in that purchase. According to ImportGenius (a shipping and manifest data aggregator), Momentum Volsk also listed the Pelham Street address as its shipping address.
Mamroneck is a small town in Westchester, New York, and it is widely considered a suburb of NYC. It appears likely that Momentum Volsk—as a business enterprise of Dunbar and Giaume—was operated out of New York. Dunbar and Guillame were both identified as New York City residents in an earlier IMPD statement.
io9 has reached out to both rubarvolskllc and Dunbar for comment, and will update this story with more information as it becomes available.
---
Want more io9 news? Check out when to expect the latest Marvel, Star Wars, and Star Trek releases, what's next for the DC Universe on film and TV, and everything you need to know about the future of Doctor Who.