Television is trying harder this week — including the return of Genndy Tartakovsky with Sym-Bionic Titan and more Star Wars: Clone Wars. Plus an extra-awesome Warehouse 13, Tourettes Syndrome, original V, fire-dragons, Venture Bros., Nazi Super-Bombs, Jared Diamond... and Wall-E!

Today:
It's another evening of weird cartoons on the Cartoon Network, with a new Johnny Test at 7:30, Adventure Time at 8 PM, Regular Show at 8:15, and Mad at 8:30 PM, rounding up with Total Drama World Tour at 9 PM. But no new Scooby Doo this week, sorry.
Wondering what the deal is with Regular Show? Here's the first episode:
Health has a new special one-hour report, called Tourettes Uncovered, at 9 PM.

And there's a new Scream Queens on VH1 at 10 PM.
Movies:
If you rush home, you can catch the 3 PM showing of National Lampoon's Homo Erectus on Comedy Central. According to TV Guide:
Adam Rifkin wrote, directed and stars in this primitive farce about a nerdy and bespectacled caveman who lusts after a blonde beauty (Ali Larter.)
G/O Media may get a commission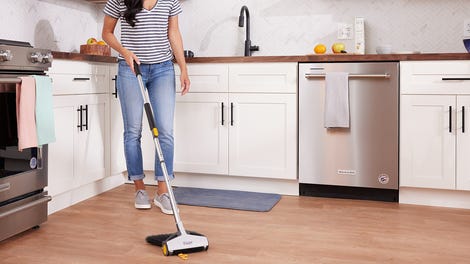 BOGO 50% Off
Flippr - BOGO 50% Off
It also has David Carradine! Also, Disney is showing the Tim Burton Charlie and the Chocolate Factory at 2 PM.
Tuesday:
There's a new Unnatural History on the Cartoon Network at 8 PM, called "Speetlemania," in which "The gang discovers an extinct beetle species."

There's a new Warehouse 13 on Syfy at 9 PM, "Buried": "When Mrs. Frederic is stricken ill, the agents must search for a cure before it's too late." And here are a couple of sneak peeks:

There's also a new It's Effin Science on G4 at 9 PM, in which the team launches a refrigerator and builds the world's fastest shopping cart.
Then at 10 PM, there's the third season premiere of Spike's show 1001 Ways To Die, in which "Spike TV continues to look at the brightly ironic side of death." There's also another episode of post-apocalyptic reality-show The Colony on Discovery.
And at 10:30 PM, it's the fourth season finale of The IT Crowd on IFC, "Reynholm V. Reynholm":

Movies:
Today's "stay home from work" movie is The Misadventures of Merlin Jones on the Hallmark Channel at 11 AM. It's about "a student whose experiments with mind reading get him in trouble with the law." And it features Annette Funicello! And then at 5 PM, G4 has Aliens and the Cartoon Network has Spy Kids 3: Game Over. Then at 3 AM, Syfy has The Butterfly Effect III: Revelations.
Wednesday:
Health has another one of its one-hour specials, this time called "My Child Won't Talk," at 8 PM, followed by another special, "My Kid's Smarter Than Me," at 9 PM. (Could there be a connection?)

Science once again features Sci-Fi Science: Physics Of The Impossible at 10:00 PM, all about "A New Solar System."
It's the first season finale of Chasing Mummies at 10 PM on History, called "Buried."
Movies:
At 4:45 AM, AMC is showing How To Make A Monster, about horror movie actors who are hypnotized into becoming real killers. Pan's Labyrinth is on the Sundance Channel at 8 PM and 2 AM. Then at 9 PM, Oxygen continues their quest to make Catwoman one of the most-shown movies on cable.
Thursday:
Syfy is having a marathon of the original V from 8 AM to 3:30 PM, in case you want to relive the awesomeness of the 1980s and refresh your memories before the remake comes back. Not to mention watching for some of the show's ridiculously inappropriate moments.
And then there's another new The Vampire Diaries at 8 PM on The CW, with more crazy "was it the main character or her evil vampire double seducing one of the two hot vampire brothers" hijinks. Behold the smolderingness, with a new clip:

Also at 8 PM, there's a new episode of The Universe on the History Channel, "Total Eclipse":
And then at 9 PM, the CW has Nikita, which we're going to keep watching — both for the awesome Maggie Q ass-kicking scenes, and in the hopes that there'll be something science fictional going on.
At 10 PM, there are three incredible choices demanding your attention. Syfy has a new Beast Legends, all about "Fire Dragon." National Geographic has a new special, Aftermath: Population Overload, which sounds Malthustastic. And then there's Stan Lee's Superhumans, focusing on a "Human Crash Test Dummy," on the History Channel. How ever will you choose?

Movies:
Have a zombie lunch break! Zombieland is on Starz at 12:30 PM. Starting at 5 PM, PLEX has a bunch of James Bond movies, including The Spy Who Loved Me and Octopussy. MTV is showing The Crow at 10 PM and 1 AM. And at 1:15, FMC is showing Alien Nation: Millennium, a TV movie in which our cop duo investigate a cult leader who's using a mind-expanding artifact to gain new followers. (Maybe it's Merlin Jones?) And Starz is showing Wall-E at 3:15 AM.
Friday:
Once again, there's a V marathon from 8 AM to 4 PM on Syfy, picking up where the previous day's left off.
Even more excitingly, Batman: The Brave and the Bold is back at 7 PM on Cartoon Network! I understand that these episodes have been available on demand in some places for a while, but they're new to me. And they feature Starro the Conqueror doing what he does best: Conquering. We featured clips from this episode a while back, but here's the whole episode:

And then at 8 PM, the Cartoon Network has the series premiere of a show we're pretty excited about, Sym-Bionic Titan. From the press release:
Sym-Bionic Titan, a new original animated series from acclaimed animation creator/director Genndy Tartakovsky (Dexter's Laboratory and Samurai Jack) crash-lands on Cartoon Network Friday, September 17 at 8 p.m. (ET/PT). ... Sym-Bionic Titan follows the lives of Ilana, Lance and Octus, three alien teens that crash-land on Earth while attempting to escape an evil General who has taken over their home planet, Galaluna. Ilana, princess of Galaluna, Lance, a rebellious but capable soldier, and Octus, a bio-cybernetic robot, must now blend into everyday life in Sherman, Illinois. Posing as high school students, Lance and Octus work to conceal Princess Ilana from General Modula and his hideous space mutants sent to harm the sole royal heir of Galaluna. This motley trio makes a real effort to navigate high school life, all while saving the planet and themselves from an onslaught of inter-galactic attacks. When called into battle, Octus activates the sym-bionic defense program and Ilana, Lance and Octus come together to form the spectacular cyber-giant Sym-Bionic Titan.
Okay, so it's a new show from Tartakovsky, plus it's got teenagers who can combine into a giant robot. Who is not on board for this?
There's also a new Generator Rex on the Cartoon Network at 8:30 PM.
And then at 9 PM, there's a one-hour season premiere of Star Wars: The Clone Wars, with "Clone Cadets"/"Arc Troopers." This show has slowly grown on me, to the point where its mixture of cartoon action and encroaching darkness is becoming pretty compulsive. Here's a trailer for the new season:

Then there's a new Haven on Syfy at 10 PM, "The Hand You're Dealt."
Movies:
At 6:10 AM, Starz has Cloudy With A Chance Of Meatballs. And at 7:30 AM, USA is showing Terry Gilliam's The Brothers Grimm. At noon, FX has the original Austin Powers. At 4:30 PM, the Cartoon Network is showing the all-time classic Batman And Robin, easily the best Batman movie starring George Clooney. Starz has Jurassic Park III at 3:40 and Quarantine at 5:30 PM.
And then at 8 PM, Disney has the basic cable premiere of Wall-E, the hit 2008 Pixar film. And at 9 PM, G4 has Stargate, the movie that launched a million seasons of TV. At midnight, TNT has Terminator 2: Judgment Day. At 2:15 AM, AMC has The Flesh Eaters, followed by Frankenstein Meets The Wolf Man.
Saturday:
National Geographic is airing a one-hour special called Collapse, based on the book of the same name by Jared Diamond. Which sounds like must watch viewing, if they actually manage to find a way to encapsulate the book's themes (and its implications for our civilization) in an hour. That's on at 8 PM.
And then the second season finale of Being Human is on BBC America at 9 PM.

Movies:
Syfy is having a ton of horror movies, including Leprechaun 2 and Final Destination 2. FX is showing Austin Powers at 8 AM, followed by Dude, Where's My Car? at 10 AM. Also at 10 AM: Hancock, on Starz. Soylent Green is on TCM at 1 PM. And Terminator 2 is on TNT again, at 3 PM, followed by The Matrix: Revolutions. The Back To The Future trilogy is on ION, starting at 4:30 PM. FX is once again showing Cloverfield and Jumper, starting at 5 PM. RoboCop is on G4 at 8 PM, followed by another showing of Stargate. And then capping it all off, Spaceballs is on AMC at 2:15 AM.
Sunday:
Say goodbye to The Gates — the final two episodes of the season (and most likely, the series) are airing back to back on ABC starting at 9 PM. (Note: One hour earlier than usual.) And judging from the episode description, it sounds like Sarah's string of bad decisions will continue:
Vanessa and Frank's latest decision may just tear apart The Gates. Sarah shuns those around her and seeks temporary relief with Devon after learning that The Gates abounds with Supernaturals, but she's going to learn that Devon is the one person she can't trust. Brett is enraged that Andie and Charlie are back together but his extreme actions to remedy this will have far-reaching effects.
Also at 9 PM, National Geographic has a special on Nazi Super-Bombs. Because.
At 11:30 PM, there's a very promising episode of the Venture Bros. entitled "Porno & Circuitry" on the Cartoon Network.

Movies:
The Hot Chick is on Starz at 7:30 AM, for those of you who wake up drunk. Syfy is showing movies about deadly meteors and asteroids all day. The Matrix: Revolutions is on TNT at 12:30 PM. Around the same time, Starz is showing The Men Who Stare At Goats. G4 is again showing Stargate at 4 PM, followed by Aliens. TNT is showing Roland Emmerich's 10,000 B.C. twice, at 8 PM and at 10 PM, followed by Batman and Robin. And then Jeepers Creepers is on MTV at midnight.