Earlier this year, WhatsApp betrayed its longstanding commitment to privacy when it announced that it would share user data with its parent company Facebook for the purpose of selling ads. Today, a German regulator announced it is putting the brakes on Facebook's plan.

From The New York Times:
The city of Hamburg's data protection commissioner ordered Facebook on Tuesday to stop collecting and storing data on WhatsApp users in Germany, the first time a privacy watchdog has waded into the debate. The regulator, which has authority over Facebook's activities across Germany, also called on the social network to delete all information already forwarded from WhatsApp on roughly 35 million German users.

I can't say I'm not at least a little bit envious of the Germans for delivering this privacy smackdown to Facebook. The reality is that by Facebook sweeping up your data from yet another application to add to its massive databases so that it can better make money off your personal information has exactly zero benefit to you as a user and helps Facebook line its already overflowing pockets. The company hasn't been forthcoming with what data it is collecting exactly, and some of the data points it is willing to admit it is collecting make me slightly nauseous from a privacy standpoint.
G/O Media may get a commission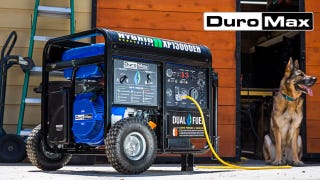 Black Friday Sale
DuroMax Generator Sale
"After the acquisition of WhatsApp by Facebook two years ago, both parties have publicly assured that data will not be shared between them," Johannes Caspar, the Hamburg Commissioner for Data Protection and Freedom of Information, said in a statement. "The fact that this is now happening is not only a misleading of their users and the public, but also constitutes an infringement of national data protection law."
Sure, Facebook has to recoup the $19 billion it spent to acquire WhatsApp in 2014. But sweeping up even more of your data from a supposedly privacy conscious app maybe isn't the best way to do it if Facebook really cared about the privacy of its users.

"In addition, there are many millions of people whose contact details were uploaded to WhatsApp from the user's address books, although they might not even have a connection to Facebook or WhatsApp," Caspar said. "According to Facebook, this gigantic amount of data has not yet been collected. Facebook's answer, that this has merely not been done for the time being, is cause for concern that the gravity of the data protection breach will have much a more severe impact."