The head of Marvel Studios reveals their next four movies, which characters he wants to see get movies, and little things to look out for in The Avengers and Thor. A veteran of ER is joining the Torchwood cast. Spoilers!

The Avengers
More and more details are trickling out of Marvel Studios executive Kevin Feige's recent chat with fans. He revealed that we will see a new Iron Man costume when Tony Stark shows up in The Avengers, with the evolution of the costume that began in Iron Man 2 continuing in the big team-up film.
Thor
Feige also revealed that, though Thor's human alter ego Donald Blake doesn't feature in the movie, there is a sly allusion to him that fans can watch out for. [Hero Complex via Collider]
G/O Media may get a commission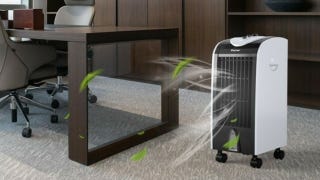 Save $10
Evaporative Portable Air Conditioner Cooler with Filter Knob
Marvel Movies
And here's a roundup of even more tidbits. Regarding other projects, he said the projects he's focused on for the next three years are The Avengers, Ant-Man, Runaways, and Iron Man 3. He revealed Edgar Wright is working on the next draft of Ant-Man, and they hope the film goes into production sometime after The Avengers.
He confirmed "a very talented writer" - believed to be xXx writer Richard Wilkes - is currently working on a screenplay for Iron Fist based on Ed Brubaker and Matt Fraction's run on the comic. He confirmed that Marvel Studios has reacquired the rights for The Punisher, and he reaffirmed his love for Doctor Strange, Black Panther, and Luke Cage.
He also said he hopes to bring more female superheroes to the screen, as well as delve further into the more cosmic part of the Marvel universe that Thor opens up. He also said they are still open to making R-rated films, pointing to the success of the Blade films. [via /Film]
Tron Legacy
A new review drops a couple amusing hints about what's in store: the film features at one point an "insanely cute, strategically placed Boston terrier." It also mentions that Jeff Bridges brings more than a little of the Dude from The Big Lebowski to his character, even saying the line, "You're messing with my Zen thing, man." [ABC News]
Harry Potter and the Deathly Hallows
Kelly MacDonald, who has appeared in such acclaimed works as Trainspotting, No Country for Old Men, and Boardwalk Empire, will reportedly appear in the small but pivotal part of the Grey Lady, the Ravenclaw house ghost, in the second part of the film. [Vanity Fair]
Narco
Adam Sandler is reportedly working on a pair of genre-friendly comedies. First up, he's attached to a remake of the French film The Secret Adventures of Gustave Klopp. The film concerns a man with narcolepsy who has vivid dreams about superheroes whenever he falls asleep. Upright Citizens Brigade director Clay Tarver is reportedly working on the script. [Pajiba]
The $40,000 Man
Sandler has also reportedly been offered the lead in a parody of The Six Million Dollar Man. This project has been stuck in development hell for a long time now, with Bad Santa director Terry Zwigoff signed on for it about three years ago and very little news about it since then - in all likelihood, he has since moved on from the project. The screenplay has reportedly been rewritten from scratch of late, by Freaks and Geeks actor turned writer John Francis Daley. You might want to take Sandler's involvement with a grain of salt, as there were fairly similar reports of Robert Downey Jr. signing on a few months back. [Pajiba]
Singularity
The reincarnation thriller stars Josh Hartnett as a guy living two separate lives, one as a British officer in 1778 and the other as an archaeologist in 2015. Neve Campbell is now reportedly in talks to play his wife, who apparently "gets stuck in a sunken ship while trying to retrieve a ring." If nothing else, that's pretty much my favorite character description ever. [The Hollywood Reporter]
The Green Hornet
Here's a few new photos, including an international poster: [Coming Soon and IGN]

Fringe
Here are some set photos: [Roland's Flickr]

Doctor Who
A news report mentions that Amy and Rory's honeymoon spaceliner has 4,000 passengers on board, and they are all under attack from a giant floating shark...which the production team nicknamed Clive. Steven Moffat explains why he feels the stakes need to be heightened in a Christmas special:
"If you're going to do a Christmas Day episode, which is based on the principle that the audience have had a selection box for breakfast and are probably drunk, then you have to move it on a bit – because a normal episode of Doctor Who wouldn't be enough. I think [Christmas shows] have to be emotional. You have to go on the whole journey – laugh and cry a bit."
Torchwood: The New World
The series has reportedly cast its third, American lead to complement John Barrowman and Eve Myles. Mekhi Pfifer, best known for his work on ER and more recently on Lie to Me, will reportedly be playing CIA agent Rex Matheson. Here's the character description for Rex, in case you need a refresher: [Deadline]
He's 28, the golden boy.

Has been, all his life. Harvard education, fast-tracker in the C.I.A., destined for success. Though he's never taken it easy – Rex hustles, seduces and campaigns to get where he is today. He can talk his way into anything, then charm his way out, fast. He's made a lot of enemies, but his friends and lovers would defend him to death. His choice of career is significant. Someone like Rex could make a fortune in Wall Street, or Hollywood. But choosing the C.I.A. says a lot about him: that for all his swagger, he does believe in justice. And will fight for it.

Slowly but surely, we see him make friends. He's thrown together a bunch of people known as Torchwood, the only people who might have the answer to a global mystery. To Rex, at first, they're a bunch of freaks. Welsh women and World War 2 Captains, what's that about?! But as they race from one crisis to another, dodging assassins, blackmail, corruption and conspiracy, from Washington to Wales and the slums of Shanghai, Rex forges friendships in the heat of fire. He learns to trust his new colleagues. And they realize that this dangerous, dazzling, reckless man is the best friend they could ever have, in a world going to hell.

They frighten us, men like Rex. We wish we were him; we never will be.
No Ordinary Family
In an apparent effort to become the hottest show of 1985, No Ordinary Family has reportedly followed up its casting of Silver Spoons's Rick Schroder with the addition of Anthony Michael Hall. He will reportedly play "a force to be reckoned with" who crosses paths with Jim in a February episode. [TV Guide]
Supernatural
Here's a preview reel for the January episodes:
The Cape
Episode 8 will reportedly be called "Beauty and the Lich." [SpoilerTV]
Misfits
According to deleted tweet from British actor Jason Maza, the show is coming back from a third series, but Robert Sheehan won't be back as Nathan. Maza isn't involved with the show, but he's currently doing a film with Sheehan. This is all secondhand information that can quite easily get garbled - anyone remember when a Survivors costar confirmed Paterson Joseph would be the next Doctor? [SpoilerTV]
Smallville
Here's a preview for what lies ahead in January:
Additional reporting by Michael Ann Dobbs and Charlie Jane Anders.