Benicio del Toro (and Lloyd Kaufman) join the ever-expanding cast of Guardians of the Galaxy. Check out a 13-minute Man of Steel featurette while Henry Cavill and Hugh Jackman discuss their superhero futures. Joss Whedon shares some hints for Agents of S.H.I.E.L.D. Plus the latest World War Z and Pacific Rim videos! Spoilers!
Top image from World War Z
Star Wars: Episode VII
Leaving aside those who have already appeared in the Star Wars universe, I believe the only casting rumor — and a quickly debunked one at that — concerned Fringe star John Noble. Well, the British tabloid The Sun took one look at the Noble rumor — which, though utterly fake, at least made a certain amount of logical sense, considering Noble's awesomeness as an actor and his professional connection to director J.J. Abrams — and decided they could offer something way crazier than that.
To that end, they are reporting that Florence Welch, the English singer best known as the non-Machine half of Florence and the Machine, "is being lined up for a leading role in the new Star Wars movie trilogy." Welch's only acting experience thus far is in Terrence Malick's next film, so Star Wars would pretty much be her cinematic debut — indeed, given Malick's propensity for cutting actors out of his films entirely, there's every chance this would be her first ever appearance on-screen, assuming this rumor isn't bullshit, which it almost certainly is. In slight, slight fairness, it's worth pointing out that original Star Wars stars Mark Hamill, Carrie Fisher, and (to a slightly lesser extent) Harrison Ford were all more or less unknowns when they took on their roles, but still... I'm not even sure it's worth wasting a grain of salt on this particular rumor. [The Sun]
---
Man of Steel
Henry Cavill address the much-rumored plans to eventually follow up Man of Steel with a Justice League movie. Keeping in mind that this isn't really his decision, Cavill outlines what he would like to see happen if Warner Bros. were to pursue such a plan:
If Warner Bros. were to come to me and say "we are planning this and how do you want to do it," - you have to introduce various characters, so it's just not like 'bam' the world is full of god-like superheroes. You would have to find them and introduce them through various movies, and then bring them all together with a major threat that happens. Whether that threat be Doomsday or Braniac or whatever, we don't know, but it would have to be a lot more storyline to have the audience be okay with an introduction to say Brainiac or Doomsday.
G/O Media may get a commission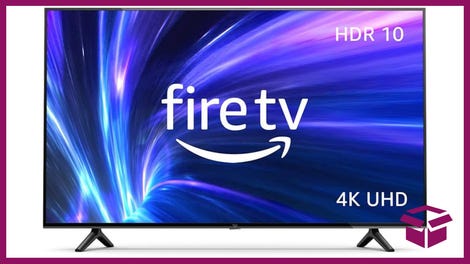 42% Off
Amazon Fire TV 50" 4K Smart TV
The mention of those particular villains is intriguing in terms of any Man of Steel sequels, but, again, this is probably all best taken as idle, if fairly cogent talk from the franchise's star. [Comic Book Movie]
Here's a 13-minute behind-the-scenes featurette. [/Film]
Lois Lane actress Amy Adams offers this summation of what to expect from the movie:
'It's more raw, a little less quippy. Hopefully you'll enjoy the banter and the relationship between Lois and Clark, but it's a totally new imagining of the story. I was shaking by the end of it. I realised that I hadn't seen a film with that much action in it since Avatar, so it overwhelmed my adrenal system. Not that it's all just action, but it is a lot of fun.'
[Elle UK via Daily Mail]
---
Guardians of the Galaxy
A couple years after almost taking on the role of Khan, Benicio Del Toro has reportedly finally found a space opera franchise to call his own. There aren't too many specifics, but the Usual Suspects actor has reportedly agreed to a "lead role," playing a character who could appear in several future Marvel movies — which means his contract provides for appearances in subsequent films. There's no word on exactly who he's playing, and speculation has ranged from Thanos to Adam Warlock, so really your guess is as good as mine at this point. [Deadline]
Meanwhile, in much more insane casting news, Troma mastermind Lloyd Kaufman has revealed that writer-director James Gunn is giving him a small part in the movie. Gunn, who got his start with Troma, previously cast Kaufman in cameos in Super and Slither, although Kaufman was ultimately cut out of the latter:
Yeah, he's giving me a part. I'm going to be in his movie. I'm going to London at the end of June to play a small part.

Will we recognize you?
Well, did you see Super?

Yeah, I noticed you in that.
You never know. He cut me out of Slither. You have to look real [hard]. He cut my improvised line. But I did a whole behind the scenes thing there for him and they put it on the DVD... We'll see what happens. James is a good guy. I think it'll be interesting just to see what it's like and I'll shoot some behind the scenes.
---
The Wolverine
I don't particularly think this quote is much different from what Hugh Jackman has previously said about his future as Wolverine — basically, he'll do it for as long as he thinks it's worth doing — but if you hear chatter about Jackman saying he's retiring from the role, then this is the source:
I wasn't even sure after the first [stand-alone] film if I would do another. I won't say never, because I'm still loving it. But there would have to be a pretty compelling reason.
[EW]
---
Pacific Rim
Here's the latest TV spot.
---
World War Z
Here's a sneak peek clip. [Shock Till You Drop]
Here are some interviews from the London premiere with stars Brad Pitt and Mireille Enos.
---
Monsters University
Here's the latest sneak peek clip. [The Wall Street Journal]
---
Agents of S.H.I.E.L.D.
Joss Whedon stresses that this show will be proudly independent of all the big-budget movie franchises in the larger Marvel live-action universe:
"It's very important to me that the show stands on its own. The people that never saw any of the movies can tune in and enjoy it. We like being a part of the Marvel Cinematic Universe and we like having all of the mythos to play off of, but if the show was 'You just missed Tony Stark. Wow, he was JUST here' that would be the most unsatisfying show ever. We have an ensemble, a new ensemble — apart from Clark [Gregg as Agent Coulson], it's all people I've never worked with before but I'm really excited about them, I'm really proud of them. I think people will want to see them every week."
He also confirms that Agent Coulson's death will be addressed, and his resurrection will be something the show earns over time, because "that's not something you take lightly." Finally, he discusses Angel alum J. August Richards's guest spot in the pilot:
"I'm not going to say who [J. August Richards is] playing. But he's certainly cranky, as you can tell from the trailer. He's great, he came in to guest star and he tears it up. He's got that kind of energy, he's so much fun and [a] lovely guy, it's always nice when you get to see your old friends again."
[EW via Comic Book Movie]
---
Game of Thrones
Assuming you're still even capable of watching the show after last Sunday's nuptuals, here's the promo for the third season finale, "Mhysa." [Film School Rejects]
---
True Blood
Star Anna Paquin previews season six:
"Things left off in a pretty serious place in regards to where Eric and I leave Bill having just turned into this creature of the blood with these monster fangs-and who the hell knows what that is? So obviously, that situation has to [play] out. And we have new cast members this year, and that's always fun to have fresh blood, if you'll pardon the pun."
New showrunner Bryan Buckner adds:
"This season, the writers and I have been making a concerted effort to help Sookie grow up, become a little bit darker, more accepting of her fate, more self-knowing. [Paquin] is able to tell us so much with her eyes… I don't think there are very many actors out there who could pull off what we're asking of her this season… Her performances literally hold [True Blood] together as a show."
---
Falling Skies
Here's a promo video for the imminent third season, entitled "Alien Propaganda."
---
Continuum
Here's a promo for episode seven, "Second Degree."
---
Warehouse 13
Here are short descriptions for the episodes airing June 17 and June 24:
Episode 4.17 - What Matters Most
When residents of a posh gated community start getting affected by a mysterious, versatile artifact, Myka and Pete investigate.

Episode 4.18 - Lost & Found
A lead on a cache of artifacts stolen from Warehouse 12 by the infamous pirate, Roaring Dan Seavey.
---
Teen Wolf
Daniel Sharman discusses his character Isaac's relationships with the rest of the cast heading into season three:
For Isaac, Peter is a really important person in his growth 'cause he sees someone who is just a complete loose canon, and someone that he could be, if he allowed himself to give in to those urges of immediacy and anger and pain. I think he looks at Peter as a warning side of something that he shouldn't be, but he also kind of admires him, in a strange way. With Derek, he looks at him as a flawed leader that he's not entirely sure if he wants to follow. When this dynamic all comes together, it's always a funny relationship between all of us. Being the youngest of the lot, Isaac is always watching and learning and figuring out which of these people he wants to follow, or if he wants to follow any of them.

What sort of relationship does Isaac have with Scott (Tyler Posey) now?
With Scott, Isaac sees somebody who does have a great moral compass. Scott really has something that Isaac admires, which is this idea of right and wrong. That relationship begins to build out of a shared idea of what is right. But then, as the season goes on, he sees the ability for Scott to be flawed. Isaac is picking and choosing what he can take from everybody, and figuring out what he wants from these new powers.
[Collider]
---
Beauty and the Beast
Here's an interview with star Jay Ryan about season two.
---
Additional reporting by Amanda Yesilbas and Charlie Jane Anders.