If you're reading this, there's at least a 50 percent chance you or someone you know is a complete Mactard. Here's their wish list (SPOILER: It's all Apple stuff):
BTW, if you hate the gallery format as much as the Grinch hated Christmas, click here.
Magic Mouse: It's a bit too expensive for stocking stuffer territory, but we've called the nipple-less design the best mouse Apple has ever made. And if you can't appreciate touch-sensitive scrolling, you have no soul (or, at least not one that we can see). $70 [Apple]
G/O Media may get a commission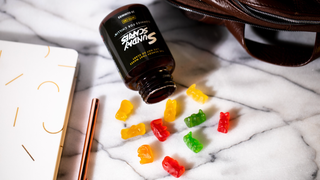 10mg CBD Gummies (22-Count)
Buffy Gelaskins: Loving Apple will only half-fill one's necessary geek quotient. Your loved one will do well filling the other half with Buffy, now that Dark Horse comics has teamed up with Gelaskins re-stickable case skins for the iPhone and MacBooks. $15 iPhone, $30 MacBook. [Dark Horse]
iMac (27-inch i7): You simply won't find a more striking desktop on the market, but maybe more importantly, benchmarks on Apple latest top-tier iMac are currently challenging far more expensive Mac Pros. Plus, the line has just seen a refresh, so it's a good time to buy. $2200+ [Apple]
BookArc Stand: No, it's not the gift for everyone. But if you know a guy who just docks his MacBook anyway, the BookArc Stand is a far more elegant solution than sitting a laptop on a desk (especially since the laptop should run cooler given the increased surface area for airflow). [BookArc]
Doesn't Fall Far From the Tree (T-Shirt): Who says the apple doesn't fall far from the tree? This t-shirt, that's who. $18. [Go Ape Shirts]
Apple Tablet IOU: Apple fanboys love Apple's products. But true Apple fanboys—those who take commitment and fanaticism to the next level—could never be pleased with what Apple currently has on the table. They need the Next Big Thing. We're about 1000% certain that Apple will release a tablet some time in 2010. Promise your loved ones that you'll camp overnight and drop the cash so they get the Apple Tablet first. Of course, they'll still bitch about it, anticipating version 2.0. Price Unknown, Costs Some Dignity
DON'T BUY MacBook Pro: There has simply never been a worse time to buy a new MacBook Pro. With Core i5/i7 tech inevitably waiting to make its way into Apple's premium laptops, your hard-earned cash will almost certainly buy a vastly more powerful, more future-proof machine less than a month after Christmas. The same can probably be said about Mac Pros, too. Oh, and that 27-inch iMac we keep raving about? What a glorious alternative to the aging, 30-inch Apple Cinema Display! [Apple]
Wall of Sound iPod Dock: There are iPod docks, and there are iPod docks. This is most definitely the latter, a handcrafted, 3x4-foot, 225lb, 125W beast. And one day, when Apple inevitably tweaks the iPod port, this behemoth will be useless—feeding into the general regret and dissatisfaction critical to Apple fandom. [Wall of Sound]
Don't forget to recommend your own favorite Apple gear in comments-include pics and pricing if possible.
All Giz Wants is our annual round-up of favorite gift ideas, including amazing attainable objects and a few far-out fantasies. We'll be popping guides catered to different interests several times per day for the next week, so keep checking back.