This isn't for your commuter friend who looks at a car wondering if it'll provide comfort while idling in traffic. This is for the friend who considers the drive from San Francisco to Portland a jaunt. Don't try to appease them with a silly, tree-shaped air freshener. Instead, give them the tools needed to do timed laps of the continent in their 1990 Honda Civic hatchback.
---
1. WindowSeat HandsFree Smartphone Mount
The road gets lonely. Especially when all your friends have jobs and they would rather sleep than see the Largest Ball of Twine in God who knows where. Scrambling to grab your phone in the passenger seat while you're driving is dangerous. Plus, since most car stereos work with smartphones, wouldn't it be easier to put the phone somewhere they can see it? The WindowSeat HandsFree mount attaches to the windshield and adjusts to fit more smart phones and MP3 players. You could probably even fit a Zune in there. I'm just kidding, not even your road tripping friend has a Zune. $40
[Griffin]
---
G/O Media may get a commission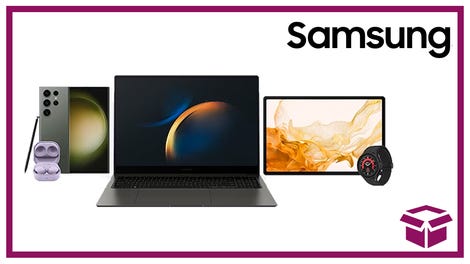 24 hour deals
Discover Samsung - Daily Deal
2. Sony DSX-S310BTX Car Stereo
Every good road movie has a great soundtrack. That's because music and driving are intertwined for many of us. Whatever your smartphone of choice, the awkwardly named Sony DSX-S310BTX will probably work with it. It's ready for your iPhone and iPod and will play Pandora from your iPhone, Blackberry, and Android device. You can even stream Bluetooth audio to it so your passenger in the back seat with Queen's Greatest Hits album can get in on the action. $280
[Sony]
---
3. Wagan Tech 2260 6-Liter Thermo-Fridge/Warmer

Hydration is vital. When the windows are down and the wind is blowing through your friend's hasn't-been-washed-in-a-week hair, it's actually robbing them of water. Pulling over every hour is for chumps. But a mini-fridge you can fit in your center console, that's baller. The Wagan Tech 2260 6-Liter Thermo-Fridge/Warmer holds nine cans of of soda—which probably translates to 12 Red Bulls—for the caffeine-fueled trips to Vegas. Bonus, it's a warmer too. Stock up on road-side burritos and coffee. $45 [Wagan Tech]
---
4. Duro-Med Male Urinal
After all those beverages from the mini-fridge, bladders will burst. Rest stops are creepy, there's not a gas station for a 100 miles, and I think we all know when you pee along side the road, everyone can see your wang. Enter the Duro-Med Male Urinal with Cover. The cover is key because we don't want pee spilling all over the place. $9 [Amazon]
---
5. Scorpion Jacket
There's a good chance your friend has seen the movie Drive. They've probably seen The Fast and The Furious series too, but who wants to dress like Vin Diesel? Even if they haven't seen the movie, this is a jacket with a scorpion on the back. That's awesome. It's the officially licensed jacket, blah, blah, blah. THERE'S A SCORPION ON THE BACK! I guess you could also use it to keep the cold out. Scorpion!!! $160 [Steady Clothing]
---
6. Fratelli Orsini Driving Gloves
Steering wheel callouses don't have the same street cred as, let's say, callouses from chopping wood or wrestling bulls in a winner-takes-all death match. That's why driving gloves are important for the long-distance driver. Plus, they look cool. Everyone thinks the guy with driving gloves is cool and mysterious. Maybe he's Italian. Maybe he's a duke of something. Maybe he's a serial killer. The Italian-made Fratelli Orsini driving gloves are great way to class up those drives without adding a tea set to you car. $30 [Amazon]
---
7.Ray-Ban Wayfarers
Good sunglasses are key to driving. Instead of trying to find the hippest glasses on the market, just droop a pair of Wayfarers on your friends face. They're the glasses that never go out of style. Just be sure to throw a cleaning cloth in the box—gas station food grease can be murder on lenses. $145 [Ray-Ban]
---
8. GL1 - Vehicle Diagnostics for iPhone/iPad
The dreaded engine mishap will kill any road trip. It lights up with warning signals and you're left guessing if the problem is minor, like a bad oxygen sensor, or something more sinister. Find out what the problem is quickly with a vehicle diagnostics tool that attaches to an iPhone. Just plug it into your vehicle's OBD-II data port—usually located on the passenger side of the car—and figure out if you should head to the Grand Canyon, or sit at home and hassle your mechanic. $100 [ThinkGeek]
---
9. Snap-On Multi Tool
Even with the best diagnostics tool, your car will eventually end up on the side of the road. Because having an entire tool chest in your car would take up the room reserved for the mini fridge (can't happen), it's a good idea to consolidate your tools. the Snap-On Multi Tool is everything you need, including an LED flashlight, to make minor repairs. $44 [Snap-On]
---
10. Garmin nüvi 3790 LMT GPS
No matter how much of a map snob your friend may be, a GPS device can be invaluable. Especially when you've angered the natives and you have to make a quick exit in unfamiliar territory. Don't cheap out and make your friend have to pay a monthly fee for map updates. That's not a gift, that's a burden. The Garmin Nüvi 3790 LMT not only looks good on a car dash, but it's slimmer than those hideous boxes and comes with lifetime map updates and access to traffic information. It can be used in portrait and landscape mode and understands spoken commands. $400 [Garmin]
---
Still haven't found the right present? Don't worry, we're here all month with a new gift guide every day—right up until the last minute. To see 'em all, head on over to #GiftGuide.
---
Roberto Baldwin