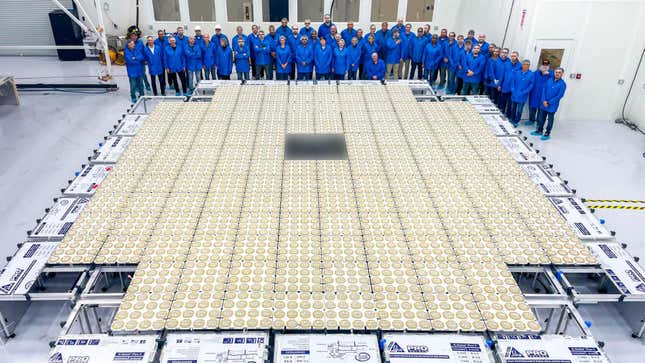 Texas-based AST SpaceMobile used its space-based cellular tower to transmit signals at 4G speeds to off-the-shelf smartphones, marking a success for its prototype satellite.
Astronomers Could Soon Get Warnings When SpaceX Satellites Threaten Their View
On Wednesday, the company announced that its engineers conducted a series of tests of the BlueWalker 3 satellite in June, beaming down data at download speeds above 10 Mbps from space straight to regular cell phones in Hawaii. The 4G speeds were achieved using AT&T spectrum and Nokia RAN technology, with the company now preparing to test the satellite at 5G speeds.
"Achieving this milestone from an unmodified, standard cell phone on the ground connecting through our low Earth orbit satellite is another groundbreaking moment in telecommunications history," Abel Avellan, chairman and CEO of AST SpaceMobile, said in the company's statement.
AST SpaceMobile wants to create the first space-based cellular broadband network directly accessible by cell phones but it's not the only one. Lynk Global deployed three satellites designed to deliver service from space directly to cell phones on Earth.
It is an emerging technology and the Federal Communications Commission is currently developing a framework through which companies can provide satellite service directly to cell phones.
SpaceMobile's prototype satellite, BlueWalker 3, launched aboard SpaceX's Falcon 9 rocket in September 2022 from Cape Canaveral, Florida. In April, the BlueWalker 3 satellite routed an audio call between two standard smartphones, one in Texas and another in Japan. The company wants to build an entire constellation of 100 satellites, named BlueBirds, with plans to start launching them to orbit in late 2024.
Its first satellite, however, already caused quite a stir with its launch. Following its launch, BlueWalker 3 unfurled its 693-square-foot (64-square-meter) antenna array, the largest every deployed in low Earth orbit. The satellite became one of the brightest objects in the night skies, causing concern among astronomers as it could interfere with observations of the surrounding cosmos.
 For more spaceflight in your life, follow us on Twitter and bookmark Gizmodo's dedicated Spaceflight page.