You may not know the name Gin D. Wong, but you definitely know his work. He's responsible for some of the most iconic buildings in Los Angeles, including the Theme Building at the Los Angeles Airport (pictured above), and he even inspired the designers of the legendary 1962 animated TV show The Jetsons. Wong died on September 1st at the age of 94.

Wong designed not only the 1960 Theme Building (perhaps better known as something like "The Spaceship" to travelers at LAX), but he was also instrumental in erecting other icons of midcentury modern design.
For instance, Wong designed the Union 76 gas station in Beverly Hills, with its enormous exaggerated roof, which was completed in 1965. And he worked on the CBS Television City Building, another modernist masterpiece, which was completed in 1952.
Wong also worked on the now defunct Marineland of the Pacific in Palos Verdes which was a theme park that opened a year before Disneyland in 1954, and the Transamerica building in San Francisco, one of the most recognizable pieces of that city's skyline.
G/O Media may get a commission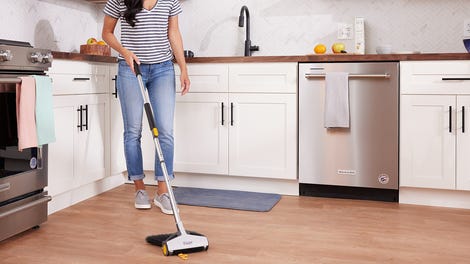 BOGO 50% Off
Flippr - BOGO 50% Off
"It's not muddied up," Wong said of the Transamerica building, making his design philosophy clear. "It's just simple, clear design."
Wong talked about some of his most important works during a 2013 interview that can be viewed on YouTube.
And while he had no direct hand in the creation of the CBS TV show The Jetsons, anyone familiar with the buildings he helped design will immediately see his influence. The mix of midcentury modern and Southern California's Googie style are the foundations of The Jetsons universe. And the futuristic world of George Jetson and his iconic style wouldn't have been the same without Wong.
We explored this design style in depth back in 2012, during the 50th anniversary of The Jetsons, as well as in our study of Googie's 21st century style more broadly. And despite being retro-futuristic, there's still something other worldly and optimistic about it all.

But even though Wong influenced the design of Southern California so tremendously, the Los Angeles Times explains that he never quite became a household name in the architecture scene.
After graduation, he went to work for Pereira & Luckman and later stuck with his mentor to help run Pereira & Associates, where he became director of design and then the firm's president. He was a star of those firms. He led the large design team that modernized LAX in the 1950s, readying the airport for the age of jet travel. But it was Pereira, the name partner, who landed on the cover of Time, his confident expression and impressive head of hair under a banner reading "Vistas for the Future."

When that issue hit newsstands in September 1963, very few Angelenos would have recognized Wong's name. He was a Chinese American architect in a firm led by a master of architectural marketing and business development. For all the daring of Wong's work, he was destined to remain one of the associates.
Born on September 17, 1922, in Guangzhou, China, Wong moved to Los Angeles when he was 9 years old. And while there have always been fights about the meaning of "authorship" in the world of architecture, Wong's story is one of importance for scholars considering the role of race in who gets credit for a particular work.
Even people who consider themselves deeply invested in architecture may have never heard Wong's name, as the Los Angeles Times points out. And that's a shame. Not only for the architecture community, but for those of us who appreciate his influence on other aspects of culture.
Yes, The Jetsons may not be the most high-brow legacy of Wong's to consider. But for those of us who credit the show with giving us technologically optimistic visions of the future, it wouldn't have been the same without him. The animators who gave us that creation lived and breathed Wong's world as they drove around Burbank and Los Angeles in the 1950s and 60s. The design of that Jetsonian world was as much his as it was Hanna-Barbera's.
RIP Mr. Wong. We thank you for a steadfast and optimistic glimpse of tomorrow that amazingly still endures today.