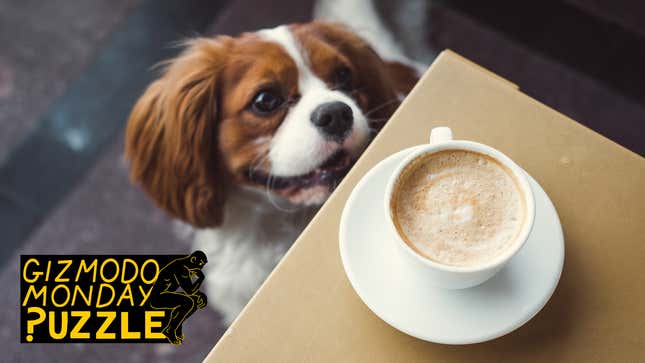 I used to do research in pretty esoteric math. When people politely asked about my work, I would deliver my prepared layman's elevator pitch and then wait for the inevitable dreaded question: "How does that apply to the real world?" I would then try to appease them with the few stretch-use cases of my research, or some spiel about how basic mathematical inquiry is important because many modern technologies rely on abstruse math developed centuries ago by people who couldn't have envisioned its applications. Anything to keep them nodding and avoid revealing my true answer: "I don't care if it applies to the real world." Math, to me, has always been a beautiful challenge with intrinsic worth.
Rainn Wilson Would Be the Best Dungeon Master for Dungeons & Dragons | io9 Interview
This week is for the grass-touching "real world" camp. I bring you two puzzles from physics that you might actually encounter in daily life.
Did you miss last week's puzzle? Check it out here, and find its solution at the bottom of today's article. Be careful not to read too far ahead if you haven't solved last week's yet!
Puzzle #10: Physics Stumpers
You have a piping hot cup of coffee that's too hot to drink. You can either pour a splash of cold milk into it and then let it sit for 10 minutes, or first let it sit for 10 minutes and then add the milk. In which scenario will the coffee end up cooler, or are they equivalent? In both scenarios, assume you pour the same amount of milk and it is the same temperature.
You're in a canoe in the middle of a pond and you brought a rock with you. You pick up the rock, drop it into the water, and watch it sink to the bottom. Does the water level of the pond rise or fall (however imperceptibly) when you do this, or does it stay the same?
More knowledge of physics will make these puzzles easier, but you should test your intuitions regardless of your background. Each problem demonstrates a different physical concept, and they have elegant solutions that don't require calculations. You could even take a proud plunge into empiricism by running the experiments for yourself—please let me know if anybody does this.
I'll be back next Monday with the solutions and a new puzzle (update: find them here). If you know a cool puzzle that I should cover here, send it to me at gizmodopuzzle@gmail.com
---
Solution to Puzzle #9: The Best Full House
(There is a bonus puzzle at the bottom of this solution.)

Last week, we raised the stakes with a poker poser. I was heartened to see a lot of collaboration in the comments section. Many suspect that three aces and two kings is the clear choice because it beats all other full houses. In fact, you're best off choosing three aces with either two 9s, two 8s, two 7s, or two 6s—all give you the same chances of winning. Shout-out to AtomicSnowman, who coded an elaborate python program to churn through possibilities and arrive at the correct solution.
When you get a full house, there are only so many remaining hands that your opponents can get to beat you. Your aim is to pick a full house that minimizes the number of such superior hands left in the deck. The only hands that can beat a full house are other full houses, four of a kinds, and straight flushes.
Let's look at other full houses first. Since you're playing with one deck and our poker variant does not involve any communal cards (like hold 'em does), it is impossible for two players to both have full houses containing three aces (there are only four aces in a deck). In other words, choosing any full house with three aces assures that no other full house will beat you, regardless of which pair you choose to accompany them.
All four of a kinds beat all full houses. Furthermore, no full house precludes more four of a kinds for your opponents than any others. If you had three jacks and two 5s, your opponents could still acquire four of anything other than jacks and 5s. The same is true of any full house you pick—they only rule out two different four of a kinds. So your choice of full house does not affect the number of four of a kinds that can beat you.
The crux of the puzzle comes down to straight flushes. How many total straight flushes are there in poker? There are four that go A, 2, 3, 4, 5 (one for each suit), four that go 2, 3, 4, 5, 6, etc. up to 10, J, Q, K, A, for a total of 40 straight flushes. If you pick three aces and two kings like below, how many straight flushes remain for your opponents?

This full house precludes all four ace-high straight flushes, two king-high straight flushes, and three five-high straight flushes, leaving 31 possible straight flushes for your opponents. Notice that the king of clubs and ace of clubs have a straight flush in common, so intuitively each card is not precluding the maximum number of hands that it can. So you want to pick your pair in such a way that it doesn't share any straight flushes with your aces. The pairs of cards that do not share straight flushes with aces are 9s, 8s, 7s, and 6s. Choosing any of these full houses eliminates 16 straight flushes and leaves only 24 for your opponents, maximizing your chances.
Many of you put forth three 10s and two 5s to block even more straight flushes. The problem with this is that it leaves way too many strong full houses in the deck. Any full house with three jacks, queens, kings, or aces would beat you, and there simply aren't enough possible straight flushes to make this concession worth it.

If you have the appetite for more poker pondering, reader Joshua Lehrer emailed me a cool related question: In Texas hold 'em against one opponent, imagine you get to pick which two cards you get dealt and which two cards they get dealt. Then the dealer flips the five community cards, with no betting between them (maybe you're all in). Which cards should you choose for yourself and for your opponent to maximize your chances of winning? I think this is notably harder than the full house puzzle, because there are way more considerations to navigate. I'll post the answer next week—it's not what you would expect!