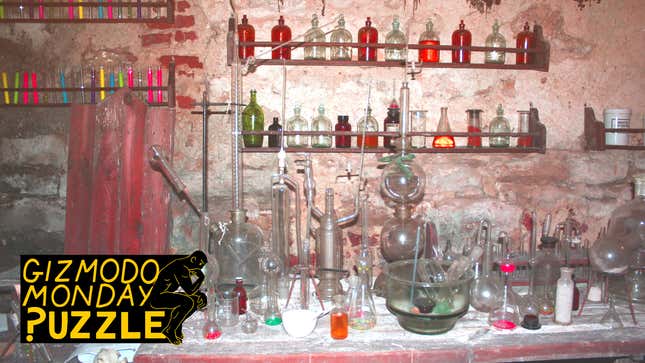 One of the most famous logic puzzles of all time involves a fork in the road, where one path leads to freedom and the other leads to your death. Each path has a guard, and one of them always tells the truth and the other always lies, but you don't know which is which. You get to ask one yes/no question to one guard to guarantee your road to freedom. What do you ask? It won't work if you simply ask one of them, "Does your road lead to freedom?" because if they reply, "Yes," then it could be a truth-teller setting you free or a liar condemning you to death.

The Boogeyman's Sophie Thatcher Reveals What Draws Her to Dark Characters | io9 Interview
This puzzle featured in the 1986 acid trip, Labyrinth, and the protagonist solved it by asking one of them, "Would the other guard tell me that your path leads to freedom?" Combining the two guards in this way cleverly ensures that you get bad advice (i.e. if the guard says, "No" then choose his path, and if the guard says, "Yes" then choose the other path). The idea is that a lie about the truth or the truth about a lie both yield reliably bad intel that you should reject. A solution I like even better is to ask a guard, "What would you say if I asked you if your path leads to freedom?" This subtle rephrasing forces the liar into a double negative. I invite you to work through the details.
Legendary logician Raymond Smullyan dubbed these "Knights and Knaves" puzzles and produced dozens of variants on them in his writings, including this week's Monday puzzle. The so-called "Hardest Logic Puzzle Ever" stars knights and knaves and requires solvers to ask three questions to crack. While that one is an absolute mind-melter, I'm tempted to assert that the puzzle I present below is the hardest puzzle of this type in which you only ask a single question. Let me know in the comments if you have other contenders.

Did you miss last week's puzzle? Check it out here, and find its solution at the bottom of today's article. Be careful not to read too far ahead if you haven't solved last week's yet!
Puzzle #11: Smullyan's Truth Machines
A magic store sells truth-telling machines. The machines each have a yellow light and a blue light that illuminate in response to true-or-false questions, with one light corresponding to "true" and the other to "false." The store owner has three machines. She tells you that two of them work and tell the truth, but one of them is broken and outputs random answers. She doesn't know which one is broken. Furthermore, she doesn't know which light colors correspond to true and false, and the meaning of the lights might differ between machines (i.e., in one machine a yellow light might mean "true," while in another machine a yellow light might mean "false"). Ask a single true-or-false question to one machine to guarantee that you walk away with a functioning truth-telling machine.
Machines that answer randomly are considerably harder to wrangle than knaves who always lie. Consistent liars mislead in predictable ways! Not knowing what the lights mean and that they can differ across machines poses even more obstacles. While this puzzle is not for the faint of heart, determined mortals can solve it.
Discuss your thoughts in the comments, and I'll be back next week with the solution and a new puzzle. Do you know a cool puzzle that I should cover here? Send it to me at gizmodopuzzle@gmail.com

---
Solution to Puzzle #10: Physics Stumpers
Last week, I left you with two puzzles from the physical world. Shout-out to Spessartine for giving good, concise explanations for both puzzles.

The first challenge asked:
You have a piping hot cup of coffee that's too hot to drink. You can either pour a splash of cold milk into it and then let it sit for 10 minutes, or first let it sit for 10 minutes and then add the milk. In which scenario will the coffee end up cooler, or are they equivalent? In both scenarios, assume you pour the same amount of milk and it is the same temperature.
The coffee will be cooler if you first let it sit for 10 minutes and only then pour the milk in. There are two ways that the coffee loses heat. One is by dissipating into the environment, and the other is by transferring heat to the cold milk until they mix and become one (cooler) temperature. Critically, things dissipate heat into the environment faster the hotter they are. So when the coffee is at its hottest, it's losing heat very quickly. Adding milk right away slows this dissipation, and instead that early heat gets transferred to the milk and stays inside the mug. For cooler coffee, it's better to let it lose as much heat as it can to the air before introducing milk.
The second question:
You're in a canoe in the middle of a pond and you brought a rock with you. You pick up the rock, drop it into the water, and watch it sink to the bottom. Does the water level of the pond rise or fall (however imperceptibly) when you do this, or does it stay the same?
The water level falls when you drop the rock into the pond. A submerged object displaces its volume. In other words, imagine the rock were made of water and we poured that water into the pond. That would raise the level of the pond exactly the same amount as submerging the rock does. A floating object, on the other hand, displaces its weight in water. This means that when the rock is in the canoe, if the rock weighs 1 pound, then it contributes a pound's worth of water to the height of the pond. So the question becomes: which is more—an amount of water equal to the volume of the rock or an amount of water equal to the weight of the rock? Weight wins this competition. In fact, we know this because the rock sinks. Ordinary objects sink in water precisely when it would take more water to equal their weight than to equal their volume. If the rock had been something much less dense, like a big airy pumice stone, then its volume in water could exceed its weight in water, and such a stone would have floated.
Ice floats in water. For a neat bonus teaser, what happens to the water level in a glass when the ice melts? Does it rise, fall, or stay the same? Let me know what you think in the comments.
Last week, I posed a bonus poker question in the solution section, courtesy of reader Joshua Lehrer: In Texas hold 'em against one opponent, imagine you get to pick which two cards you get dealt and which two cards they get dealt. Then the dealer flips the five community cards, with no betting between them (maybe you're all in). Which cards should you choose for yourself and for your opponent to maximize your chances of winning?

My gut instinct was to pick the best hand for myself, (two aces) and the worst hand for my opponent (a 7 and a 2 that don't share a suit). It turns out that you can do better when you get to pick both hands. Shout-out to reader Donnie from Las Vegas, who emailed me the correct answer. The answer is to give yourself two kings and give your opponent a king and a 2, where the 2 shares a suit with one of your kings. Awfully unexpected! Apparently, this gives the side with the two kings a 94.16% chance of winning, whereas two aces versus the 7 and the 2 only gives an 88.74% chance of winning.