Google does a lot of bad and creepy things that often seem to benefit Google more than users. But, dear reader, I have to say that I hate waiting in line so much that the site's newly announced "wait times" feature has me feeling great about the fact that my every movement is being tracked by a terrifying conglomerate.

For a while now, Google Search has displayed a "popular times" widget for various businesses which could give a vague idea of whether you'd have to wait for a table at a restaurant, or if that one bar will be so crowded you won't be able to breathe. But on Tuesday, Google announced in a blog post that it will calculate and display wait times at sit-down restaurants so that you can know which place will seat you immediately and which one will have you standing around getting more and more annoyed until you wish you'd just warmed up those Chinese leftovers. According to the company, the feature is rolling out soon on Google Search with Google Maps to follow.
Of course, wait times aren't just an issue at fine dining establishments. Maybe you get a half-hour lunch break and the local sandwich counter has a line that takes 20 minutes to navigate. And this feature could theoretically be applied to the Apple store or the Jiffy Lube. For now, Google is only talking about getting tables at restaurants, but a support page suggests that other business types, like grocery stores, will be included in the future. From Google's announcement:
To see wait times for nearly a million sit-down restaurants around the world that allow walk-ins, just search for the restaurant on Google, open the business listing, and scroll down to the Popular Times section. There you'll see the estimated wait time at that very moment. And by tapping on any of the hour bars, you'll see the estimated wait for that time period. You can even scroll left and right to see a summary of each day's wait times below the hour bars–so you can plan ahead to beat the crowds.
G/O Media may get a commission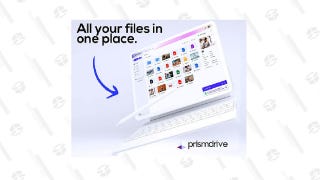 Save 97%
Prism Drive Secure Cloud Storage: Lifetime Subscription
In this modern age, it seems like almost all technological advances have a privacy trade-off. Like the popular times feature, Google is algorithmically calculating its estimates based on data gathered from the millions of people who've enabled location tracking on their phones. Yes, it's an opt-in feature, and yes, you've probably opted-in, because it makes Maps and Search a lot more useful.
Adding wait times is a minor feature upgrade that'll at least make my life a little more convenient. But it'll be interesting to see if it has ripple effects. Will people start avoiding the places with long wait times and end up raising the waits at the convenient spots that weren't so popular? Just a small algorithmic tweak could change the dynamic of a whole neighborhood.
[Google via The Next Web]