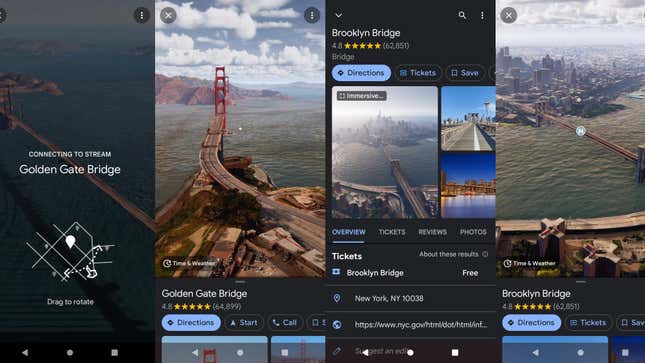 If you cross your fingers, bow your head, and pray to the great Google gods above, you could be one of the first few to access Google Maps' long-awaited "immersive view." The 3D cities flyover feature has been quietly rolling out to users over the past week, though only some are reporting that they have access to it so far.
Google's Antitrust Case Is the Best Thing That Ever Happened to AI
The feature was first announced at Google I/O in 2022, with the company promising users they would be able to see detailed graphics of some of the world's most famous cities in Google Maps in the near future. Google said last month that immersive view was "rolling out now" for London, Los Angeles, New York, San Francisco, and Tokyo, though few had actually seen the feature pop up into their Google Maps app until now. Earlier this week, at least one user on Reddit shared that they gained access to Immersive View, though noted elements like moving cars (showcased in its initial reveal) were not included, at least with this early release. Several commenters on the thread also mentioned that they could not access the feature.
Gizmodo's consumer tech team, with some of us based in New York City and another based just outside of San Francisco, tried to access the feature, though only two of our team had any luck. Seeing the feature first required typing in a major landmark in Google Maps, like the Golden Gate Bridge in San Francisco or the Empire State Building in NYC. From there, we were able to tap around and zoom in on some on a 3D rendering of the city as a whole.
Google has said immersive view uses a combination of 2D images and 3D rendering tech fused together with AI to create a navigable city experience. The feature is supposed to combine with Google street view to make hopping down to street level and walking inside some select buildings and shops as seamless as possible. The visuals in-app are effective from afar, but as you zoom in, the buildings appear more akin to Microsoft Flight Simulator (which uses similar tech, but provided by Bing) than any real full-3D render. Getting down to ground level was somewhat of a hassle, as in our tests we could only select certain points on the map to enter Street View.
The new feature also lets users see the weather of the day by scrolling through a time slider found at the bottom of the app. The effect of rain on the screen was impressive, though it did make navigating around a little more difficult. The time slider will also give you a hint as to when the busiest times are at an attraction, which should help you plan your day if you're visiting.
Overall, it's not very useful for those who live in the cities, and even for visitors, it's more of a tech demo and a last resort for if they ever get lost.
Though Berlin wasn't on Google's initial list of enabled cities, Gizmodo was able to confirm that the feature does indeed work in Germany's capital city. Google has said that Amsterdam, Dublin, Florence, and Venice are the next cities set to receive immersive view post-launch.