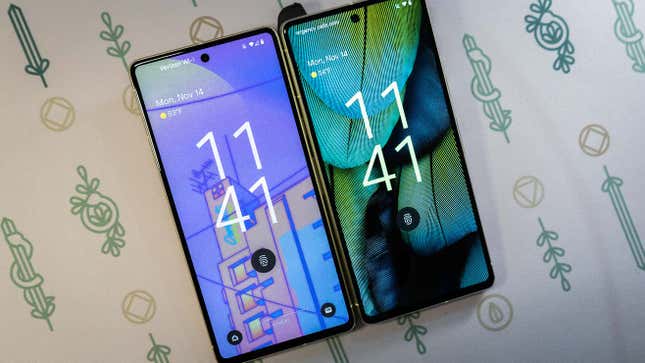 This may very well be the year of the foldable smartphone, or at least the year of more foldable choices. According to CNBC, Google plans to launch its first foldable smartphone before the next Pixel 8 flagship release. We could see the Pixel Fold, which previously seemed to have been canceled and vaguely revived, as soon as June.
How to Hide Your Sensitive Images in Google Photos
CNBC got word of the matter through "internal communications" shared with its reporters. The Pixel Fold is codenamed "Felix" inside Google's walls. The company claims it will have the "most durable hinge on a foldable." (Is this a dig at the Z Fold's cracking screens?) The Pixel Fold is supposedly water-resistant and "pocket-sized," which could mean anything, as the current Samsung Galaxy Z Fold 4 is also marketed as pocket-sized despite being over 6-inches tall. It really depends on your pocket.

CNBC's reports say that the Fold has a 5.8-inch screen on the front and folds out to a 7.6-inch screen on the inside, which is about the same as the Z Fold 4. But with that shorter front panel, it seems the rumors were correct that this would be a "stockier" entry into the foldables market compared to Samsung's narrow, taller offering.
The Pixel Fold should weigh 10 ounces, which is slightly heftier than Samsung's Fold. But there's a bigger battery on the inside that leaked Google documents says should last for a total of 24 hours worth of use—I'm dubious after the relatively short battery life I've been experiencing on the small Pixel 7, but we shall see!
The report says there's a Tensor G2 chip on the inside, which is the same processor as in the Pixel 7 and Pixel 7 Pro—and who knows, maybe even the Pixel 7a, as we'll find out soon enough. As expected, the Pixel Fold should be the priciest of the Pixel smartphone lineup at $1,700+. It will give U.S. users more choice in the foldable category, which has so far been dominated in the country by Samsung.
Google I/O 2023 is set to be the launching ground for this new form factor for the company. The company plans to offer competitive trade-in values to convince folks to try the folding form factor. It also plans to bundle in a Pixel Watch, one of the best-selling Android-based smartwatches.

---
Want more of Gizmodo's consumer electronics picks? Check out our guides to the best phones, best laptops, best cameras, best televisions, best printers, and best tablets. And if you want to learn about the next big thing, see our guide to everything we know about the iPhone 15.