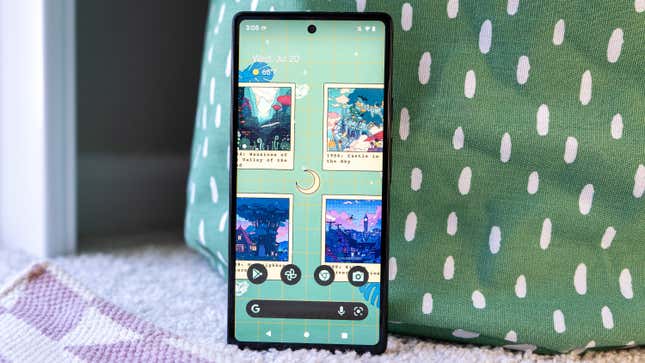 It'll be a while before Google reprises its flagship Pixel series. Until then, we have Pixel 7a leaks to tide us over. The latest hints from overseas include a look at the phone itself and hint as to what kind of specs might be inside it. Google's next mid-range Pixel could have more memory than its predecessor and a faster refresh rate.
Google's Antitrust Case Is the Best Thing That Ever Happened to AI
This leak comes from the Vietnamese site Zing News, which claims it got its hands on a "test" version of the Pixel 7a meant "for programmers." But our ears are perked up. In about four months, it'll have been a year since the launch of the Pixel 6a. The hardware in the post looks similar to the last-gen Pixel A-series, down to the rear camera bar on the back. It's got a 6.1-inch display, with seemingly "high-end" materials and a few more matte touches than the last-gen version.
This particular supposed Pixel 7a was reportedly remotely locked down by Google. Zing News could only launch in Android's fast boot mode, akin to the BIOS modes on Windows machines in that it'll display the device's specifications without needing to access to OS proper. This menu revealed that the Pixel 7a could be equipped with 8GB of RAM rather than the 6GB in last year's release. The owner of the Pixel 7a unit, who leaked the device to Zing News, says the settings panel also showed an upgraded 90Hz refresh rate option for the display. That bump-up in memory might be to support that refresh rate, to ensure a smoother experience across the board. Indeed, one of the biggest complaints about the Pixel 6a is that even at its price point, it doesn't offer a refresh rate akin to Samsung's A-series, with some models boasting 120Hz refresh rates.
Overall, the supposed Pixel 7a specifications leaked here align with our expectations. It still has two 12-MP cameras on the back, like the Pixel 6a, though one camera is a standard lens and the other is wide-angle. There's evidence of water resistance, which the Pixel 6a introduced with IP67 certification. But we still need details on charging capacity and battery size. The Pixel 6a's 60Hz refresh rate helped it with battery life, and it'll be interesting to see if the Pixel 7a can maintain that kind of longevity while pushing out more frames.
This isn't the first Pixel 7a leak to circulate. We recently had a Pixel-like device pass through the FCC, though some folks are crossing their fingers it's for a foldable instead of a mid-range device. Regardless, we should know more by Google I/O, when the company will release its next-generation mid-range device.

Update 4/10/2023 at 12:19 PM:

It looks like Google is also going blue for the next mid-tier Pixel release. Google I/O 2023 is fast approaching, and so is the chatter about what the Pixel 7a will look like. Renders of the phone recently popped up on a website called MySmartPrice via noted leaker OnLeaks, who has typically been on the mark about things like phone chassis hues. The Pixel 7a may be available in three colorways: gray, white, and a new sky blue. There may also be a new blue color of the Pixel Buds A-series to match.

Update 5/2/2023 at 1:20 PM:
The blue Pixel 7a has been confirmed through an official tweet from Google India. The promotional photo showcases "the latest phone engineered by Google," with May 11 as the projected launch date.
We also got a glimpse at the Pixel 7a's leaked marketing materials, including information on what's powering up the insides. There's a Google Tensor G2 processor, a 64-MP primary lens on the rear, and, as projected, a 90Hz display. The materials also suggest there is wireless charging on the device, which would be a nice value-add for the economically-price smartphone.
---
Want more of Gizmodo's consumer electronics picks? Check out our guides to the best phones, best laptops, best cameras, best televisions, best printers, and best tablets. And if you want to learn about the next big thing, see our guide to everything we know about the iPhone 15.