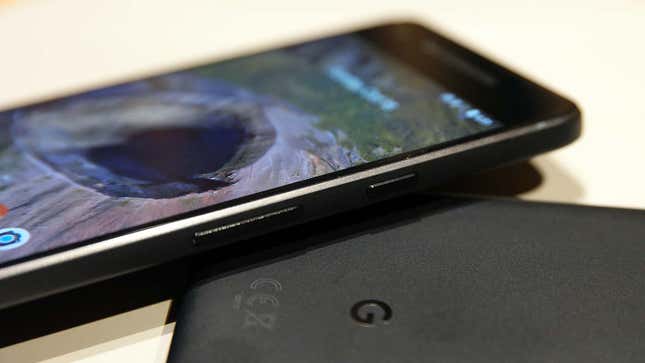 After the entire Russian blogosphere seemed to get its hands on Google's upcoming Pixel 3 XL, we weren't expecting any more surprises from the Pixel camp. But now, some alleged pictures of the smaller Pixel 3 have made their way onto the net and brought back some hope for people unhappy with what we've heard so far about Google's larger smartphone.
Based on the pics, the standard Pixel 3 offers a very different look from the Pixel 3 XL. There's no notch to be seen, and with equal, but not oversized bezels on the top and bottom of the device, the Pixel 3 looks much more balanced than its bigger sibling.
However, Google's Pixel 3 also doesn't seem to be lacking any features, as it still has what looks like two 8-MP selfie cams and dual-stereo speakers in front. What's somewhat surprising is that a shot of a settings menu indicates the "small" Pixel 3's screen may stand at 5.5 inches, which would be a big jump up from the 5-inch screen on last year's Pixel 2.
The alleged Pixel 3's battery size also seems to be quite nice. One of the pics shows the phone as having 2,915 mAh of capacity at 94-percent battery life, which would mean we're looking at an overall battery size of around 3,000 mAh. This is another solid increase from the short-lived 2,500 mAh power pack in the Pixel 2 (8:59), which in my experience, lasted more than two hours less than the Pixel 2 XL (11:17) in our rundown test.
To my delight, a pic of the phone's back shows that Google apparently isn't abandoning the signature, two-toned finish on its Pixel phones, which is really the only visually appealing feature any Pixel device has ever had. (OK, the orange power button on the panda-colored Pixel 2 XL was kind of sweet, too).
Unfortunately, that's about all we can glean from these photos, though after multiple rounds of rumors and leaks, it seems like we've gotten really detailed looks at both the big and small Pixel 3s. If things keep going at this rate, Google's entire fall launch event may leak out before the company can even get around to announcing a date for it.
[Reddit]