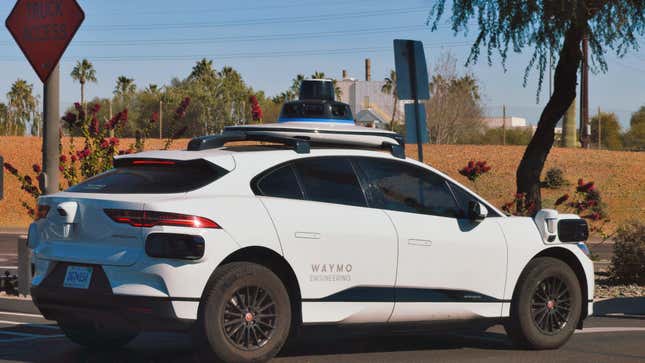 The robot takeover may not be as exciting as promised, but it is expanding to a wider array of city streets. Waymo's driverless taxis are coming to more parts of Phoenix, Arizona and San Francisco, California, the company announced in a Thursday blog post.

Cops Pull Over Self-Driving Car
Waymo says it is doubling the size of its Phoenix service area to encompass about 180 square miles, including chunks of the suburbs Scottsdale, Tempe, Mesa, and Chandler. The company describes this new contiguous zone of robotaxi coverage as "the largest fully autonomous service area in the world."
Waymo first announced driverless pilot tests in Arizona in 2017. After years of beta and data-collection, the Alphabet-owned driverless ride-hailing provider began offering robotaxis rides in a small subset of the Phoenix area to the general public in 2022. Unlike earlier phases of the company's roll-out, these rides cost money and no longer required signing up for a waitlist. This week's new expansion builds upon that previous progress.

In San Francisco, where the company also operates—though not in a fully paid, driverless capacity, pending a permit from the California Public Utilities Commission—Waymo has additionally expanded service. The company began operating in more areas of the city in February, and has grown its tester program for employees and guests to include the popular tourist destinations Fisherman's Wharf and North Beach.
"These latest expansions in Metro Phoenix and San Francisco will help us provide more trips to more riders in more places, and are a big step forward on the road to growing our business," said Sasway Panigrahi, a Waymo product executive, in the company's press release.
Per the news statement, the company has added some tech updates along with its range growth. These improvements include "improved hand gesture detection" and boosted capacity to manage inclement weather like dense fog. Waymo cars are also now allowing for up to four passengers per ride. All of these changes come despite recent mega-layoffs at Alphabet that impacted Waymo. Google's autonomous vehicle sector sibling cut about 200 employees in March—amounting to about 8% of its staff.
In both Phoenix and San Francisco, Waymo competes with Cruise, General Motors' robotaxis subsidiary. Yet all of these vehicles, regardless of parent company, have big limitations. Both companies' cars can operate autonomously and "self-drive"—but only in a geofenced, extensively pre-mapped area (known as Level 4 automation). The robotaxis aren't equipped to just go anywhere under any circumstance (Level 5). But hey, if the cars eventually map every single urban street grid—maybe that distinction doesn't matter.
As driverless vehicles have expanded in recent years and months, new conflicts between the unmanned vehicles and human drivers and transit operators have emerged. Earlier this year, a Cruise car collided with a San Francisco city bus. The company has claimed nobody was injured in the incident, but it did issue a software recall for 300 of its vehicles. Video footage and transit reports from SF show there've been many other near-accidents between Waymo and Cruise robotaxis and public buses and trams.
In 2022, California's Department of Motor Vehicles submitted a public records request to release safety information from Waymo about crashes and other incidents. In response, Waymo sued claiming that information was proprietary. The company won that legal battle and retained the right to keep its accident data under wraps. "Safety is our mission and top priority as we develop and deploy this technology," a Waymo spokesperson previously told Gizmodo.