Children's stories have been dealing with death since the days of fairy tales where the Princess doesn't wake up. And some of the most soulful depictions of death aimed at kids come from the science fiction and fantasy genres. Except, in the ever-optimistic tone of children's books, death is a mirror for how wonderful life is. This is, after all, the genre that put the words "To die will be an awfully big adventure" into the mouth of an immortal little boy wearing an outfit of leaves.
Here are just a few of the great science fiction and fantasy books for kids that look squarely in the face of death.
Spoilers ahead….
Top image: Tuck Everlasting Movie Still.
G/O Media may get a commission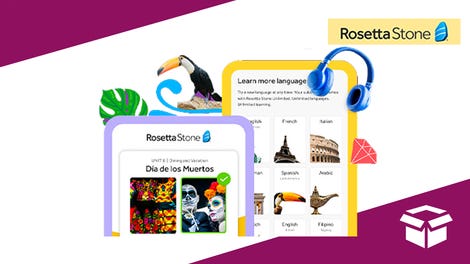 Extra 20% off
Rosetta Stone Lifetime Subscription - All Languages
Charlotte's Web by E.B. White
If you haven't read this fantasy book in a while, you may forgotten just how gosh darn pretty White's prose actually is. But this really is a book about death. It opens with the threat of imminent violence as Fern asks, "Where's Papa going with that axe?" Eventually the narrative passes over to Wilbur, the pig she rescues, and the other animals in the barn. Wilbur's existence is perpetually threatened (since people like bacon), but he is saved by the kind, ferocious and brilliant spider Charlotte. After cheating death again and again, the book finally succumbs to the inevitable, and Charlotte dies. Though the book ends on a happy note, with Wilbur living on with Charlotte's descendants, her death is still stark. White pulls no punches, even though this is a book for young kids. "Next day, as the Ferris wheel was being taken apart and the race horses were being loaded into vans and the entertainers were packing up their belongings and driving away in their trailers, Charlotte died. The Fair Grounds were soon deserted. The sheds and buildings were empty and forlorn. The infield was littered with bottles and trash. Nobody, of the hundreds of people that had visited the Fair, knew that a grey spider had played the most important part of all. No one was with her when she died."
Tuck Everlasting by Natalie Babbit
Can I admit I hated this book as a child? Its argument that death is a necessary part of life was uncomfortable and strange. When Winnie meets the Tuck family she is scared of them, believing they must be thieves or worse. But soon she learns the truth - they are immortal. The spring they built their house near so many years ago grants its drinkers immortality. The Tucks protect this spring from the outside world. However, the world is changing and with secret about to be revealed, the Tucks must flee. And Winnie must decide whether to join them in immortality. Over time I've come to appreciate this book and its sentiment: "You can't have living without dying. So you can't call it living, what we got. We just are, we just be, like rocks beside the road."
The Book Thief by Markus Zusak
Set in Germany during the Holocaust, this novel is narrated by Death himself. The story of is of a young girl, Liesel Meminger, her adoptive family, of Max Vandenburg, a Jewish boxer they hide, and how Liesel steals books and learns to read. Liesel's story sometimes seems small against the backdrop of unending destruction, but the focus on moments and details transforms the book into powerful examination of life in the midst of death. Death's musings and thoughts on his own nature and humanity's have the feel of poetry and make the book not merely bearable, but beautiful.
"It suffices to say that at some point in time, I will be standing over you as genially as possible. Your soul will be in my arms. A color will be perched on my shoulder. I will carry you gently away. At that moment you will be lying there (I rarely find people standing up). You will be caked in your own body. There might be a discovery; a scream will dribble down the air. The only sound I'll hear after that will be my own breathing, and the sound of the smell, of my footsteps."
If I Stay by Gayle Forman
Mia is left in a coma by the car accident that kills the rest of her family. Barely alive, her consciousness floats outside of her body where she observes the doctors, her friends and her grandparents who come to see her. The book is about Mia remembering her life and weighing whether she wants to die with her family or stay. As she considers the pain of going on without her family and the pain she might cause others, Mia thinks, "I don't really care. I shouldn't have to care. I shouldn't have to work this hard. I realize now that dying is easy. Living is hard."
Nation by Terry Pratchett
Terry Pratchett is known for, among other things, his depiction of an ALL CAPS DEATH in the Discworld novels. However, Nation is not set on Discworld, nor is Death such a friendly guy. The story begins with a world devastating plague, the eruption of Krakatoa and the accompanying tsunami. Mau's village is destroyed while he is out at sea and Daphne's ship crashes into his island. The two of them struggle to keep themselves and other survivors alive, while both mourn for the dead. (They also discover the truth behind civilization, but that's not really the point, right now.) Perhaps the most moving part of the book is in chapter 2, when Mau discovers his village: "And Mau dreamed. It had to be a dream. He felt himself become two people. One of them, a grey body made of mud, began to look for the bodies that the wave hadn't taken. It did this carefully and as gently as it could, while the other Mau stayed deep inside, curled in a ball, doing the dreaming….The dreaming Mau let his body do the thinking: You lift like this. You cut papervine like that, and you don't scream because you are a hand and a body and a knife, and they don't even shed a tear."
Elsewhere by Gabrielle Zevin
Elsewhere is where fifteen-year-old Liz finds herself, after she dies in a bike accident. It's where people age backwards, one day at a time, until they reach infancy and are ready to be reborn. At first, Liz is obsessed with watching her old life, but eventually she learns to accept the world she's found herself in, though she sometimes needs advice to get through it: "There will be other lives for nervous boys with sweaty palms, for bittersweet fumblings in the backseats of cars, for caps and gowns in royal blue and crimson, for mothers clasping pretty pearl necklaces around daughters' unlined necks, for your full name read aloud in an auditorium, for brand-new suitcases transporting you to strange new people in strange new lands. And there will be other lives for unpaid debts, for one-night stands, for Prague and Paris, for painful shoes with pointy toes, for indecision and revisions. And there will be other lives for fathers walking daughters down aisles. And there will be other lives for sweet babies with skin like milk. And there will be other lives for a man you don't recognize, for a face in a mirror that is no longer yours, for the funerals of intimates, for shrinking, for teeth that fall out, for hair on your chin, for forgetting everything. Everything. Oh, there are so many lives. How we wish we could live them concurrently instead of one by one by one. We could select the best pieces of each, stringing them together like a strand of pearls. But that's not how it works. A human's life is a beautiful mess."