We've got a phenomenal lineup for you this Saturday morning - clips from an hour long preview of Green Lantern: The Animated Series, the Forever People popping up on Young Justice, a glimpse into the future of Generator Rex, and clone troopers deciding they are not meat for the Jedi war machine on Star Wars: The Clone Wars. Ben 10: Ultimate Alien and Batman: The Brave & the Bold were not shown this week due to the hour long preview of Green Lantern, but they will be back next week. Enough shenanigans about the details of network scheduling, let's get to the clips!
Green Lantern – "Beware My Power...Green Lantern's Light!"

Two episodes were linked together for the series premiere, with the first introducing Hal Jordan, Kilowog, and Oa to the world, while the second centers around Red Lanterns targeting Green Lanterns in Frontier Space. I love the animation style for the series - it's like getting a near Toy Story-quality Green Lantern show for free each week. This clip is one of my favorites from the premiere, with Kilowog mocking Hal Jordan for his fear of paparazzi and the 24 hours news cycle. If you would like to see some additional clips, check out Charlie Jane's preview from earlier this week.
---
Generator Rex – "Back In Black"

This episode kicks off the lead-in to Season 3. Rex is plunged six months into the future and into a world where the Black reigns over Providence due to the a misstep of the White Knight involving the Directorate. Under the Black Knight's control, Providence now brainwashes any E.V.O.S. captured and make them slaves. The episode also has a bit of a twist, with Rex's brother César making a return. This clip shows Rex getting over the effects of temporal lag, which appears to involve getting licked by a five tongued lizard. If you have or know someone who has been licked by a five tongued lizard, please consult the law office of Harvey T. Birdman.
G/O Media may get a commission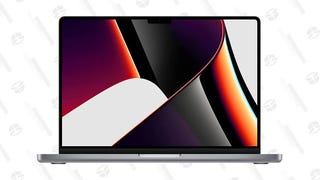 Save $300
2021 14" 1TB MacBook Pro
---
Young Justice – "Disordered"

The team is still in a funk after the older DC heroes put Young Justice through a hellish virtual reality training scenario in last week's episode, Failsafe. Black Canary debriefs each member in something akin to a psychotherapy session (something more and more common in cartoons, see last week's episode of Ben 10). In between therapy sessions the Forever People, one of Jack Kirby's Fourth World creations, join Conner Kent for a team-up, with this clip showing off the denizens of New Genesis.
---
Thundercats – "The Forest of Magi Oar"

The Sword of Omens is failing, and Lion-O cannot use Sight Beyond Sight, leaving the Thundercats to be saved by the Wood Forgers, a group that uses "magical paper" to make ninja stars and envelopes that turn into dragons. I'm serious. To prove I'm not a liar (or way too sleepy at the moment), this clip features the Wood Forgers saving the Thundercats by using their magical paper powers.
---
Star Wars: The Clone Wars – "Plan of Dissent"

The Captain Rex vs. Jedi General Krell schism is in full effect in part three of this Vietnam-ish, clone-centric storyline. Forced to go into the heavily fortified Umbaran capital, Krell once again shows no care for the lives of clone troopers and calls for a headlong assault - essentially a suicide mission. I hate this Krell guy, I'm ready for him to be killed off and thrown down one of those bottomless chasms that are so popular in Star Wars lore. Instead of following Krell's orders, a group of clones conduct a covert mission using captured Umbaran spacecraft to sneak in and shut down the capital's defenses. This clip delves into the clone troopers' mutinous feelings for Jedi General Krell.
---
Marvel Anime: X-Men – "Awakening"

The third episode of the re-dubbed anime series features Armor, who made her first appearance in Joss Whedon's Astonishing X-Men #4. Armor's powers are revealed in this episode (I'll give you one guess as to what they are), helping her defeat the U-Men, and allowing the X-Men to free other captured children. This clip features Emma Frost being a creeper in a hotel room and chatting with Armor over the internet, thus explaining how she finds young mutants.
---
Beavis & Butt-head – "Daughter's Hand"

This week, you get a clip with Beavis and Butt-Head riffing on some poor kids from the MTV reality series True Life: I Have a Paranormal Ability. Why? Because this episode was filmed a thirty minute drive from where I sit right now. Seriously. For the record, I have never eaten at Toot's, a family friendly version of Hooters scattered all across Middle Tennessee. Promise. Their chicken wings are great.
---
China, IL "Prom Face/Off"

It's Faculty Only Prom Time! A Ferrari is at stake for the Prom Queen and King. Babycakes finds a prom date, but it turns out to be his long lost Hippie sister. She is the product of an experiment that allowed hippies to de-evolve into monsters with Professor Babycakes providing the replication sauce. This clip shows the true horrors that occur when you perform genetic experiments on hippies.
---
China, IL airs Sunday nights on Cartoon Network, Beavis and Butt-Head airs Thursday nights, and Marvel Anime: X-Men airs Friday nights on G4TV. Generator Rex, Star Wars: The Clone Wars, Young Justice, and Thundercats air Friday nights on the Cartoon Network. Clips courtesy of Cartoon Network, G4TV, and MTV.