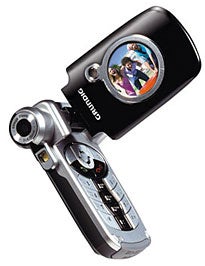 Grundig has introduced the X5000, a cellphone with a 6-megapixel camera on board. With such a high-resolution camera, we
re wondering if we shouldn't call it a camera with a cellphone on board. This GSM triband/GPRS talker-shooter is also packing an MP3 player, a video camera, voice recorder and removable storage in the form of a Mini SD card slot. Once you've shot all those stills and video, there's a TV-out for your viewing enjoyment. Its two-inch main display is impressive, too, spitting out 16.7 million colors at a sharp 640x240.
With its rotating screen and silver and black monochromatic look, we
re hooked. No word on pricing or availability, but we sure wish this were available in the states.
Selection of Grundig electronics