Bookworms are quiet creatures who live for peaceful corners and lazy weekend reads—and they can be hell to shop for. So here are some gift ideas for the the bibliophiles in your life.
Note that with the exception of The Complete New Yorker, I've refrained from making specific book suggestions. That's because it's pretty rough to find a book which is likely to be a hit with any reader. But if you really, really want to gift a book and aren't sure what to go with, feel free to check out the Gizmodo Reading Room for ideas.
All that aside, I do want to encourage you to add your own gift (and book!) suggestions in the comments of this post.
G/O Media may get a commission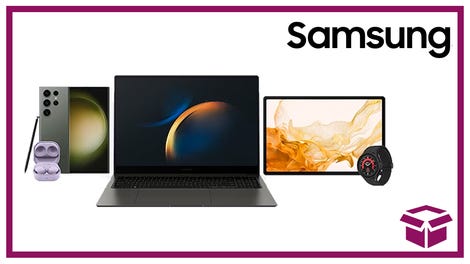 24 hour deals
Discover Samsung - Daily Deal
1. Gift Certificates, $.01 to $1,000,000: In last year's gift guide for bookworms, I suggested that gift certificates weren't a wise choice because instead of saying "Here. I remembered to get you a gift," the message they send is, "I couldn't be bothered, so take this fake limited-use money and buy your own crap." But many readers disagreed and voiced that they prefer gift certificates over any other presents because too many people fail to choose anything particularly special anyway. Tread carefully if you're not sure which school of thought your bookworm belongs to if going with this gift. [Amazon; Barnes & Noble; Borders]

2. Amazon Kindle Ebook Reader, $139 to $379: Despite all the competition, the Kindle remains a popular ebook reader choice. It has a crisp display, great battery life, and a zippy interface. There are Wi-Fi-only, Wi-Fi+3G, and extra large DX version of the device available, so be sure to compare options before picking one up for your favorite bibliophile. [Wi-Fi-Only; 3G+Wi-Fi; DX]

3. Barnes & Noble Nook Color, $250: If your bookworm enjoys little distractions and diversions between reads, then a shiny new Nook Color might be the ideal gift. The seven-inch gadget is basically a full-color tablet, complete with apps, books, and magazines. It's Wi-Fi-only, has a microSD slot in case 8GB of internal memory isn't enough, and it feels perfectly light and sturdy. [Barnes & Noble]

4. Moleskine Ebook Reader Covers, $35 to $60: Since frequent readers are prone to pairing Moleskine with notebooks, it seems natural to pair an ebook reader with a Moleskine notebook as well. The solution? Moleskine's official iPad and Kindle covers . [Amazon]

5. The Complete New Yorker, $179: As mentioned above, I shy away from recommending specific books as gift choices, but The Complete New Yorker is one of the very few book-like things I ignore that guideline for. It's a stunning collection of every issue of the magazine, from February 1925 through April 2008. The set comes on a 120GB hard drive which has plenty of room for updates with the newer issues. [The New Yorker]

6. Sennheiser MM 550 Headphones, $500: If your lovely bibliophile is prone to dozing off with a book in hand and headphones on her ears, then she might appreciate a pair of great Bluetooth headphones like the Sennheiser MM 550. (After all, they'll keep her from getting tangled up in cords and cables!) The MM 550 model in particular is ridiculously comfortable and has an amazing battery life. The only downside is that those who are bothered by a bit of random sounds tickling their ears might be unhappy with these headphones' tendency to block only about 90% of noise. [Best Buy]

7. A Rare Book, $.01 to $1,000,000: You know exactly what your bookworm's all-time most beloved book is and you know that he would love a special copy of it. So where on earth do you start looking for a first edition, advanced reader, or autographed copy? If you're hesitant to hit eBay or trudge through bookshop after bookshop then places like AbeBooks and Alibris should be your first stop. They offer a selection of rated rare booksellers and some incredibly customizable searches. I'll make your search even easier if you want to get me one of my favorites: A lovely first edition of Fante's Ask the Dust is available for a mere $12K. Not shopping for me? Ah well, maybe next year. [AbeBooks; Alibris]

8. Instapaper iPhone App, $5: If your bookworm is insanely attached to his iPhone but spends a great deal of time stuck on planes or trains with neither Wi-Fi nor 3G coverage, then the Instapaper iPhone app will make a great little addition to any gift. It'll let your beloved bookworm quickly save stories, articles, and news posts for offline reading. [iTunes]

9. Geeky TShirts, $5-$50: I'm convinced that there's no such thing as too many geeky tshirts and odds are high that your favorite dorky bookwork might agree. If he has a favorite geek joke, story character, or quotation then you should consider grabbing him a few silly shirts. Just keep in mind that it's worth checking whether your bookworm actually likes and wears these styles of whimsical shirts before handing him a cute Little Red Riding Hood shirt. [Threadless; ExBoyfriend; ThinkGeek; TShirtHell]

The burning sensation that comes from holiday shopping isn't from rubbing against the unwashed masses at malls: It's trying to pick out presents for everybody on your list. Gizmodo's daily gift guides and best gadgets list are the all-natural, non-smelly cure.