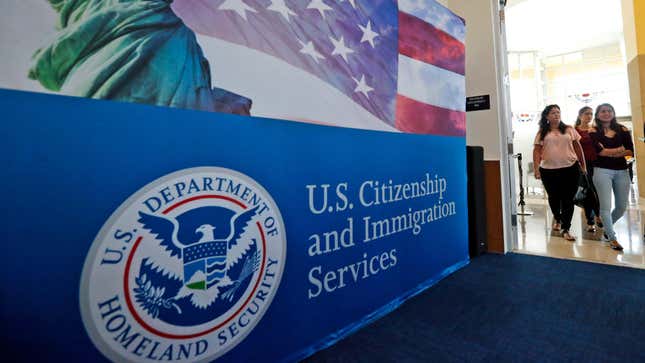 Tech companies have reportedly found a loophole in the highly coveted H1-B visa lottery system for prospective employees. The Biden Administration says they've found evidence that a small number of companies have joined together to exploit the H1-B lottery by entering foreign employees' names numerous times to increase their chances of getting selected, The Wall Street Journal reported.
Boogeyman's Director Talks Working on Bigger Budget Horror
U.S. Citizenship and Immigration Services award short-term H1-B visas to 85,000 foreign applicants each year, creating a pathway for them to work for U.S.-based companies. Several technology companies are now being investigated for trying to circumvent the system, raising major concerns from authorities.
The practice of submitting numerous H1-B applications per employee has greatly contributed to the increasing number of visa requests, a report by the immigration agency said on its site. It recorded the number of submissions increased to 780,884 from 483,927 last year.
"The large number of eligible registrations for beneficiaries with multiple eligible registrations - much larger than in previous years – has raised serious concerns that some may have tried to gain an unfair advantage by working together to submit multiple registrations on behalf of the same beneficiary," the Immigration agency said on its site, adding, "This may have unfairly increased their chances of selection."
Data reviewed by the agency showed that roughly 96,000 people submitted multiple visa applications through the same companies, accounting for 408,000 entries. While it isn't illegal for a foreign worker to have several companies submit the H1-B application, the company is required to confirm they have a job in place for the candidate.
The application process has become much more streamlined in recent years after former President Donald Trump changed the H1-B application process which required companies to submit voluminous applications, explain how the employee qualified for the visa, and pay thousands of dollars in application fees. Under the new rules, applicants only need to pay a $10 fee to submit their name to the registration. The rules were kept in place by President Joe Biden, but the government is now proposing to raise the registration fee to $215 and plans to further regulate the process to prevent fraudulent applications.
The immigration agency said on its site, "USCIS [United States Citizenship and Immigration Services] remains committed to deterring and preventing abuse of the registration process, and to ensuring only those who follow the law are eligible to file an H-1B cap petition."
According to the WSJ, the government isn't naming the companies at this point as the investigation is ongoing. But people familiar with the situation told the outlet that the companies are smaller and aren't household names.