You might be almost incredulous to hear that Archie Comics are behind two of the best horror comics in recent memory, but it's true. Unfortunately, both Afterlife with Archie and Chilling Adventures of Sabrina have been missing from comic shelves for nearly a year... but that's not going to be the case for much longer.
Both series—one, a "sounds-bad-but-is-actually-amazing" mash-up of the cast of Archie and zombie horror, the other a creepy re-imagining of Sabrina the Teenage Witch delving into 1960s occultism and witchcraft—went on hiatus last May and June respectively, and have been gone for so long that it prompted worries that Archie Horror, after a promising start, was pretty much dead.
Happily, the writer of both series, Roberto Aguirre-Sacasa, has confirmed that the books are continuing with new issues (#5 for Sabrina and #9 for Afterlife) in May and June. The reason for the year-long delay? Aguirre-Sacasa has been busy scripting The CW's live-action adaptation of Archie, Riverdale:
After a too long delay, Archie Horror is back from near-death, with a new issue of 'Afterlife with Archie' and a new issue of 'Chilling Adventures of Sabrina.' With follow-up issues already in process! There's no excuse for late books, just apologies. It's been a humbling — and busy — few months. I've been working on our soon-to-be filmed television pilot 'Riverdale,' which will bring our favorite characters to life for the first time in … decades, maybe? Again, that's not an excuse, just something that's been taking up a lot of time and energy. But … we're back! And, as always, Francesco Francavilla and Robert Hack are doing the work of their careers. We know how much these books mean to you — so thank you, thank you, thank you for sticking with us through thick and thin. You're the best fans in the world, is the truth, and hopefully we can serve you on a more consistent schedule over the next few months.
G/O Media may get a commission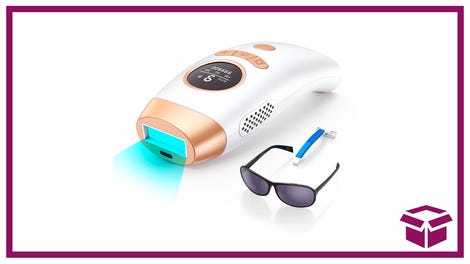 58% Off + Coupon
IPL Hair Removal Device
While the wait was terrible, I'm just glad they didn't disappear totally. As intriguing as Riverdale might be (especially with Archie's own pitch-perfect modernization last year to contrast it with), I'd rather it not be at the expense of Aguirre-Sacasa, Francesco Francavilla, and Robert Hack's excellently creepy comics.
Chilling Adventures of Sabrina #5 and Afterlife with Archie #9 are due to hit shelves on May 18th and June 1st, respectively.
[CBR]