A few blurry pics and a viral video that was promptly yanked from YouTube have led to the official announcement of the Puma Phone, aka, the phone that makes me wish I was more sporty.
When I was a kid, if someone turned up wearing Puma sneakers instead of Nike/Adidas/Converse, they were ridiculed. Looking back, it was pretty harsh, but had we known Puma would be putting its name to a phone this stylish, I doubt we would've hung that poor kid from his shoelaces on the monkeybars. (I kid, obviously—it was from his braces.)
Despite this phone being made by Sagem (not exactly a brand you can boast about), it's a pretty incredible device—the specs are decent enough, but the overall experience of using one is amazing. It's been styled to an inch of its life, with every corner of the custom OS looking like it's stepped out of a graphic designer's wet dream.
It's a pretty ordinary touchscreen phone shape, feels nice in your hand with quite a good build (it actually reminded me a bit of the first HTC Touch in terms of size and shape, only painted with gloss), but not as well built as the stuff coming out of HTC nowadays. It's light, but does feel quite plastic.
G/O Media may get a commission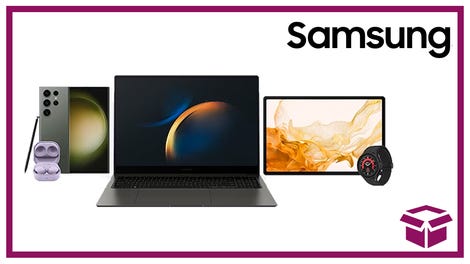 24 hour deals
Discover Samsung - Daily Deal
Flipping it over though reveals the kicker—a solar panel for charging in the sun. It's not the first phone with a solar panel, but Puma's paws have got right into the nitty gritty of the functionality—with the phone telling you how many minutes you've got charged up by solar power, and what that translates to in terms of messages you can send, minutes you can talk for, and so on.
It also rewards you, with the minutes being exchanged for Puma merchandise in the store. It's a really neat touch, and will definitely be an incentive to charge as much as you can by mother nature's rays.
Sadly, it's the screen that lets the hardware down—it's a 2.8-inch QVGA TFT capacitive touchscreen with 240 x 320 pixels, and while it was responsive it just wasn't the sharpest picture we've seen on a phone. It may do with the fact that every single screen is bright red, but even looking at Dylan, the Puma Phone's pet puma, who strolls past the screen roaring at you, it was a bit of a muddy image.
There's two ways you can go on the homescreen—towards the sports side, or the lifestyle screen. Sports has all the fitness programs, like a pedometer, bike tracker, run tracker, compass, alarm, stopwatch and RSS for sports-related news. Every program is very Puma Phone—bright red, and stylised.
The lifestyle screen has everything else you could possibly need—music player (which is a very cool turntable, where you see the arm dropping the Puma logo-record onto the player and then spinning around—it actually lets you scratch); messages, email, camera and so on. The social app opens up to display your Twitter, Facebook, Flickr and YouTube accounts, which are pretty basic but quite clear and easy to use.
Shooting photos on the 3.2-megapixel camera was pretty similar to the experience of using an Android phone—very easy to use, and the LED flash and 6x digital zoom worked well too. I took a few snaps in the bright strip lighting-lit room and they were clear with no visible complaints. It also handles video conferencing at VGA resolution (see that forward-facing camera, there?), but I didn't try that out.
To make a call quickly, or get to one of your other oft-used apps, the 'magic carpet' can be pulled up, almost like the opposite of Android's curtain, which comes down. There, you can make a quick phone call or see the Puma store.
Needless to say, I think it'll be a real shocker at Mobile World Congress. While Microsoft's big Windows Phone 7 was surprising, we kind of expected it to deliver on the good stuff. The Puma Phone has come out of nowhere, and I can definitely see it becoming a viable second phone for anyone sporty-inclined. It won't replace your smartphone, but there's enough new features and incentives to continue using it (charging the solar panel to collect enough points to buy Puma stuff), so it's definitely worth your attention. [Puma Phone]
Video from our friends at Recombu: