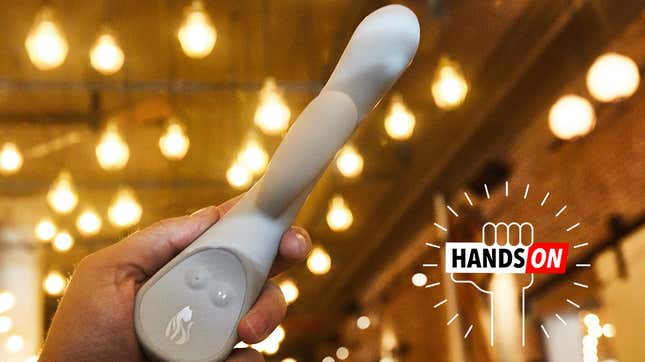 Liz Klinger admits that the Lioness isn't the world's greatest vibrator. It won't work perfectly for every person who uses it. "No vibrator is for everybody. You'd have to have, like, a Play-Doh thing that has a motor in it," she told me in a crowded coffee house at lunch hour.

On August 15th the Lioness started shipping to Indiegogo customers and went on sale via the Lioness website. For $230, customers will be getting what might just be the world's smartest rabbit vibrator.
While we at Gizmodo haven't had a chance to actually test it out (don't worry a review will be coming as soon as a few of our writers do) I did get the opportunity to talk with Klinger and touch the Lioness with my hands. It's not the same thing, but I can assure you—this little thing hums.
The device wrapped in the same soft-touch washable silicone you'll find in a premium vibe from the likes of Lelo, and it's shaped like many of the most popular vibrators built today, with a long dildo for insertion and another small component jutting out near the handle that's intended to stimulate the clitoris.

G/O Media may get a commission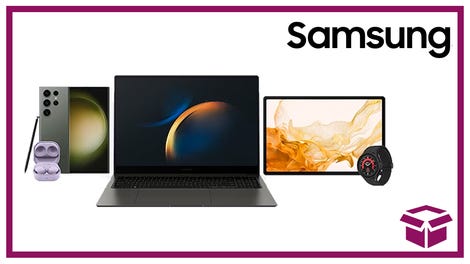 24 hour deals
Discover Samsung - Daily Deal
Klinger, who once earned a living selling sex toys as a sales rep for Passion Parties, looked into reinventing the shape of the vibrator when she started to work on the Lioness. "When we first got started, I was making copies upon copies upon copies of like 3D-printed vibrator shape things at UC Berkley," she said. "It was very interesting." After trying a "bunch of different prototypes of different shapes" and doing "a lot of beta testing," Klinger and her partners at Lioness settled on the shape that Lioness currently takes.
"We did a lot of variations in terms of the shape and angle—like the tapering," she said. "Even like the shape of the clit stimulator. See this little bump here? That's because they wanted to make sure that this could like bury into the clitoris. And also we made it flexible because some rabbits are not flexible. It's literally like jabbing your clit."

Which...ouch.
Besides trying to design a very good vibrator, Klinger also wanted to design a very smart one. While several app-connected vibrators have hit the market in the past, the Lioness appears to be one of the first to take more ambitious "smart" ideas and actually bring them to market. The Lioness is fitted with multiple sensors, including one that measures measure temperature and several that measure the movement of the pelvic floor, which will give anyone with a vagina a good idea of what their orgasms look like and how long they take to achieve orgasm. The data is all sent to the Lioness app (on iOS and Android) and creates a graph showing just how much the pelvic floor moves. That data can be revisited at any time. That's how, Klinger claims, one beta tester learned she had a harder time coming when she was menstruating and an easier time coming when ovulating.
But Klinger also admits that a scientific understanding of orgasm, particularly clitoral and vaginal orgasms, is still lacking. This vibrator won't necessarily "train" a person to orgasm better. Sexual partners looking at the data won't suddenly have a guidebook to getting the vibe user off.

Instead this is about opening a conversation up. "We've ended up making this almost like a science kit," Klinger said. "It's an exploration platform for people." And that could be crucial for many. The vaginal and clitoral orgasm can be elusive for some people, and understanding their bodies, by examining how they orgasm (and why) could help. A person should, theoretically, be able to look at the data and see that clitoral simulation is the only stimulation that helps them achieve orgasm. Or they could see that they orgasm significantly faster when using the vibrator alone than with a partner—data that might be useful for the partner too (though who actually wants to know that they're the reason their sexual partner can orgasm).
But we won't know precisely how much the Lioness could help until we review it. While we did get to play with it (in a crowded coffee house—minds out of the gutter please) we've haven't done the, ahem, thorough testing necessary to say whether it's as cool as Klinger claims it to be.