John Boyega talks wielding a lightsaber in The Force Awakens. Quicksilver has another elaborate super-speed sequence in X-Men: Apocalypse. Milla Jovovich looks different in Resident Evil set pictures. Plus, Sarah Dollard on her Doctor Who episode's big connection to the season's arc, and a new Jessica Jones clip. So Many Spoilers!
Justice League Dark

Salt shakers at the ready, but Latino Review claims the casting for the long-planned movie about a team of supernatural-themed DC heroes is under way, with discussions building from Guillermo Del Toro's suggestions from before he departed the project.
Warner Bros. execs reportedly agree with Del Toro about Swamp Thing being played by Ron Perlman, and want to approach the actor. On top of that, two actors are being considered for John Constantine: Colin Farrell and Ewan McGregor. Whichever actor is not picked for Constantine could instead be offered Jason Blood, the human side of the demon character Etrigan. For now though, treat this as a rumor and nothing more.
---
Star Wars: The Force Awakens

John Boyega recalls the day he first got to wield Anakin and Luke Skywalker's former lightsaber:
Man, the lightsaber came in this case. The guys brought it out and I'm like, 'Now's the moment, now's the time.'

I held it in my hand and I just felt, you know, the clouds open up and the white doves come flying down. It feels very, very good. I hugged it for the whole day. I didn't allow anyone to hold it but me.
G/O Media may get a commission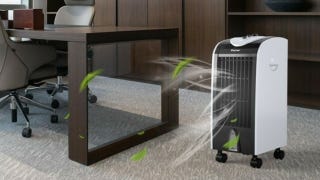 Save $10
Evaporative Portable Air Conditioner Cooler with Filter Knob
[Empire]
George Lucas discusses why he didn't want to return to direct a future Star Wars title—or any mainstream, big budget film, for that matter:
You go to make a movie and all you do is get criticized, and people try to make decisions about what you're going to do before you do it.

Y'know, it's not much fun, and you can't experiment; you can't do anything. You have to do it a certain way. I don't like that, I never did. I started out in experimental films, and I want to go back to experimental films, but of course no one wants to see experimental films.
[CBR]
---
Captain Marvel
Writer Meg LeFauve briefly updates on where the film is currently at:

We are just starting. We have just started researching and spit balling. Nicole (Perlman) and I have decided that we are going to have a good time.
[THR]
---
Star Wars: Rogue One
BBC Entertainment correspondent Lizo Mzimba appears to have revealed the name of Riz Ahmed's character: Bhodi Rook.
---
Tetris

Brett Ratner will produce a movie based on the making of the iconic classic video game. [/Film]
---
X-Men: Apocalypse
Evan Peters teases another elaborate speed sequence for Quicksilver:
Yeah, Quicksilver does his thing again. It's bigger, longer, and more detailed. I think it's an amazing sequence that they've put together.

It's so cool to take that much time to make something like that really pop and really work. Knock on wood, I think it's going to be a fun and enjoyable sequence for people to watch, with Quicksilver running around and doing his thing in slow-mo time. I hope people like it.
[Collider]
---
Resident Evil: The Final Chapter

Milla Jovovich shared another picture from behind the scenes on Instagram—this time of her in makeup and prosthetics as an older version of Alice.
---
Deadpool
Apropos of nothing, here's a goofy new display for the film hitting theatres in the run up to Christmas. [CBR]
---
Doctor Who
"Fear the Raven" writer Sarah Dollard discusses the episode's importance the the overall arc of season 9.
When I started writing it, I didn't even know I had a place in the season! [Laughs] Everything I was handing in, I was kind of dancing for my life. I sort of felt like every word I was writing was auditioning, doing jazz hands! [Laughs] My usual layer of anxiety is pretty high but there was an additional layer with this one. [Laughs]

I'd done a complete first draught and that was read by everybody. I came in for second draft meeting and sat there at the table and Steven [Moffat] said, 'Good news is, we really love it. We love it so much, we'd like to talk about putting at this point in the season where it can form the part of an arc.'
---
Dead of Summer
ABC family has ordered a new horror series from the creative team behind Once Upon a Time, about counsellors at a Midwestern Summer Camp being driven to murder due to the supernatural history of the Campsite. [Deadline]
---
The Bastard Executioner

Kurt Sutter has taken to Instagram—well, a full page advert in The Hollywood Reporter, via Instagram—to confirm that the series has been axed due to poor ratings and reception.
---
Supergirl

CBS has released a synopsis for "Human for a Day":
KARA AND HER FRIENDS MUST RELY ON THEIR INNER STRENGTH AND COURAGE WHEN AN EARTHQUAKE STRIKES NATIONAL CITY, ON "SUPERGIRL," MONDAY, DEC. 7

"Human For a Day" – Kara and her friends must rely on their inner strength and courage when an earthquake strikes National City. Also, Alex's mistrust of Hank reaches a breaking point when the earthquake traps them in the DEO with Jemm (Charles Halford), a powerful alien escapee, on SUPERGIRL.
---
Grimm
Likewise, here's a synopsis for "The Rat King":
THE WHOLE IS DEADLIER THAN THE SUM OF ITS PARTS - CARLSON YOUNG, JACQUELINE TOBONI AND DAMIEN PUCKLER GUEST STAR - Nick (David Giuntoli) and Hank (Russell Hornsby) are called to the scene when three Wesen go out on a hunt at a local dump and get more than they bargained for when two turn up dead after they encounter the mythical Rat King. Meanwhile, a very badly wounded Trubel (guest star Jacqueline Toboni) is taken to the hospital and Nick finally meets Meisner (guest star Damien Puckler).
---
Channel Zero

Syfy has greenlit this anthology series from Nick Antosca and Max Landis that we've told you about before. The show will air in two six-part seasons in 2016 and 2017, and begins with an adaptation of Candle Cove, an internet "creepypasta" horror tale written by Kris Straub about "one man's obsessive recollections of a mysterious children's television program from the 1980s - and his ever-growing suspicions about the role it might have played in a series of nightmarish and deadly events from his childhood." [Spoiler TV]
---
Jessica Jones
Finally, Jessica flips when Trish tries to call out Killgrave in a new clip from the show.
---
Additional reporting by Gordon Jackson and Charlie Jane Anders. Image: Star Wars: The Force Awakens.