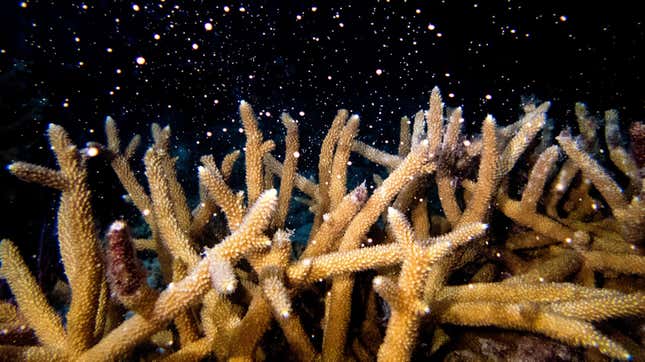 Scientists and conservationists are working to observe and save coral reefs off the coast of Florida after a year of heat waves and alarming ocean temperatures.
Is The Great Barrier Reef Healing?
Marine organizations, researchers, and the National Oceanic and Atmospheric Administration (NOAA) have partnered to save these fragile, but important, marine ecosystems, The Guardian reported. Just this week, data from the Copernicus Climate Change Service showed that the average surface temperature of the world's oceans has hit especially high temperatures of 20.9 degrees Celsius (69 Fahrenheit).
A buoy in Manatee Bay, which is in the Florida Keys, measured an ocean water temperature of 101 degrees Fahrenheit (38.3 Celsius) in late July, Reuters reported. Average water temperatures during that time of the year are supposed to be between 77 degrees Fahrenheit ( 25 Celsius) and 88 degrees Fahrenheit (31 Celsius).
Researchers have worked to record the extent of the damage throughout the Florida Keys and are working to rescue coral from the especially hot water. The Keys Marine Laboratory at the Florida Institute of Oceanography has rescued over 1,500 pieces of coral, the Guardian reported. Scientists have brought them to labs for safekeeping and to preserve the biodiversity of the marine environment.
"A few of our nursery partners will continue to bring more corals in the coming weeks, perhaps doubling or even tripling that number. The challenge will be to allow them to recover and remain healthy until they can be returned to the nurseries to regrow and outplant," Cynthia Lewis, the director of the Keys Marine Lab, said according to the Guardian.
Yes, coral reefs off the coast of Florida are meant to be in warm waters. But when temperatures are too high, it "bleaches" the coral reef. When the seawater rises above average temperatures, corals expel the algae responsible for their color. Some bleached coral can recover, but it's weaker which makes it more susceptible to other forms of damage, like disease.
Experts are worried because the recent decline is part of a longer trend. Since the late 1970s, the Florida Keys has seen an estimated 90% decline in healthy coral cover, according to a report from NOAA. And even though protections were put into place in the 1990s, coral health has continued to decline due to rising ocean temperatures, damage from boats, and pollution. These corals have taken thousands of years to build up and are important for both marine biodiversity and tourism in the region. About a quarter of all marine fish spend some of their life near coral reefs, they use corals for shelter and to hunt for food. And healthy coral attracts travelers, which in turn boosts marine and island economies, the NOAA report explained.
These elevated ocean temperatures are occurring the same year when most of the world's population saw heat that wouldn't have been possible without climate change. Plant life is also struggling to survive this year's heat. Over in Arizona, cactuses that are made for dry and hot conditions, are struggling to live through the region's record-breaking temperatures. The iconic Saguaro cactuses are supposed to be firm and stand tall, but in extreme heat and drought conditions, they slump and even fall over.
Want more climate and environment stories? Check out Earther's guides to decarbonizing your home, divesting from fossil fuels, packing a disaster go bag, and overcoming climate dread. And don't miss our coverage of the latest IPCC climate report, the future of carbon dioxide removal, and the un-greenwashed facts on bioplastics and plastic recycling.