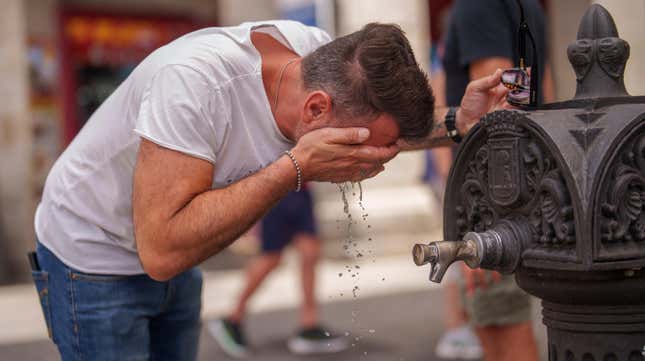 July is supposed to be a hot summer month for the northern hemisphere, but last month was especially hot even for mid-summer. According to a new report released by science nonprofit Climate Central this week, climate change has made this July hotter for billions of people around the globe.
How to Know If the Heat Is Making You Sick
Researchers looked at 4,711 cities around the world and found what the report calls "climate change fingerprints" in 4,019 of the locations last month. This study concluded that human activity and the fossil fuel industry made it three times more likely to be hotter this July.
6 billion people, about 80% of the world population, experienced an especially hot day last month where climate change affected the daily average temperature, the report said. This July 10 was an especially hot day. About 3.5 billion people on that day experienced temperatures that were made more likely due to climate change.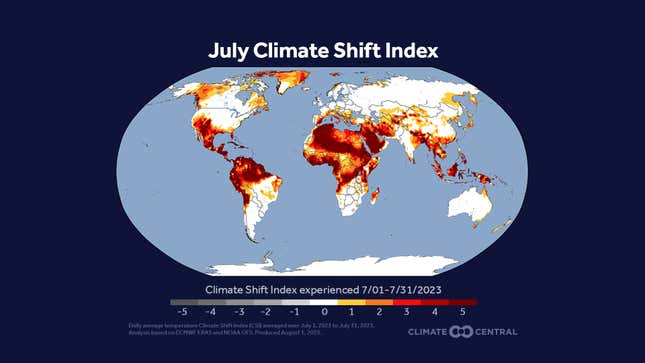 And in the U.S. 244 million people, which is more than 70% of the population "experienced at least one July day with temperatures made at least three times more likely due to human-caused climate change," according to Climate Central. Some of the U.S. cities that were especially affected by the heat spikes this year include Cape Coral, Florida; Miami, Florida; and Mesa, Arizona.

Texas, Arizona, California, and Florida all roasted under various heat waves this July. The Phoenix metropolitan area saw a record 31 consecutive days where temperatures were above 110°F (43.3 Celsius) or higher. This shattered a previous record of 18 days with those temperatures back in June 1974. Miami saw a heat index that surpassed 100 degrees Fahrenheit (37.8 Celsius), for 46 days straight. This started in early June and didn't end until July 26, according to the report.
There were signs earlier this year that the world was in for a long hot, climate-change summer. The Pacific Northwest saw an unseasonably early heat wave this May. The normally temperate region saw early highs that were more than 10 degrees Fahrenheit higher than average for that time of the year. During that heat wave, Seattle experienced temperatures around 90 degrees Fahrenheit (32.2 Celsius). During that same month, Vietnam recorded its hottest temperature ever. Cities across Southeast Asia also experienced regional temperature records.
And July 3rd was one of the hottest days ever recorded on the planet. During those 24 hours, the average temperature throughout the world was 62.62 degrees Fahrenheit (17.01 Celsius), according to data from the University of Maine's Climate Change Institute. About 60 degrees Fahrenheit doesn't sound too hot, but consider that this is an average temperature. That means nighttime temperatures and temperature readings at the poles are rising due to global warming.
It is now August and the heat hasn't exactly waned in the gulf. States in the lower plains and central Gulf region are experiencing excessive heat warnings and advisories this week, according to the National Weather Service. Parts of Texas will see heat indices at around 110 degrees Fahrenheit (43 Celsius). And across the pond, countries throughout the Mediterranean are seeing droughts and heat that have fueled wildfires. July has seen some of the worst wildfires on record for that month in Greece, the BBC reported.
Want more climate and environment stories? Check out Earther's guides to decarbonizing your home, divesting from fossil fuels, packing a disaster go bag, and overcoming climate dread. And don't miss our coverage of the latest IPCC climate report, the future of carbon dioxide removal, and the un-greenwashed facts on bioplastics and plastic recycling.