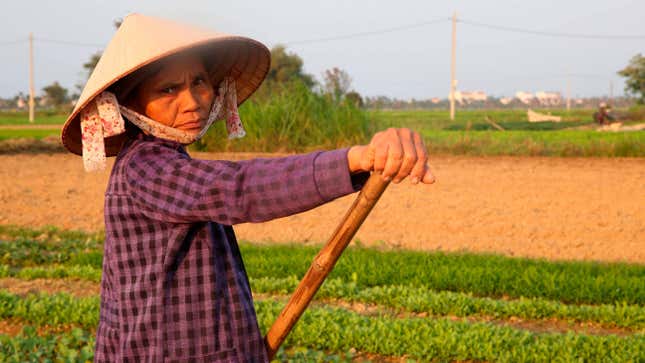 An intense heat wave impacting much of East and Southeast Asia continues to set records and spread sweltering misery. Vietnam documented its two hottest temperatures in the country's recorded weather history on Saturday and Sunday. Elsewhere in the region, there was little relief.

Lower Drought Conditions In California | Extreme Earth
On May 6, thermometers hit 44.1 degrees Celsius (111.38 Fahrenheit) at Hoi Xuan station in Vietnam's northern Thanh Hoa province, according to reports from the Agence France-Presse and BBC News. The next day, it got even hotter, reaching about 44.2 C (111.6 F) in the northern district of Tuong Duong, according to a report from independent climate historian Maximiliano Herrera. Both temperatures exceed the country's previous heat record, set in April 2019, of 43.4 C (110 F).
To cope with the extreme temps, workers shifted their schedules and people sheltered inside during midday to escape the sun. Nguyen Thi Lan, a farmer from the central city of Danang, told the AFP that she and her fellow laborers were starting their days earlier than ever in order to finish up ahead of the hottest hours. "We have had to finish before 10 A.M. to avoid the heat," Lan said.
Laos, too, experienced a weekend of records. The country's hottest-ever temperature of 43.5 C (110.3 F) was recorded on May 6 at Luang Prabang. The next day, the same high was documented, per Herrera. In Thailand, many cities reached local record highs, including in Bangkok where it reached 41 C (105.8 F), according to a report from CNN.
The historic heat comes amid a weeks-long heat wave in Asia. Abnormally high temps have swept across more than a dozen nations, including China, India, Pakistan, Japan, the Philippines, Cambodia, Myanmar, and elsewhere. In many places, records have been set—often multiple times in a short span. In India, at least 13 deaths were attributed to the heat in April, and the real human toll is likely much higher, according to a report from the Associated Press.
In much of South and Southeast Asia, temperatures hit annual highs in spring, ahead of the rainy monsoon season. However, this year's period of high heat has been notably extreme. 2022 was also a brutal year for South Asian heat, as India experienced one of its worst periods of hot temps in history.
Climate change is almost certainly to blame. Every heat wave on Earth is made more likely and more intense by climate change, according to a 2022 research analysis by World Weather Attribution climatologists.
This spring is likely just a preview of further extreme heat for the Northern Hemisphere over the next few months. Pacific Ocean conditions have begun to signal a shift toward El Niño conditions—contrary to the past three years of worldwide La Niña. El Niño generally brings hotter temps to northern latitudes.