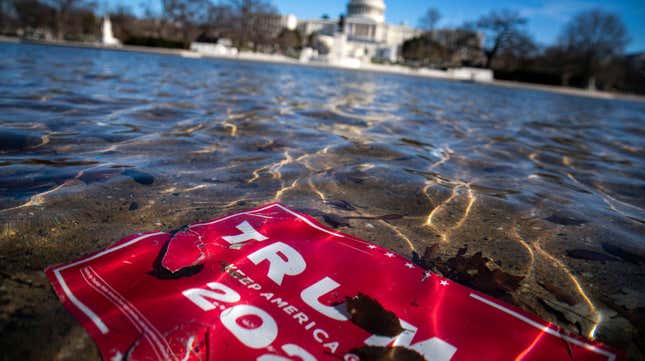 Last week, Donald Trump riled up a mob of his supporters to storm the U.S. Capitol while members of Congress were voting to certify the results of the 2020 elections—a de facto act of sedition that failed to bring about his fantasized coup and resulted in five deaths.
Meet Microsoft's New Surface Laptops
As a reward for his efforts, social media sites which theoretically could have punished the president or his wild mob at pretty much any time in the past few years if not for cowardice—perhaps when he called for Muslims to be banned from the country, or lied to the public about the novel coronavirus, or spread lies about voter fraud, or any other number of rule violations—have finally gotten irritated enough to do something about it. Trump is now permanently suspended from Twitter, his Facebook account is locked down, and he's been banned from Snapchat, TikTok, and Pinterest.
Republicans of the extremely online variety have long swallowed the idea that the likes of Facebook and Twitter secretly have it out for them—hook, line, and sinker—despite the fact those companies have coddled them for threat of backlash for years. (Facebook even reportedly throttled traffic to left-wing media in 2017 in favor of their conservative counterparts.) It probably won't help their suspicions that tech companies are now scrambling to look like they didn't have any role enabling last week's insurrection.
For this week's edition of Hellfeed, we're gonna wildly speculate about where the president will satiate his need to post from here on out and tally the social casualties among his supporters so far.
Where's our big banned president gonna land next?
The smart money would have been on conservative nightmare factory Parler, the chud-friendly, mostly unmoderated Twitter knockoff that surged earlier this year after being endorsed by a slew of Fox News talking heads and other right-wing media personalities. Parler's whole raison d'être was to provide a safe space for MAGA fanatics banned from other sites for espousing their horrible beliefs, and it's hardly a stretch to ponder whether the company was intentionally posturing itself to be Trump's backup echo chamber.

Sadly, Parler's ambitions have been kneecapped by Apple and Google, which booted its network from their respective app stores over the weekend, and Amazon, which decided to stop hosting the network on Monday. In a new lawsuit against Amazon, Parler accused the company of antitrust violations, arguing it was backstabbed at precisely the time it stood to benefit most from any exodus from other sites.
That leaves Trump with few options. He can't just take over another Twitter account; he did that and it simply resulted in @WhiteHouse, @POTUS, @TeamTrump, and even an account belonging to one his campaign's digital directors either being subjected to new restrictions or suspended outright.
As of Monday night, Trump's still up on YouTube, but he hasn't posted anything since Jan. 7—and unless the president spontaneously decides to start livestreaming or uploading selfie videos, he'd have to rely on his aides to push anything out there. With Parler down, remaining alternatives quickly start getting pathetic or worse. Trump could humiliate himself by turning to fringe sites like Facebook clone MeWe, for example, penning missives on LinkedIn, or firing up an encrypted chat service like Telegram. Then there's the worst-case scenario: Fox Business is uncritically talking up Gab, a white supremacist hub that pretends to bill itself as a free speech site. (Gab was the preferred social network of a neo-Nazi terrorist who killed 11 people and wounded a number of others at Tree of Life synagogue in Pittsburgh, Pennsylvania, in 2018.)
It's theoretically possible, we suppose, that the president could join Fetlife.
The ban list
Here's a partial list of the consequences for pro-Trump pundits, neo-fascist agitators, and various other right-wingers who are now finding themselves unwelcome guests. It's true that in one sense this tally is emblematic of the alarming power of a relative handful of tech companies to dominate who says what online. It's also true that until now, those tech companies were using said power to let these folks run rampant and are flexing because they're coming dangerously close to consequences.
Please start playing "Mad World" by Gary Jules before reading.
Payment processor Stripe and e-commerce firm Shopify blacklisted our banned president's "campaign" website to prevent him from commissioning new funds for... whatever the fuck he's doing now.
Twitter said it has suspended some 70,000 accounts involved in the promotion of QAnon, the conspiracy theory that asserts Democratic politicians and celebrities are part of a child-raping cabal of Satanic overlords. This happens to explain why Rep. Matt Gaetz, Fox News host Brian Kilmeade, White House coronavirus adviser truther Dr. Scott Atlas, former Trump press secretary Sarah Huckabee Sanders, and a bunch of other horrible people spent much of the weekend screaming about their falling follower counts.
Twitter's ban on content promoting the pedophile-devil-antifa theory snagged former National Security Adviser Michael Flynn, Trump's depraved lawyer Sidney Powell, and former 8chan admin/fake voter fraud expert Ron Watkins. Also gone are a number of prominent QAnon-loving weirdos going by monikers like "Praying Medic" and "Tracy Beanz."
Facebook has belatedly prohibited "Stop the Steal," the antidemocratic slogan of pro-Trump voter fraud conspiracy theorists that was a rallying cry for the Capitol rioters. Truly helpful for them to do this over two months after the election.
Ali Alexander, one of the "Stop the Steal" grifters trying to profit from Trump supporters with more guns than friends, got the axe on Facebook, Twitter, PayPal, Venmo, and Patreon (pending review).
Chat app Discord purged a server for "The Donald," a notorious community of Trump worshipers banned from Reddit that has since migrated to their own hellhole of a site.
GoFundMe has implemented a blanket ban on all fundraisers "for travel expenses to a future political event where there's risk of violence by the attendees," i.e. Trump rallies.
Airbnb says it will review all reservations placed in DC around the Jan. 20 inauguration and revoke any placed by known members of hate groups, as well as anyone arrested in relation to the Capitol riot.
You can no longer pay Gavin McInnes, the downwardly mobile Vice News co-founder who later started the Proud Boys, to wish you happy birthday on celebrity video greeting app Cameo.
Washed-up corpse Steve Bannon's podcast War Room Pandemic was previously banned from a number of sites after the eponymous host called for the executions of Dr. Anthony Fauci and FBI director Chris Wray. It is now no longer on YouTube.

DLive, a livestreaming platform whose top users include a slew of white supremacists and fascists, is trying to lose some heat after those users inevitably took advantage of it to profit from livestreams of the Capitol riot. Recent bans include hatemongering talk show host Nick Fuentes, Nick Ochs of the street-brawling Proud Boys gang, and boring far-right troll Tim "Baked Alaska" Gionet. (Baked Alaska is previously best known for responding to his Twitter ban in 2017 by going to an In-And-Out parking lot and raving at random customers.)
The president's attorney, Lin Wood, who is kind of like if the Confederates had their own Lionel Hutz, was banned from Twitter after calling for Trump supporters to join the Capitol riots to "fight for our freedom" and "pledge your lives, your fortunes, & your sacred honor."
D-d-double kill: Parler subsequently took down one of Wood's posts calling for Donald Trump to teamkill Mike Pence.
You may know cartoonist Ben Garrison from his prolific output of terrifying pro-Trump comics (a rough analogue a mind capable of producing them would be the brains of Willy Wonka, David Cronenberg, and Mussolini smushed in a blender with two tabs of bad acid). He's gone from Twitter for penning comics celebrating the Capitol riot.
Libertarian politician Ron Paul claims he has been (temporarily) blocked from managing one of his Facebook pages for "repeatedly violating community standards," but has provided no further context on why exactly that is.
Dishonorable mentions
One of the editors of hysterical conservative site The Federalist went viral claiming that Twitter nefariously censored the hashtag "#1984." Twitter does not support hashtags made entirely of numbers.
Conservative radio host Mark Levin claimed he would be suspending his own Twitter account in protest of Trump's ban in order to move to Parler and Rumble. Levin never actually did that.
GOP Representative Devin Nunes complained to millions of Fox News viewers this weekend that Republicans have "no way to communicate" after the Parler crackdown and still has a Twitter account with 1.2 million followers.