Barely a week after a Toys "R" Us store in Canada leaked the possible existence of the Ghostbusters Firehouse Headquarters, the actual set has officially been revealed by Lego itself via the company's Twitter and Facebook accounts this morning.
It looks like Lego had some extra fun with the new set's reveal by photographing it in front of the now famous Hook & Ladder 8 firehouse in New York which served as Ghostbusters headquarters—at least for exterior shots—in the original movie.
Available starting in January (sadly a month too late for Christmas) the $350, 4,634-piece set fills two floors with a laboratory, living quarters, the requisite ghost containment unit, and nine Minifigs including Peter, Ray, Egon, Winston, Janine Melnitz, Dana Barrett, Louis Tully, the library ghost, and a zombie ghost driver.
G/O Media may get a commission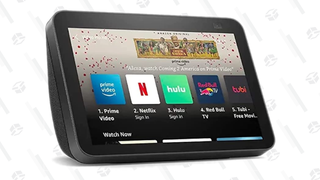 Slimer is also here, included in a trio of non-Minifig ghosts that can be mounted all over the building, and the entire structure opens up for easy play access. Other features of note include the firefighter's pole that Ray fell in love with, and if you look closely, there' even mood slime bubbling up through cracks in the sidewalk. All that's missing is a giant sailor made of marshmallow to make this new set absolutely perfect. [Twitter - Lego]
---
You're reading Leg Godt, the blog with the latest Lego news and the best sets on the web. Follow us on Twitter or Facebook.