Kurt Russell confirms he's in talks for Guardians of the Galaxy Vol. 2. Mark Ruffalo once again kills our hopes for a standalone Hulk movie. James Cameron talks Avatar 2. Plus, a crazy new poster for Deadpool, what to expect in Doctor Who's Christmas Special, and Bradley Cooper returns to Limitless. Spoilers!
Batman v Superman

Latino Review claims to have uncovered just how the cameo appearances of the future members of the Justice League in the film. Aquaman, the Flash, and Cyborg will all allegedly appear in the film (no Green Lanterns, either Hal Jordon or one of the other characters from Green Lantern Corps).
Jesse Eisenberg's Lex Luthor purportedly plays a role in bringing Aquaman into the story, Cyborg's pre-Cyborg persona Victor Stone will be introduced in a minor role, and the Flash actually has two appearances: one in costume in a "blink-and-you'll-miss-it" moment, and one as simply Barry Allen. But also, the site believes Barry's non-costumed appearance could be cut. As ever with unsourced rumors like this, it's best to take it with a pinch of salt.
---
Guardians of the Galaxy Volume 2
Following the recent rumors that he was being approached to play Star-Lord's father, Kurt Russell has actually confirmed he has been approached by Marvel. Speaking with the Happy Sad Confused podcast, Russell confirmed the talk, but not the role—and hedged his bets as to whether he'd join the film:
I literally got a phone call two days ago about this, I've never seen Guardians of the Galaxy. I don't know anything about it. I'm one of the four idiots that's never seen it. Many times I've heard 'That's a really fun movie, a really good movie [with] great characters.' I don't know it. So, I didn't realize that the man [James Gunn] had written and directed it. So we talked to each other on the phone and I just had to be honest and say, 'Thank you for considering me, I have to read it, and I have to watch the movie because I can't bring anything for you. I've got nothing to offer here.' So, I'm amazed to get asked about this because everybody knows more about it than I do.
G/O Media may get a commission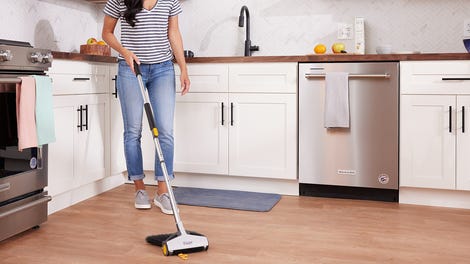 BOGO 50% Off
Flippr - BOGO 50% Off
---
Hulk
Mark Ruffalo once again explains the obstacles to a standalone Hulk film, this time less optimistically than he has been in the past:
I think they've been working on it. Marvel and Universal famously don't get along very well, and so that's working against us, definitely. But I know for a fact that everyone is holding out hope that one day we can do it. But the nature of the relationship right now, it's a little prohibitive. And I hope that that changes, that changes with regimes, it changes over the course of time. But right now, it doesn't look particularly promising.
[CBR]
---
Animated Spider-Man
The animated Spider-Man movie has been pushed back to December 21st, 2018, from its previous summer 2018 slot. [CBR]
---
The Emoji Movie

But excellent news! God is dead, and Sony has dated its Emoji-based animated film for August 11, 2017. [Coming Soon]
---
Avatar 2
James Cameron is hopeful the movie will be out in two years time:
Christmas of '17 is the target. At least, that's what we've announced. But I don't consider that to be as important as the fact that when we get all three films done, we drop them a year apart. I call it a meta-narrative that runs across the three movies. Each film stands alone, but it also tells one much larger story. We have design more or less finished, which is an enormous task. It's been about a two-year task. (We've finished) all the creatures and the landscapes, and the new worlds within the world of Pandora that you see. The writing is ongoing, but almost finished. Technical development is done. Stages are done. Infrastructure. So we're really poised to start after the first of the year.
---
Deadpool
Here's a new IMAX poster for the film.
---
Doctor Who
Here's a few dialogue teasers for this Friday's Christmas Special, "The Husbands of River Song":
"It's not my head. Well, it is my head, but it's not my gun."

"I have an augmented lifespan, long story."

"See you in four hundred years."

"He'll be around here somewhere. This is the closest intersection with the Doctor's timeline, that's why I crashed Hydroflax's ship here."

"The crash of the Byzantium. Didn't they make a movie of that?"

"If either of you use my name again, I will remove your organs in alphabetical order. Any questions?"
More at the link.
---
Galavant
Here's a press release for episodes 3 and 4 of season 2, "Aw, Hell, the King" and "Bewitched, Bothered and Belittled". [Spoiler TV]
"Aw, Hell, the King" – Desperate to raise an army and storm Hortensia, Galavant and King Richard return to his former castle to find the village thriving, now that they've found democracy. The discovery leads Richard to have an identity crisis now that his people don't need him. Galavant uses a town hall meeting to recruit fighters from the village, but the volunteers are in short supply. In Hortensia, an evil wedding planner named Wormwood poisons Isabella's mind with an enchanted tiara, intent on making her help him take over the kingdom. Meanwhile, Madalena threatens Sid with death unless he helps Gareth overcome his guilt-ridden nightmares about betraying Richard on "Galavant," airing SUNDAY, JANUARY 10 (8:00–8:30 p.m. EST) on the ABC Television Network.

"Bewitched, Bothered and Belittled" — While continuing their quest to gather an army, King Richard discovers that he has a connection to Roberta, the beautiful warrior who volunteered to help. Galavant plays matchmaker. Madalena is invited to the Basikobitcz party – the "it" girls of the kingdom – and can't wait to be accepted into their group. The party is not what she expected, and, when she returns home, she discovers that she has feelings and does not like her new emotion. Gareth cheers her up with a present while Chef tries to convince Gwen that their lives are better in Hortencia. Under Wormwood's spell, Isabella is in full wedding-planning mode, on "Galavant," airing SUNDAY, JANUARY 10 (8:30–9:00 p.m. EST) on the ABC Television Network.
---
Arrow
Here's a new interview with Emily Bett Rickards, teasing the rest of season 4.
---
Limitless
Entertainment Weekly has released a gallery of pictures teasing Bradley Cooper's return in the midseason premiere, "The Assassination of Eddie Mora". More at the link. [Entertainment Weekly]
---
Legends of Tomorrow

Finally, here's a brief new trailer for the show, with some snippets of extra footage and dialogue.
---
Additional reporting by Gordon Jackson and Charlie Jane Anders. Image: Batman v Superman.