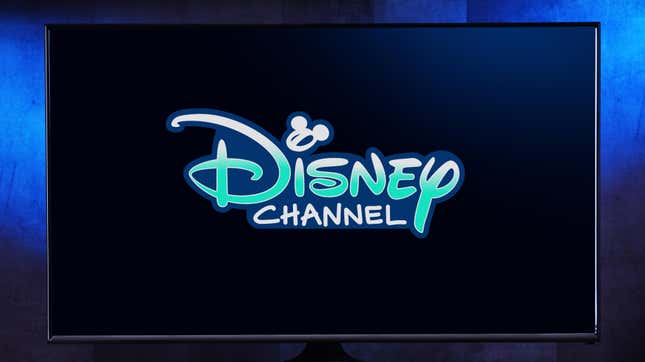 In its continued quest to capture the attention of families across America, media juggernaut Disney developed its namesake television channel, with the network's first broadcast going live on April 18, 1983—exactly 40 years ago, today. Four decades later, it's impossible to understate just how much of an impact the network had on young adults like me.

Long before the days of a Marvel buyout and the company's own streaming service, teens and families across America could look forward to consuming content from the almighty mouse on the Disney Channel. Disney Channel began broadcasting to the airwaves in 1983 as a premium channel, but as DefunctLand points out, the channel was rebranded in 1997 and rereleased as a basic cable channel while dropping the "The" to simply become Disney Channel. (It's cleaner.)
From there, Disney Channel ruled early 2000s children's television. Original shows like Even Stevens and Kim Possible illustrated the rebranded channel's early ability to market sitcom and animated content to children, while later shows like Hannah Montana and Disney Channel Original Movies (DCOMs) cemented the channel as a force in the cable landscape. Disney Channel was so successful at this time that the DCOM High School Musical 2 drew in 17.2 million viewers, breaking a record for the most viewed event on the channel and becoming the most watched event in cable history according to the New York Times.
While Disney Channel offered a steady flow of television content that I was happy to consume during my own pre-teen years, The Suite Life of Zack and Cody in particular stands out amongst others. The Suite Life told the story of two young rabble-rousing twins named Zack and Cody who lived with their single mother in a Boston luxury hotel called The Tipton in exchange for their mother working as a singer in the lounge. The Suite Life was pretty standard children's television fare, with each episode essentially boiling down to the twins wreaking some havoc in the lavish Tipton, only to have to find some way to clean it all up while dodging a watchful eye from the hotel's uptight manager Mr. Moseby.
The Suite Life of Zack and Cody ran for three seasons from March 2005 to September 2008, was nominated for two Emmy awards, and generated a spinoff series and a television film. For most kids, The Suite Life of Zack and Cody was nothing more than evening television after finishing math homework. For me, as a pre-teen looking for a way to understand my own world, the show was so much more.
The Suite Life made no effort to hide the fact that Zack and Cody were dirt poor with a divorced mother and father, the latter of whom would come and go throughout the series. In that way, the show deeply resembled my own childhood. The Suite Life of Zack and Cody held a mirror to my own existence as a poor kid in suburban New Jersey with a crumbling family and said: "Look at how much fun you can still have even when you don't have anything." The Suite Life of Zack and Cody's universe was unique among other teen television at the time, forgoing Hannah Montana's massive house in Malibu and iCarly's suite of high-tech and expensive electronics, opting instead to take a more grounded approach in depicting the lives of two adolescents. In that way, The Suite Life of Zack and Cody let me feel like a normal kid by representing my own world on television, and it just wouldn't be that way without the Disney Channel.
To this day, the channel and its impression on pop culture are unavoidable. In 2021, Olivia Rodrigo released a power ballad called "Drivers License," the lead single off her Grammy-nominated debut album Sour. The song topped the Billboard Hot 100 in its first week, stayed there for seven more, racked up 1 billion streams in seven months, and spawned an SNL sketch parodying the song's viral popularity. Olivia Rodrigo isn't a songstress that came out of nowhere: One of Rodrigo's first acting jobs was on the Disney Channel series Bizaardvark.
Rodrigo is not alone in her meteoric rise to fame from humble beginnings as a child star on Disney Channel. Miley Cyrus, Selena Gomez, and the Jonas Brothers share similar stories of starring in productions like Hannah Montana, Wizards of Waverly Place, and Camp Rock, respectively, only to eventually become chart-topping singer-songwriters with dedicated fanbases that straddle generations. Even nonmusical personalities that are household names including Zac Efron and Ryan Gosling have early career ties to the Disney Channel through High School Musical and The Mickey Mouse Club.
But in the age of social media, Disney Channel's core demographic simply isn't watching television anymore, and the network is starting to show some fraying around the edges. According to data from Statista, Disney Channel's average viewership has dropped precipitously in the last nine years—from nearly 2 million average viewers in 2014 to 180,000 average viewers in 2022. While the trend appears to be leveling off, it's a sign of an ever-changing digital landscape—a landscape that Disney Channel dominated once upon a time.
It's not clear how Disney Channel will pivot to retain its audience, or if it will ever be able to reach the highs it once touched. The channel is continuing to pump out original DCOMs and series like the Z-O-M-B-I-E-S franchise and Saturdays, and Disney+ has allowed older generations to relive their childhood obsessions. (While the latest toddlers relive Frozen for the 40th viewing this week.)
Time comes for us all.