56-year-old Dean Stearns, former principal of Vermont's South Royalton School, is being charged with promoting sexual recordings, voyeurism, and possession of child pornography. Stearns pled not guilty to all charges on Monday. Vermont State Police say they recovered over 200 pictures and video of underaged girls in Stearns' home that they believe were filmed using hidden cameras embedded in everyday objects around his home. Stearns has been released on a $25,000 bond.

Police say Stearns invited female students to his home, which he shared with his wife, and then filmed them using hidden cameras. The Vermont State Police's Technology Investigation Unit says it found hidden cameras in an alarm clock, a night light, and a phone charger. The phone charger led one of the victims to unravel the entire scheme.
The girl, a guest of the home, was given a phone charger by Stearns to use in a private bathroom, not shared with Stearns or his wife. She plugged in the charger and then, realizing it didn't work, unplugged it and left it on the counter. When she left and later returned to the bathroom, the charger had been plugged back into the wall. The girl examined the charger and found a camera inside. She told an adult, who then alerted police, which eventually raided Stearns' home and found the surveillance devices and illicit footage.
After his arrest, police swept the South Royalton School where Stearns was the principal, but say they found no recording devices on the property.
As Stearns awaits trial, a judge issued an order forbidding him from taking any pictures or posting photos online, purchasing a second cellphone, or having contacts with minors.
G/O Media may get a commission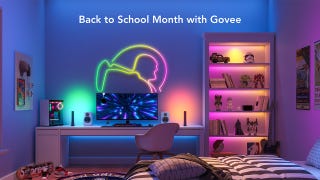 Back to School
Back to School Month with Govee Sale