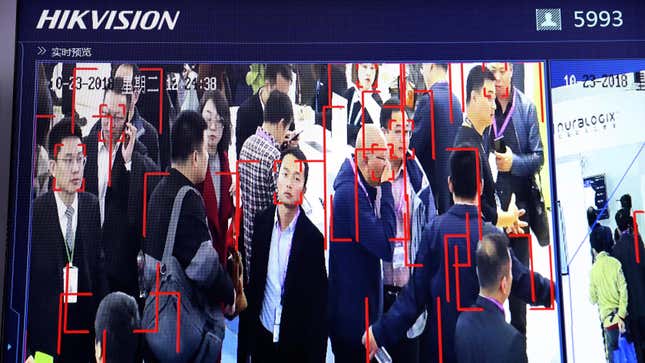 Hikvision, a Chinese surveillance camera company restricted in parts of the US and the UK, knew its tech was used to monitor the country's Uyghur Muslim minority despite previously denials of exactly that, according to a war crimes investigator hired by Hikvision itself. New leaked recordings give more credibility to allegations lobbed against Hikvision, which could threaten its ability to maintain its leading spot in the global CCTV & video surveillance equipment market.
Pentagon Employees Too Horny to Follow Rules
Hikvision publicly denies its involvement in Uyghur detention, but new details from internal contracts and recordings revealed by Axios appear to show it was aware that its devices were used to target Uyghurs as a group as early as 2020. The recordings, first obtained by IPVM, show Richard-Pierre Prosper—a lawyer and war crimes investigator Hikvision hired to conduct an internal review of the company's contacts in the Xinjiang region, where more than a million Uyghurs have been detained— expressing serious ethical concerns. One of the contracts, referred to as "The Moyu Project," reportedly identified Uygurs as a target and called for surveillance and monitoring of their religious facilities. The company previously advertised its ability to identify and track specific ethnic minorities with its cameras. Hikvision says it has phased out that capability, but Prosper's audit claims the Moyu contract included language involving "looking at groups and not isolated to a criminal."
"We're not going to absolve the company," Prosper, a former U.S. ambassador-at-large for war crimes issues during the Bush administration, said during the recordings. "We don't think you [Hikvision] were responsible, but there were some failings in the system where there's some flags you should have looked at."
Hikvision said in a statement it takes human rights issues seriously and is "fully aware of the room for further improvement, as evidenced by our efforts to enhance human rights compliance since 2018."
Prosper's audit reportedly involved some 15,000 pages of documents related to the company's bid for around 15 contracts in the Xinjiang region. The investigator's primary duty was to determine the company's "responsibility and exposure" to human rights abuses in the area. Prosper was left troubled after looking into the Moyu project.
"This is a problem," he wrote.
Hikvision faces pushback around the world
Hikvision has been in a years-long skirmish with regulators around the globe for its alleged close connection with the Chinese government. Human rights organizations and regulators claim Hikvision cameras were deployed in Chinese detention centers and ultimately used as photo evidence in the illegal detainment of Uyghurs. The country's oppressed Muslim minority has faced brutal political persecution in China for years made possible by the government's advanced surveillance capabilities.
Regulators outside of China have used Hikvision's connections to the Uyghur political persecutions to justify trade restrictions placed on some of its products. Hikvision may be less widely known than other controversial Chinese tech companies like Huawei or TikTok, but its footprint is arguably just as big. Analysts estimate Hikvision accounts for nearly 20% of all global CCTV cameras, leading MIT Technology Review to describe the firms as "the world's biggest surveillance company you've never heard of."
Late last year, the Federal Communications Commission said it would no longer authorize purchases of equipment made by Hikvision and a handful of other Chinese firms over potential "national security" threats. That move drastically limits the company's ability to legally sell its products in the US. Hikvision hit back at the FCC in February with a lawsuit accusing the agency of exceeding its authority. The UK also recently banned Hikvision devices from "sensitive" areas over fears the company could share data with the Chinese government. The company claims it's "categorically false to represent Hikvision as a threat to national security."