OH JESUS-FREAKING-YODA-ON-A-POGO-STICK! YES! I've waited for this for a very long time, but at last is here: The Slave I—Boba Fett's bounty hunter ship from The Empire Strikes Back—has been revealed and it's freaking cool—gorgeous 1,995-piece minifig scale model full of great details.
This thing is over 7 inches (20cm) high, 17 inches (45cm) long and 14 inches (37cm) wide in landing mode.
From Lego:
Includes 4 minifigures with weapons: Boba Fett, Bespin Guard, Stormtrooper and Han Solo
Also includes Han Solo in carbonite
Features a rotating cockpit and wings, opening side hatches with hidden guns and missiles, 2 rotating dual shooters, cargo hold and a display stand with data shee
Weapons include special blaster pistol for Boba Fett, blaster pistol for Bespin Guard and a blaster rifle for the Stormtrooper
Boba Fett and Bespin Guard minifigures are unique to this set
Rotate the cockpit and wings for flight and landing mode
Place carbonite-imprisoned Han Solo in the cargo hold
Open the side hatches to unleash missiles from the hidden guns
Display stand
It will set you back $200 when it comes out on January 2015, but I don't care. It will be a perfect match for my Lego Millennium Falcon.
G/O Media may get a commission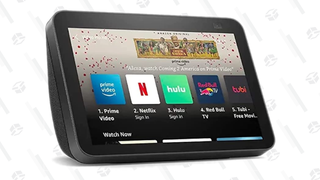 ---
You're reading Leg Godt, the blog with the latest Lego news and the best sets in the web. Follow us on Twitter or Facebook.