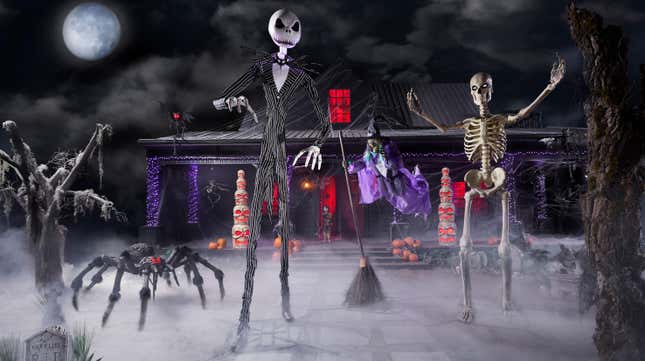 It's the dead of summer so we can safely say it's time for Halloween season to start ramping up. Home Depot—the ghouls who brought the 12-foot skeleton into the world—is fully aware, and is ready to unleash an absolutely gargantuan new Pumpkin King.

That's right, it's a dead man's party! Home Depot's 12 ft. Skelly the Skeleton is back this year, and he's bringing an even taller buddy, courtesy of Disney: a 13-foot Jack Skellington animatronic. The Nightmare Before Christmas King of Halloween comes complete with the ability to sing "Jack's Lament" while towering over trick-or-treaters. It's perfect for that millennial Tim Burton fan home haunt, I'd say.
Take a look at the best of Home Depot's Halloween 2023 collection, which includes fun spooky Disney favorites like Hocus Pocus' Sanderson Sisters and Star Wars' Jedi Master Yoda, plus titans of terror and some truly terrifying monsters. Some might even resemble modern horror and sci-fi film icons if you squint hard enough—Buguul, is that you?
Check out this ghoulish gallery us know what you think!