'Tis the season to blast "Thriller" and binge-watch all your favorite scary movies. Naturally, the mind drifts to one of the greatest talents the genre ever knew: Vincent Price. The actor had a long, varied career—he was also an art expert and a cookbook author!—but here are our favorite spooky and offbeat highlights.

---
1) "Thriller"
If you grew up in the 1980s, chances are one of your first introductions to Price was through Michael Jackson's ubiquitous hit, probably the most successful pop song about undead monsters ever recorded. The landmark video (directed by An American Werewolf in London's John Landis) added iconic zombie choreography to the song, but a huge part of "Thriller"—the thing that really elevates the tune from catchy toe-tapper to mini horror epic—is Price's narration (which the end credits drolly term a "rap"). It starts, of course, with "Darkness falls across the land..." and eventually ends with one of the actor's signature mirthful-yet-bone-chilling laughs.

2) The Invisible Man Returns
The 1940 sequel to the 1933 Universal Horror classic is only loosely tied to the H.G. Wells-inspired original, but obviously it revolves around a familiar plot device. In one of his earliest horror roles, a 29-year-old Price plays a man who's injected with an invisibility serum after he's wrongly accused of murder. Can he find the real killer before the notoriously unstable serum makes him go mad? The thing about starring as an invisible man is that you're not really on the screen that much—but Price's purr is so unmistakable that he makes a big impression even as a disembodied voice, just as he did decades later with "Thriller."
3) House of Wax
This 1953 smash hit—the first big studio film to be released in color 3D—elevated Price from a string of second banana parts to being one of Hollywood's most popular villains. He stars as acclaimed turn-of-the-century wax sculptor Professor Jarrod who's locked in a bitter feud with his greedy business partner. Things take a very dark turn when the partner tries to kill Jarrod and burn their museum down. The sculptor emerges from the incident a changed man, creating eerie exhibits that showcase things like...the mysterious "suicide" of his former business partner. Jarrod also has a new technique for making his human figures, which involves dipping the freshly murdered bodies of his enemies in molten wax. Did I mention this movie is in luridly colorful 3D? Fun fact: in 2005, Jaume Collet-Serra (of the upcoming Jungle Cruise) made his directorial debut with a House of Wax remake, a film whose sole defining characteristic is that it co-starred Paris Hilton at the height of her Simple Life fame.
G/O Media may get a commission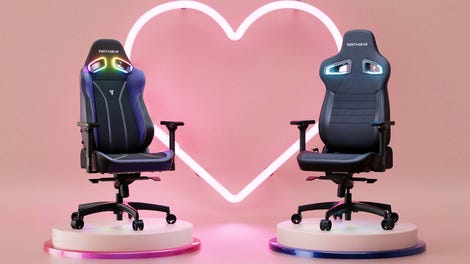 Up to $150 off
Vertagear Gaming Chairs
4) The Mad Magician
A year after House of Wax, Price—proudly billed as "That House of Wax Man"—played another 3D fiend, a magician who's found some success inventing tricks for other performers, but is determined to star in his own show as "the Great Gallico." His flair for illusion also helps him in the real world, where he's fond of impersonating his enemies. Those unfortunate souls include a way more famous rival magician, as well as a pesky businessman in possession of an ironclad contract that gives him ownership of Gallico's most stupendous tricks. (Not helping matters: the same businessman is also romancing Gallico's gold-digging former wife, played by a pre-Green Acres Eva Gabor.) Naturally, one of Gallico's best "illusions" involves a buzz saw and the very real decapitation of a very deserving victim—which leads to a gruesomely funny scramble when the head accidentally goes missing.
5) The Fly
Nearly three decades before David Cronenberg teleported Jeff Goldblum into the annals of body horror, Price starred in a less oozy adaptation of George Langelaan's sci-fi short story. In this version, Price plays the brother of the ill-fated scientist, the latter a family man who keeps his experiments in his basement. (That explains why his wife has to get involved when he accidentally swaps some important body parts with those of a housefly.) Most of the movie takes place in flashback, with Price's character hearing the tale of how his brother tried to reverse the process to no avail, before enlisting help to commit suicide. However, Price does lend moral support when the detective investigating this strange case decides to squish the web-trapped fly that contains the brother's other parts (including his head)—death by rock being, presumably, way more pleasant than being gobbled alive by a massive spider.
6) William Castle collaborations: The Tingler and House on Haunted Hill
In 1959, Price starred in two horror movies directed by William Castle—both of which became famous more for Castle's marketing gimmicks than for anything else (though House on Haunted Hill would, years later, be woefully remade). In The Tingler, Price is a scientist who discovers a creepy-crawly parasite that feeds on fear, which gets complicated when the thing gets loose in a theater full of terrified patrons. There's a tangential murder plot, too, but The Tingler's most-remembered scene is the one where Price's character urges everyone in the theater to scream so that the Tingler won't be able to single out any shrieking victims. It's very meta. And back in the day, certain theaters were rigged with special seats that would buzz at the right moment—all part of Castle's grand plan to scare the pants off America. (Literally, that's the title of his highly enjoyable autobiography.) House on Haunted Hill's gimmick was a little less elaborate, involving skeletons flying out above the audience at a crucial point, but Price is an oily delight as a rich guy who throws a haunted-house party that turns into a twisty murder mystery along the way.
7) Roger Corman collaborations: Edgar Allan Poe
Director and producer Roger Corman's influence in Hollywood cannot be overstated (or summed up terribly briefly), but his partnership with Price began with American International Pictures' 1960's House of Usher, adapted from Edgar Allan Poe by Richard Matheson. (As it happened, Price would later star in The Last Man on Earth, the first adaptation of Matheson's novel I Am Legend.) Corman and Price went on to make Pit and the Pendulum, anthology film Tales of Terror, The Raven, The Masque of the Red Death, The Haunted Palace, and The Tomb of Ligeia. Price would remain associated with Poe for the rest of his career, and he was a genuine fan; in 1970, he filmed the AIP-produced "An Evening of Edgar Allan Poe," a dramatic reading of four Poe stories, and in 1975 he made a much-publicized visit to the Poe Museum in Richmond, Virginia.
8) Batman TV show
OF COURSE VINCENT PRICE WAS AN AMAZING COMIC-BOOK VILLAIN. The character Egghead was very fond of using egg-shaped weapons (to match his head) and speaking in egg-themed puns. He appeared in several episodes and, as it happened, did really have a huge brain under that giant bald noggin. Here's proof: At one point he actually figured out that Batman and Bruce Wayne were the same person!
9) Dr. Goldfoot and the Bikini Machine
A San Francisco-set 1965 sci-fi comedy starring Price as the flamboyantly wacky creator of a bikini-clad robot army? A James Bond spoof that would later be spoofed itself by the Austin Powers movies? Why do you need any more plot than that? Director Norman Taurog slotted this loosey-goosey romp among the many Elvis Presley vehicles he helmed throughout the 1960s, which somehow seems kind of perfect.
10) Witchfinder General
Price plays the corrupt title character in this 1968 period drama (which kind of works even if you're seeing it under its Poe-evoking alternate title, The Conqueror Worm), which was inspired by a real witch hunter who unleashed a reign of terror during the English Civil War. It's not realllllyy a horror movie, other than the general horror of torture, but it was considered an unusually violent and sadistic film for the time. Price plays his role without a whisper of camp—his character is exceptionally cruel and comes across as pure evil. Witchfinder General, which went on to inspire more than one heavy metal band, gained additional tragic mystique when its 25-year-old director, Michael Reeves, died of an accidental overdose soon after its release.
11) The Abominable Dr. Phibes
Rushing to be by his wife's side after she dies in the operating room, a concert organist crashes his car and is declared dead. But Dr. Phibes is secretly alive— albeit hideously scarred under a mask that looks just like Price's face under heavy make-up—and hungry for justice. Since he also happens to be a theology expert, he references the 10 Biblical plagues of Egypt as a playbook for exacting revenge against his wife's medical team. Yes, this includes locusts and rats and all kinds of other nasty stuff. If this all sounds fairly ridiculous, it is, and the 1971 movie knows it, which makes it that much more enjoyable—as does the film's lush production design and (it goes without saying) Price's committed performance. No wonder it's become a cult classic.
12) Theatre of Blood
For many years I assumed Price was British, based on his not-quite-identifiable accent. Actually, he was born in St. Louis, Missouri—but he did start acting while he was a student in London. Deliciously pitch-black 1973 comedy Theatre of Blood brings Price back to his roots as a proper Shakespearean actor named Edward Lionheart, though it also made excellent use of Price's fondness for macabre material. Fair warning: Theatre of Blood also has some definite similarities with Dr. Phibes. After a great humiliation, Lionheart attempts suicide—then takes advantage of the fact that everyone assumes he's dead by taking revenge on all the critics that gave him bad reviews throughout his career. And when I say "revenge," I mean "stalks them and kills them in hideously gruesome ways that pay homage to Shakespeare's plays." It's campy and awesome, and Price is obviously having a blast, quoting the Bard and drowning his foes in barrels of wine. As an added bonus, Game of Thrones' Diana Rigg co-stars as his devoted, complicit daughter.

13) The Brady Bunch
If you glance over all the guest-starring bits Price did in the 1970s and 1980s, you'll realize he appeared on nearly every hit show: Columbo, The Carol Burnett Show, Get Smart, Mod Squad, The Love Boat, The Bionic Woman, and many more. But his participation in the three-episode "Hawaiian vacation" arc that kicked off season four of The Brady Bunch always left the biggest impression on me. I can trace my fear of tarantulas and my love of tiki drinks to those episodes, as well as my lifelong admiration of Price. He pops up as creepy, cave-dwelling hermit Professor Hubert Whitehead, who terrifies the Brady boys by briefly taking them captive when they try to return a cursed tiki idol to the "burial grounds" he's claimed as his turf. Frankly, he's creepier than anything else in the episodes—including that big-ass spider.
14) Edward Scissorhands
Tim Burton's love of Vincent Price famously began when the future director was just a child, and led to the pair working together on Burton's 1982 stop-motion short Vincent, about a little boy obsessed with Edgar Allan Poe. (Price provided the narration.) In 1990, Price reunited with Burton for a small but very impactful role in goth fairytale Edward Scissorhands: "The Inventor," the eccentric creator who builds the title character but tragically dies before he can replace the young man's scissor hands with real hands. The performance took on even more meaning after the movie's release, since it ended up being the ailing actor's last significant big-screen role before his death in 1993.