Amazon has dabbled in selling clothes online for a while, with limited success. Now, it's pouring money into its fashion division—and it won't be happy until it's filled your wardrobe.
The New York Times reports that Amazon is getting serious about clothing. The retailer is apparently shooting over 3,000 fashion images a day in a photo studio using a new, unnamed patent-pending technology. Those images will be turned into static and animated images to show off a huge new range of high fashion.
It's also planning to overhaul the entire shopping experience, leveraging lessons learnt in other sectors to improve the way it uses data to make intelligent recommendations. Oh, it's also hired three women to do nothing but try on size 8 shoes. Now that's commitment.
But, obviously, it's not just a love of clothes driving all this. From the Times:
"Amazon's decision to go after high fashion is about plain economics. Because Amazon's costs are about the same whether it is shipping a $10 book or a $1,000 skirt, "gross profit dollars per unit will be much higher on a fashion item," Mr. Bezos said, and it already makes money on fashion. While its MyHabit site, started last year, uses a flash-sale model to compete with Gilt Groupe, Mr. Bezos says the company's new effort is not about selling clothes at deep discounts but at prices that ensure that "the designer brands are happy."

"Amazon has not just size on its side but money. The company has about $5.7 billion in cash and marketable securities, and Mr. Bezos has long taken a stance that investing in the business is the best place to use it. The company can afford to do things that some competitors cannot, like hire a bevy of stylists for the Web site models or investigate replacing the plain brown shipping box with a fancier package for clothes."
G/O Media may get a commission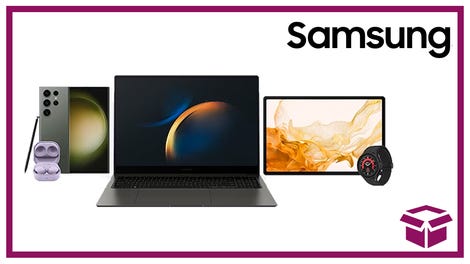 24 hour deals
Discover Samsung - Daily Deal
The Times also points out that Amazon is happy to lose hundreds of millions of dollars a year on free shipping—and even free returns—to keep its shoppers coming back. Bezos will not be happy until everything you own makes its way to you from his website. Just be glad that Amazon hasn't set up its own boutique fashion label. Yet. [New York Times]
Image by Emma Kate under Creative Commons license