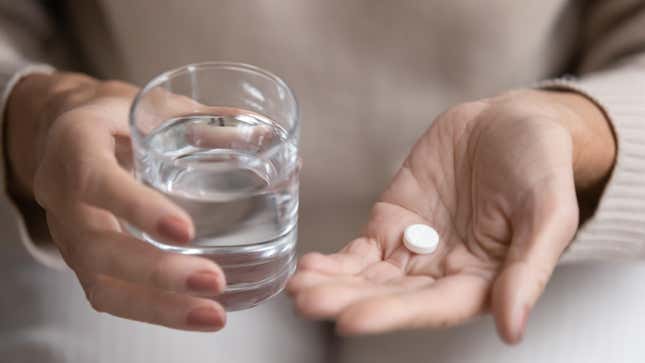 We still have more to learn about one of the world's oldest drugs: aspirin. In research out this week, researchers say they've uncovered more about how the drug reduces inflammation. The findings might pave the way toward creating similar but safer treatments for inflammation and possibly even cancer, according to the team.
Lions on Oxytocin are Surprisingly Chill
Also known as acetylsalicylic acid, aspirin was first synthesized around the turn of the 20th century, though a precursor to it—derived from willow plants—has been used by humans for thousands of years. It's a type of nonsteroidal anti-inflammatory drug (NSAID), and, like other NSAIDs, it can treat fever, inflammation, and pain. It also has a unique blood-thinning effect.
Aspirin remains one of the most widely used medications in the world, both as a short-term option for various ailments and as a preventative treatment for people at high risk of cardiovascular disease. But it's not without side effects—namely an increased risk of gastrointestinal bleeding. Last year, U.S. experts even stopped recommending a daily dose of baby aspirin for older adults without a history of heart attack or stroke, citing evidence that any modest benefits for the typical person would be outweighed by the known risks.
Important as aspirin has been for over a century, there's still a lot we don't understand about what it does inside our bodies. So scientists at the University of Texas at Arlington wanted to better study its mechanics. Their findings were presented Tuesday at the annual meeting of the American Society for Biochemistry and Molecular Biology (ASBMB), being held this week.
"Aspirin is a magic drug, but long-term use of it can cause detrimental side effects such as internal bleeding and organ damage," said study author Subhrangsu Mandal, a professor of chemistry and biochemistry, in a statement from the ASBMB. "It's important that we understand how it works so we can develop safer drugs with fewer side effects."
Aspirin is known to inhibit enzymes called cyclooxygenase, or COX. These enzymes play a vital role in producing other chemicals that cause inflammation. The researchers say they discovered several ways that aspirin influences this process, from controlling transcription factors that allow the expression of cytokines (proteins involved in inflammation and our immune response) to slowing the breakdown of the amino acid tryptophan, another important player in inflammation. It also seems to accomplish the latter by inhibiting the production of indoleamine dioxygenases (IDOs), particularly IDO1, during the inflammatory process.
"Since aspirin is a COX inhibitor, this suggests potential interplay between COX and IDO1 during inflammation," Mandel said.
This interplay could be important for treating other kinds of illness beyond the typical indications for aspirin, the researchers say. They note that some immunotherapy treatments, which try to strengthen the immune system's response to cancer, also target IDO1. So it's possible that future COX/IDO1 inhibitors might be feasible as immunotherapy drugs.
This sort of basic research is crucial for drug development, but it's still the very beginning of the road. Mandel and his team say that they're now trying to create small molecules in the lab that similarly inhibit COX/IDO1, which they will test out as potential anti-inflammatory and immunotherapy drugs.