The New York skyline is defined by two things: height and change. While Manhattan's new buildings have always tended towards tall, the current wave of projects pushing the city back to the top of the global totem pole are "supertalls": skyscrapers standing over 1,000 feet. This is a good thing.
Supertall technology allows humans to live comfortably one on top of the other, stacked in a mode that reduces our environmental footprint while also maximizing interactivity among individuals, and consequently, productivity. As the number of such structures booms in coming years, the technology to build to such heights is also becoming more affordable, and supertalls could soon play an important role in mitigating New York's housing crisis.
Hudson Yards best exemplifies the benefits. Developed by Related, a formerly vacant railyard is being transformed into an actual neighborhood, complete with ample green space—made possible by the site's verticality, and the new 7 train extension to 34th Street and 11th Avenue. Besides the new parks, the project's first phase will include over one million square feet of retail, two towers standing over 1,000 feet tall, and two more that nearly reach the milestone.
Hudson Yards, under construction, viewed from the High Line
Nearby, Larry Silverstein—the developer of the W0rld Trade Center—has also proposed a 1,400-unit and 1,100-foot tower that would become the city's largest residential building. These apartments will be for middle to upper middle-class New Yorkers, and if the city can eliminate the red tape that inflates costs so dramatically, more buildings like this could rise in core neighborhoods—taking advantage of already-built transit capacity, increasing the housing supply, and reducing pricing. Twenty percent of Silverstein's project will be designated as affordable, too.
G/O Media may get a commission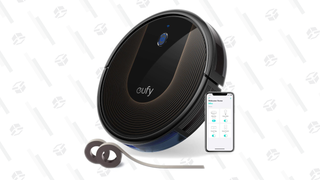 48% Off
Eufy BoostIQ RoboVac
Both Hudson Yards and Silverstein's tower, at 520 West 41st Street, will massively benefit the city. The former will transform an old railyard, and the latter will revitalize what had been a sprawling and anti-urban Mercedes dealership; as New York literally has no more horizontal room to grow, taking full advantage of remaining development opportunities is important if the city is to retain its status as a global capital.
To the north, excavation is nearly complete at 217 West 57th Street, which may dethrone One World Trade Center to become New York's tallest building. The supertall is under development by Extell, and the project's architects are Adrian Smith and Gordon Gill, the pair responsible for Trump Tower Chicago and the Burj Dubai, among other notables. The building will stand approximately 1,500 feet to its roof, and 1,775 to its spire.
The Nordstrom Tower will be the tallest in Midtown
Nordstrom will occupy the base of 217 West 57th, revitalizing a site that formerly held a dilapidated supermarket, and generating millions in tax revenues for the city. While One World Trade Center cost the public billions of dollars, the end result is a literal fortress, completely isolated from sidewalks and everyday interactions. In an ironic twist, it is the privately built towers of 57th Street that will actually interface with pedestrians.
Looking east, 432 Park Avenue will also have two major retail components, setting an eastern bound for 57th Street's increasingly high-profile retail corridor, and drawing additional foot traffic.
423 Park Avenue, also on 57th Street
These projects barely scrape the surface of the current boom, which includes several other buildings now rising west of Penn Station, and other notables in Lower Manhattan, like 432 Park's 1,356-foot sibling coming to 125 Greenwich, and the two remaining towers of the World Trade Center.
The new spokes on Manhattan's glimmering tiara have been criticized as havens for the super-wealthy. While it's true that upper floors on some of the residential giants may be home to rarely-used condominiums, they will actually benefit the streetscape enormously, which is what most matters to New Yorkers. And the tax revenues generated by the new retail will help pay for the social services that are so important to this city, which are not free.
125 Greenwich, in Lower Manhattan, with One World Trade to the left
In fact, the pace of supertall development is rapidly accelerating in New York City. If current projects proposed and underway are completed, the city could have over 20 buildings standing over 1,000 feet tall by 2020, dethroning Dubai and Shanghai in the global rankings. Manhattan's buildings will be unique amongst global cities in that almost all are privately financed, made feasible by the city's extreme land crunch, unlike the government-backed projects rising in much of the developing world.
This is the crucial difference that distinguishes New York from the rest of the world, perhaps aside from London and Hong Kong. In these three cities alone, height is warranted by demand, and demand alone—and this is why we need more of them.
These absurd feats of engineering are necessary precisely because so many people want to be in New York City. And as Silverstein's next supertall shows, if billionaires are willing to live in these structures, middle-class New Yorkers should also have the opportunity to vote with their elevator buttons.
If infrastructure can support denser residential development that does not need public backing, there is absolutely no reason the basic needs of New Yorkers should go unmet. And current land use policies have left many citizens facing rapidly escalating housing prices.
Considering that the housing crisis is preventable, ignoring the basics of supply and demand when we have the capabilities to meet these needs is not okay.
Even with the discussion on affordable housing beginning in earnest, talk of repealing a state limit on residential density set in 1961 has been completely absent, despite the fact that the rule was created both at the specific request of the city, and to discourage slums, which New York no longer has.
If New York fully embraces supertall technology—as it already seems to be—sensibly planning for a denser future with supertall affordable developments is a logical conclusion of our technological evolution. On a per capita basis, New York City's housing starts are the same as Paris', which is a literal museum—we can do better.
Change is inherent to New York, and the dynamism of the ever-changing cityscape is a symptom of the city's constantly shifting demographics. Now, for the first time in history, supertall technology is becoming cost-feasible; while the skyline's evolution over the next decade will be dramatic, new affordable supertalls could alter its appearance even further. And with supply constraints the ultimate factor behind the current housing crisis, the widespread application of this kind of verticality is something that New Yorkers must demand if the city is to retain any semblance of affordability.
---
Nikolai Fedak is the editor of New York Yimby.
Top image: Hudson Yards skyline image, courtesy Related