We're not sure what to make of the latest Nazi zombie movie, A Chance In Hell, especially since it's about concentration camp experimentation. You be the judge. Also, watch Kanye West's bird girlfriend wave her breasts around.
Is AI Moving Too Fast? | Future Tech
A Chance In Hell
We'll just let the trailer and synopsis speak for itself....
Official Synopsis:
During WWII, a Nazi scientist experiments to create the 'ultimate warrior' for the Fuhrer but all efforts are in vain. With the American soldiers closing in, the doctor performs one last experiment on a concentration camp child, unleashing a creature straight from Hell.
So there you have it. What do you think? Is this flick purposefully offensive, or just poorly thought out? Check out their Facebook profile for additional details.
Orcs
Thanks to Quiet Earth for pointing out this gem, we're so happy the Orcs are finally getting their moment in the sun! While this film looks predominately humorous, it's still got a good heap of gore. Enjoy!
G/O Media may get a commission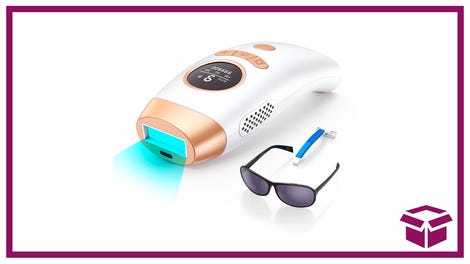 58% Off + Coupon
IPL Hair Removal Device
Official Synopsis:
Orcs! Orcs! Orcs! are battle ready, ugly, peeved and pouring out of the mountain to wreak havoc and destruction on outdoor enthusiasts and eventually all of mankind. Our collective fates lie in the hands of our hero trio; a couple of bumbling but well-meaning park rangers and Katie, a hot and feisty, over-the-top environmentalist.
The Speed of Thought
There is nothing I don't love about this movie. First, the main character (played by Nick Stahl) is named Joshua Lazarus. Joshua. Lazarus. Amazing. It's like a 90s mystery paperback — not a good one. Second, he's some sort of mind-reader-for-hire which the government uses and abuses, naturally. The street name for these mind readers is a scoper (that's telepath slang). It also stars Wallace Shawn, who is just delightful. Basically the government is trying to kill Joshua Lazarus and the rest of his "kind" with pills and beautiful women.
Official Synopsis:
Joshua Lazarus (Nick Stahl) is a scoper a telepath who can listen to people's thoughts. There are only a handful of scopers in the world. With proper training, a scoper can learn to control the voices. But the gift is deadly, a scoper goes insane by the age of 29. Joshua is 28.

Joshua and his mentor work with the government in exchange for a cure. While on a mission, Joshua meets an untrained scooper, Anna (Mia Maestro). Through their unique ability, they open up their minds to each other and quickly fall in love. But the government won't allow it. They plan to disappear and start a new life together, but are soon discovered and torn apart.

With the help of his childhood friend (Taryn Manning), Joshua is forced to discover the truth about his abilities and those around him.
[via Quiet Earth]
The Last Children of Aporver
Twitch film has an exclusive look at The Children of Aporver, something we haven't heard about in years. Thankfully it looks like the crew has been hard at work — the world they built is gorgeous. We're still not 100% sure what this film is about, but we're absolutely interested now. This tiny synopsis the only information about the film.
Official Synopsis
This fantasy film combining live actors with animated and computer-generated settings tells the story of a boy, Rybli, and a girl, Maysu, who save the world of Aporver from destruction. One never knows whose heart can save the whole world.
Runaway
Aaaand finally here it is, Kanye West's 34-minute music video, directed and written by Kanye West. If you like boobs and feathers, than this is a good way to kill a half hour. Behold, West tames the mighty star Phoenix creature and teaches her how to use a cup, but not how to wear a top. Slightly NSFW.