James Gunn explains exactly how Thanos is involved in the plot of Guardians of the Galaxy, Melissa McBride comments on Carol's future on The Walking Dead, and John Noble says he's playing Ichabod's father-figure on Sleepy Hollow. And find out how Black Canary's secret identity changes everything. Spoilers now!
Guardians of the Galaxy
James Gunn gave CraveOnline some details as to the extent of Thanos' involvement as a villain in Guardians of the Galaxy:
Thanos is a character in our movie. He works with Ronan. In my movie Ronan works for Thanos, and Ronan is the main bad guy in our film.
This is in line with earlier statements from Kevin Feige that the Thanos is both in this movie, but is the "big bad" for later on. He also described the sets and effects they will have:
We have a prison set that is 350,000 pounds of steel. Our sets are enormous. Anybody who knows me knows I really love the mix of practical and CGI effects and I carried that over into this movie. We have tons and tons of practical effects… I can't wait for people to see it because it's astoundingly beautiful.
G/O Media may get a commission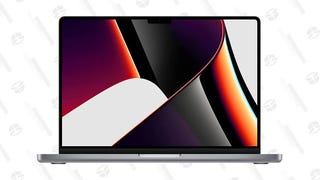 Save $300
2021 14" 1TB MacBook Pro
---
Marvel
Speaking of Marvel, Kevin Feige explained at an IGN Q&A what the studio's stance is on crossing over their film universe with the one currently in the hands of Sony:
I would never say never. I would say, not any time soon would we be in a position to team up with other studios who [have] a few of our characters, because we have so many characters ourselves.
---
Transformers 4: Age of Extinction
Congratulations, everyone, we're that much closer to another Michael Bay explosion extravaganza. Principal photography is finished and it looks like they're in the post-production phase now. Bay tweeted:
It's a wrap on Transformers 4! Michael Bay & crew are coming home.
---
Lockdown at Franklin High
Marvel Studios storyboard artist and animatics supervisor Federico D'Alessandro is in talks to direct Lockdown at Franklin High, which is being produced by Michael Bay's Platinum Dunes. It focuses on a good-girl and her in-trouble brother who are trapped with a monster by a school lockdown. [The Hollywood Reporter]
---
The Walking Dead
Melissa McBride's all cagey about whether we'll see Carol again after she was abandoned:
EW: So, of course the big question is: Will we see Carol again?
McBRIDE: I can't say for sure one way or the other. I hope we do. I hope that's not the last of her, but you know the way this show is. I don't know. It's unpredictable. The show is unpredictable. And we always think, well, if we don't see them die on camera, there's always a possibility. And then we do see them die on camera and sometimes they still come back, so who knows?
---
Arrow
We now know that Caity Lotz's Black Canary is really Sarah Lance, Laurel Lance's believed-to-be dead sister. Lotz explained whether or not that secret will be kept from the Lance family:
I think it's important to her. After everything that's happened to her, she doesn't really feel like she's worthy of love anymore. So the thought of her coming back into her family's life doesn't feel like it would be anything good for them. So it's something she's going to try not to do. Deep down, I think there's definitely that wish that she could, but there's just so many things. The next episode will be a lot of fun because we get to see that there's a danger to her family with the League of Assassins, so she has to confront some things.

The League of Assassins is a group with some deep history in DC Comics. And we've heard you directly say Ra's al Ghul's name now…

Lotz: Yeah, they're the best of the best when it comes to being fighters and being killers, and Sara's a pretty good fighter, so it'll be interesting as they reveal more of her relationship with the assassins. There's actually something really exciting... I, of course, don't want to give anything away, but there's some really exciting connections with Sara and R'as al Ghul.
Lotz also said that we'll be seeing more of Sara and Sin:
There seems to be a very close bond between Sin and Sara. Will we see more of that in the coming weeks?

Lotz: Yeah, they're both kind of outcasts in their own right. They've found this dear little friendship together. Sin's such a sweet character, and she's tough, but she's a good soul. I think Sara really connects to that. Sin's going to have a nice presence on the show, which will be cool. Hopefully we'll get to develop a lot of that between Sara and Sin, because Sin doesn't really know Sara. She mostly knows her as the Canary.
More at the link. [IGN]
In another interview, Lotz said that Sara's being used by the people she's with:
There are a lot of mind games being played with Sara, by the people who have her. That's definitely influencing things.
[TV Line]
According to Lotz, future episodes will go into Sara's past with Oliver:
I think she's changed so much that crushes and things like that are not something she feels like she can even afford to have anymore. She doesn't get that kind of liberties, so I don't think that's really in her mind anymore. That's also another thing we kind of learn more about too is the history of her feelings for Oliver.
Apparently, it'll be Oliver himself who hooks up Felicity with Barry Allen. Bad news for shippers. [TV Line]
Go here for a complete set of photos from episode 2.06, "Keep You Enemies Close." [SpoilerTV]
---
Sleepy Hollow
In an interview with Buddy TV, John Noble confirmed that he'd be in three more episodes this season — which, according to him, is all but one of the four remaining ones. He also described the relationships between his character, Henry, and Ichabod and between his character and Abbie:
What kind of relationship with Henry have with Ichabod?

As time goes by we will see a relationship develop between Henry and Ichabod, which kind of feels like a father/son relationship. So let me just leave that, but there will certainly be a relationship between Henry and Ichabod.

And, what will the relationship be like between Henry and Abbie?

I think already there is a relationship with Abbie. She's obviously asked for his help and she's got it. And so I am looking forward to a kind of a growth there, perhaps not exactly the same way as he does with Ichabod; but a respect, a usefulness, a third member or fourth member of the team. And I love working with Nicole, so I expect something cheeky and wonderful and a bit fatherly will come out of that one as well.
[Buddy TV]
MOST IMPORTANTLY: There's more on Ichabod's clothing. From executive producer Alex Kurtzman:
Ichabod's clothes are his security blanket, his tie to the past. That being said, he will soon discover the joys of dry cleaning and the grave injustice of the bill that accompanies it.
Fingers crossed that Ichabod and laundry is an entire episode. [TV Line]
---
The Vampire Diaries
Before the end of this month, someone will be abducted. All we know is that the abductee is not Stefan. [TV Line]
The hundredth episode will have Olga Fonda appearing as Katherine's daughter, Nadia. Fonda is all praise for the episode, saying:
Well I can tell you one thing. I can tell you that episode is going to be amazing. It's going to be great. It's going be exciting. I can guarantee you that the 100th episode is going to be amazing. It's very strong and the TVD fans are going to be very happy.
---
The Originals
Now that Daniel Gillies isn't also on Saving Hope, he'll be back as Elijah full time. Executive Producer Julie Plec previewed what's up next for Davina:
Davina is about to embark on a journey that is going to put her at odds with everyone. But it also creates some surprising new friendships and new alliances that we maybe didn't see coming.
[TV Line]
More on the upcoming Vampire Diaries and Originals crossover. Plec says that Tyler coming to New Orleans is going to help Hayley:
The whole thing that brought [Hayley] to New Orleans in the first place was trying to get answers about what bloodline she came from, the mystery of what this mark on her shoulder means. One thing that Tyler does offer as he steps foot into this world is answers and more information. He takes her to a place out in the bayou where she's going to start to understand a little bit of where she comes from.
[TV Line]
And here's a promo for episode seven, "Bloodletting."
---
Beauty and the Beast
All season, Gabe's been trying to prove that he's a good guy now. But Sendhil Ramamurthy says that we're nowhere near done looking at that 180 degree turn:
Questions start to get asked about why he's doing this. OK fine, he wants to make amends and prove he's a good guy, but are there other motives? That's what we're getting to now, what we're exploring. Why exactly is he doing what he's doing? Is there an ulterior motive?
---
Agents of SHIELD
Here's the promo for episode seven, "The Hub."
Go here for a complete set of photos from episode eight, "The Well." [SpoilerTV]
---
Ravenswood
Here's a description of episode four, "The Devil Has a Face":
CALEB DISCOVERS FAMILIAL TIES IN RAVENSWOOD, ON AN ALL NEW EPISODE OF "RAVENSWOOD," AIRING TUESDAY, NOVEMBER 12 AT 8:00 PM ET/PT ON ABC FAMILY

Burbank, CA (October 23, 2013) - Caleb meets a long lost relative in the hopes of better understanding his current situation in "The Devil Has a Face," an all new episode of ABC Family's original series "Ravenswood," airing Tuesday, November 12 (8:00 - 9:00 PM ET/PT).

Still unnerved by what he witnessed during the séance, Luke searches for a distraction, but realizes there may be no escape from what's haunting the group. Olivia bonds with Miranda and is surprised to discover their families may have a shared history. And Caleb is caught between new and old loyalties when he struggles to share what's happening in Ravenswood with Hanna.

Meanwhile, Remy and Caleb investigate an intriguing new clue into the town's past. Luke is surprised to find common ground with Tess. And Miranda thinks she may have finally found what she has been searching for.
[K Site TV]
Go here for a complete set of photos from the same episode. [SpoilerTV]
---
Supernatural
Here's a promo for episode 9.06, "Heaven Can't Wait":
---
Grimm
Below's a sneak peek for episode 3.03, "A Dish Best Served Cold."
Additional reporting by Charlie Jane Anders and Jason Krell