Last night, Kanye West kicked off his Saint Pablo tour in Indianapolis with a crazy flying stage. Instead of a boring, normal, stationary stage—you know, the kind most artists jump and gyrate all over—Kanye decided to float above the audience on a suspended platform.

It's visually mesmerizing, especially when the light shows kick into gear. The stage, which apparently hovered about 15 feet above the crowd, moves around slowly, and it vaguely resembles the kind of moving platform you might see in a video game. Rolling Stone described the setting as "something like the alien spacecraft from Close Encounters of the Third Kind," which sounds about right.
The question, however, remains: How the hell did Kanye and his team pull this off? The musician is known for his wild and creative stage designs—remember the mountain from his Yeezus tour?—but a moving stage is a little different, even compared to a giant mountain.
Kanye and his handlers are also keeping quiet about how the whole setup works. The technical details remain a bit of a mystery, and it appears the design wasn't cooked up by Es Devlin, the same woman who helped with the Yeezus tour design. (It's not listed on her website.) Kanye himself told E! that the tour setup idea took a decade to come together and "at least" eight months of planning.
G/O Media may get a commission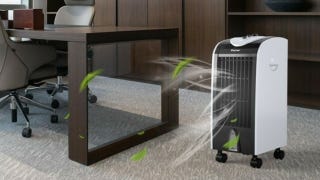 Save $10
Evaporative Portable Air Conditioner Cooler with Filter Knob
USA Today reported that the boxing-ring sized stage "moved up, down and across the room with West anchored by an elastic tether." You can see the tether from some angles, as well as the devices used to hang the platform from above. (They look like cables or chains.)
Besides moving around, the platform also tilted away from and toward the crowd, which gathered in a veritable mosh pit below. It also seemed to appear out nowhere, since some attendees were quite confused by the lack of a stage was before the show started. The crowd moved in time with the platform, which sure looks fun (or dangerous) from far away:
"I just wanted people to get into it and have a fun time," Kanye told E! "Take the concert experience to another level. It's not just about what you're seeing on the screen or what you're seeing me doing up on the stage, but what you and your friends are doing."
That explanation, while lovely and thoughtful, still doesn't explain how the stage came to be. What was it attached to? Whose idea was it? Was it terrifying? How fast did it go? What was it made out of? Will it be making other appearances? How much did it cost?
We've reached out to Kanye's team, and we'll update if we get any answers. In the meantime, if you have any insight, please leave it in the comments below.