Exactly 30 years ago today, the world saw The NeverEnding Story for the first time. It was a time before CGI, when you had to make fantasy movies with puppets. But nothing feels old fashioned about the synth-laden, sunset-colored theme song by Giorgio Moroder. The flying dragon-dog was pretty cool, too.
While animatronics were on their way out when The NeverEnding Story hit theaters, electronic music was on its way up. Disco fever had left a funny taste in everybody's mouths, but that doesn't mean they stopped liking the dreamy din of synthesizers. Moroder himself is often regarded as the godfather of disco, thanks in part for is work with Donna Summer on songs like "I Feel Love" and "Love to Love You Baby." However, the scope of his influence would only really start to emerge as the 80s got started, and synth-pop took hold.
You might've heard Moroder's name recently because of his work on Daft Punk's newest album Random Access Memories . The fact that the French robots devoted an entire track to the Italo disco legend surely surprised a few people, especially since Moroder sort of faded from the public eye after the 80s. However, the fact that Moroder had his hands on some of the most seminal soundtracks of that decade means that even people who didn't know Giorgio Moroder's name had certainly nodded your head to his signature sound.
The NeverEnding Story theme is classic Moroder. A disco-inspired, four-to-the-floor beat with synthesizer-powered arpeggios is pushed forward by misty vocals and what can only be described as the sound of lasers. There's even a guitar solo. Seriously, try not to cry when you watch the bookish but lovable main character Bastian flying through Fantasia on Falkor, the aforementioned dragon-dog, on his way to rescue a sick princess with that song playing in the background. Just try.
While The NeverEnding's smashing box office success meant that Moroder's theme touched a lot lives, the artistic impact of some of his other work at the time was deeper. After winning an Academy Award for composing the soundtrack to Midnight Express and its hit song "The Chase," Moroder signed on to the edgy remake of a 1930s crime drama called Scarface. It's fucking incredible. The same year that Scarface hit theaters, he produced several songs on the soundtrack for Flashdance. You know "What a Feeling?" That was Moroder. Then, a few years later, Moroder masterminded what must be the most heart-pounding, most iconic soundtracks of the 80s: Top Gun. "Highway to the Danger Zone," people. "Highway to the Danger Zone."
All that in mind, it's no surprise that Daft Punk is not the only modern day electronic music act to pay homage to Moroder. You could argue that Moroder's influence not only gave rise to the popular phenomenon that was 80s synth-pop but also the contemporary craze that is electronic dance music, or EDM. Moroder knows it. "It's interesting to see the rise of EDM," Moroder told Billboard earlier this year. "Obviously the movement of the past five, six, seven years took a lot from 'I Feel Love.' When I speak to David Guetta or Avicii or Tiësto, that's the first thing they tell me. Then they tell me about soundtracks like Scarface. I don't know how many samples they took from that."
G/O Media may get a commission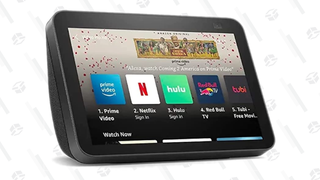 Long lauded by the electronic music community, it feels like Moroder just can't stop being relevant in new ways. Even though it's been three decades since soundtracks like Scarface or The NeverEnding Story, there's a certain timelessness about what Moroder calls "that mysterious kind of synthesized sound." Moroder says that the sound got overused a little bit on TV shows in the 80s, because it was cheaper to hire one electronic musician to do the whole sound track. But guess what? That meant that a lot of people listened to a lot of electronic music without even realizing it.
We love 80s synth-pop music for the same reasons we love the movies that featured it. Equal parts nostalgia and whimsy, it makes us think about a magical world that's sparklier than ours, like Fantasia. It makes us wonder what it would be like to be larger than life in Miami. Or it's that one dance our life depends on or the feeling of being a fighter pilot. In the same way that The NeverEnding Story was teetering on the bring of a breakthrough in cinema, the world was starting to grapple with a new electronic future, one that was just as mysterious as it was exciting.
So if you're feeling wistful, watch The NeverEnding Story on this its 30th birthday. It's just as magical as it was when you were a kid—and it's just as cheesy, too. But for a movie with such disco roots and a synth-pop pedigree, it ought to be. [Amazon, iTunes, Google Play]