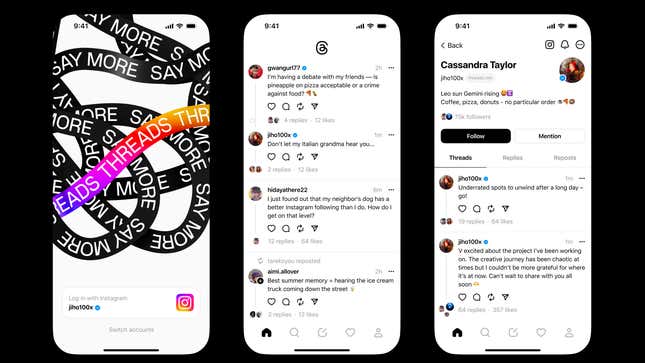 With Meta, there's always a catch. Sure, you can sign up for the company's newest Twitter clone Threads. You can use your Instagram account to get a unique badge to show you're now a Thread head. The thing is, you can deactivate your Threads profile, and you can delete the app, but deleting your profile on Threads will also delete your entire Instagram account as well.
In the morning after release, users were quick to spot a clause in Threads' Supplemental Privacy Policy that mentions "You may deactivate your Threads profile at any time, but your Threads profile can only be deleted by deleting your Instagram account."
Threads uses an Instagram account to access the app, even though they remain two separate applications. Another part of the policy page reads: "Your Threads profile is part of your Instagram account, and may be deleted at any time by deleting your Instagram account."
Gizmodo reached out to Meta for comment on whether it plans to eventually separate Instagram and Threads profiles to allow users to delete one without deleting the other. The company pointed us to a post from Instagram head Adam Mosseri, who said the company was "looking into a way to delete your Threads account separately."
Meta's Twitter killer is very much like the bird app, but it's rife with the company's data-hungry practices and the current app feels like utter chaos. Mosseri posted a video of him in bed saying he stayed up all night to watch 10 million people sign up for the new app. Zuckerberg also reiterated that number in some of his Thread posts.
Mosseri responded to complaints that Threads notifications were bombarding users by saying "we didn't anticipate quite this much interest on day one, you may want to limit notification to ones from people you already follow for now."
Threads is a Meta app, and it feels like it. The main feed is rife with content from people you don't follow, showing you things that the algorithm thinks you want rather than the stuff you actually do. In addition to the lack of a "Following" tab, the current search function fails at looking up topics and simply identifies other users. In response to complaints, Mosseri promised that both a feed dedicated to people you follow and a proper search are "on the list."
Similarly, Instagram product manager Tom Bender wrote on Threads "we haven't even launched the cool stuff yet!" If the "cool stuff" would include the option to delete your Threads profile without bricking your Instagram account, that would indeed be a nice addition. The company seems to be flying high on the newfound Threads interest, with developers like Bender actively responding to questions about the need for view counts and whether they should be "public or private?"
For now, the algorithmically-run feed is the main part of the plan. The company said in its announcement post that "Your feed on Threads includes threads posted by people you follow, and recommended content from new creators you haven't discovered yet."
Meta added that the new Twitter clone wants to push "positive, productive conversations." The company wants Threads to be a kind of saccharine utopia, where positivity is pushed compared to Twitter owner Elon Musk's "if it bleeds, it leads" sensibility all while pushing far-right, conspiracy content.
According to a book by tech reporter Nick Bilton, Zuckerberg once reportedly said back in 2013 that Twitter was "such as a mess—it's as if they drove a clown car into a gold mine and fell in." The Meta chief twice tried to buy the bird app, once through the company and another time through co-founder and former-CEO Jack Dorsey. If this is what he wanted to turn Twitter into, we would have seen today's current great Twitter migration a lot sooner.
Update 07/06/23 at 2:01 p.m.: This post was updated to include a comment from Instagram head Adam Mosseri.