Google likes to keep all of your voice searches on its servers so it can more easily learn to recognize your voice, understand what you might be looking for in the future, and, of course, serve you ads. If you want to review this archive of Google Now searches and clear it out, here's what to do.
If you haven't visited your Google Account page in a while, you might be surprised at just how clean and comprehensive it's become. From www.google.com/account it's possible to view just about everything Google has on you, add extra security features to your account, personalize your Google experience and more besides.
Find your Google Now searches
For now we're interested in voice searches run through web browsers and mobile devices while you've been signed into Google. Click Personal info & privacy then choose Manage activity under the voice activity heading. Your voice searches are shown in reverse chronological order.

Only you can see this page—well, you and Google's algorithms—and using the buttons on the top toolbar you can jump to a specific date or look for a particular query. You can listen to the actual recorded clips again by clicking on any of the Play buttons underneath the entries. (We couldn't actually get this to work but you might have better luck.)
G/O Media may get a commission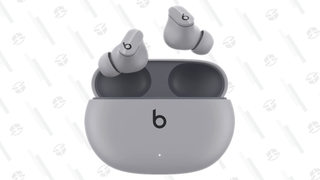 Delete searches
Google says it uses this archive to "learn the sound of your voice, learn how you pronounce words and phrases, recognize when you say 'Ok Google' and improve speech recognition across Google products that use your voice." If you don't think the privacy trade-off is worth it, you can delete the clips.
Select individual entries using the tick boxes then click Delete, or open up the page menu (via the three vertical dots) and pick Delete options—the subsequent dialog box lets you delete searches from today, yesterday, the last four weeks or all time.
Shut off search history
Shutting off voice history is as easy as toggling the switch on the Personal info & privacy page we went through earlier—other options are available to stop Google from collecting information about the places you go to, the YouTube videos you watch and the non-voice searches you run.

This doesn't stop you from using voice searches in your web browser and Google Now as normal: It just means the app might not do as well at recognizing your voice or knowing what you want to find out if there's some ambiguity in your query. Google wants to give you an experience that's as personalized as possible—you might not be so keen.
Meanwhile, over on Android
All of the options we've mentioned can be found on Android devices too. Open the Google Settings app then tap on Personal info & privacy. On the next screen choose Activity controls and the same switches we saw before for managing the information Google collects appear on screen.

Tap on Voice & Audio Activity inside the app and you can switch voice history on off; choose Manage activity if you want to get to the list of previous searches. (On Android we were able to hear clips of previous searches, so the replay feature obviously works.)